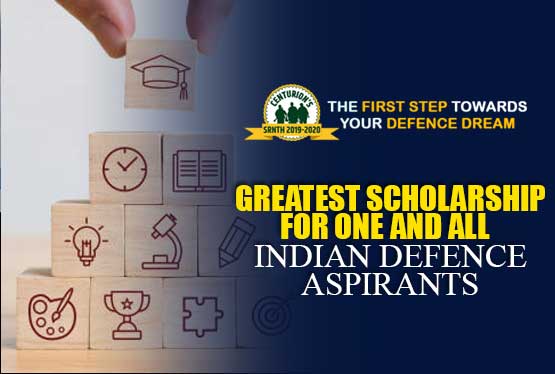 GREATEST SCHOLARSHIP FOR ONE AND ALL INDIAN DEFENCE ASPIRANTS
Indian Armed Forces: a cluster of CDS, NDA, Indian Air Force, Indian Navy, and Indian Army.
'Enjoy your dream once the exams are over'… haha, the most commonly told lie to today's generation! Completion of high school, intermediate, or graduation exams does not entitle you to start living your dream life, it only makes you realize what that dream is and how to proceed in its direction.
There is a big crowd of youth in India who dreams of being a part of Indian Defence. While some of them are blessed to have both the provisions and the talent to accomplish this dream others lag behind. To extend a helping hand to the latter group of Indian Defence dreamers, the greatest of all scholarship program, SRNTH is in town.
Today's article is solely in the name of SRNTH and aspirants of Indian Armed Forces. Surely your big minds would be wondering the story of SRNTH so here is a direct narration of the same:
SRNTH is an acronym for Shishir Rameshwar National Talent Hunt scholarship program 2019- 2020.
It is a combined work of Centurion Education Pvt. Ltd. and Defence Guru. While the former is a prime coaching institute for Defence preparation the latter is an emerging NGO.
What goes behind drafting this scheme is a noble objective: to give financial aid to all those talented students in India who aspire to be a part of Indian Armed Force but due to monetary restrictions cannot fulfill their dream. The motto, hence, is not any fame or economic profit but to contribute to education, society and India all together through this kind initiative.
Just as the aim, the procedure is also simple. Interested candidates need to click on one of the official websites: www.defenceguru.co.in or www.centuriondefenceacademy.com
You will see SRNTH registration popping up on your screen, just go to the registration column and start filling up your details.
Once you have carefully entered all the details, pay a minute fee of Rs. 100 and you are registered.
Candidates can easily download their admit card within a short span of few day from the official website.
Coming on to the schedule and pattern, well SRNTH is planned to be held on 22nd December, 2019 across 15 Indian states. That's right 15 states because this is a national talent hunt! More so, we understand distance and commute issues of our applicants hence we will come directly at your door step, in your state.
For the convenience of applicants the exam is in both online as well offline mode. Add to that the medium is in English as well as Hindi.
Students of class 10th, 11th, and 12th and graduation are eligible for SRNTH. While the syllabus for all classes differs the general exam pattern of SRNTH follows:
Questions: 100
Marks: 400
Subjects: Mathematics, G.K, English and mental aptitude
Note: there is no provision of negative marking so attempt as much as you want!
Not an inch of hard work goes without the greed of gaining something fruitful in return, right? Yours must be the same case. You must be thinking of a reason to work upon so many subjects and take the exam.
Not one, I will give you a list of reasons and benefits that SRNTH brings to you:
100% scholarship
Tution waiver
Free membership of EduGorilla to avail study material for any exam.
Provision of personalized mock test papers of SRNTH on the official websites+ personalized study material of various subjects for SRNTH exam as available on the official website.
Entry into Centurion Defence Academy, the most opted institute for preparation of Indian Defence entrance. Let me highlight it a bit for clear understanding. Centurion Academy is located in the prime location of Lucknow city and gives an exemplary training for the aspirants of NDA, CDS, Indian Air Force (X and Y group), Indian Navy, MNS and Territorial Army. The academy is blessed to have marked highest selection rate and receives candidates from various corners of the nation making it the leading Defence coaching. To know more you can log in to its official website.
With SRNTH Indian youth gets an opportune moment to explore their skills and bring out their hidden talent nationally. If not any monetary benefit, at least the applicants will gain a knowledgeable experience.
SRNTH has enlightened a hope in the younger section of society and with the philanthropic aim of seeing a rise in Indian Armed Force applicants SRNTH is all set to conduct the exam this December. If you, India's Defence dreamer, want to benefit your career then register for SRNTH now because the clock is ticking fast!