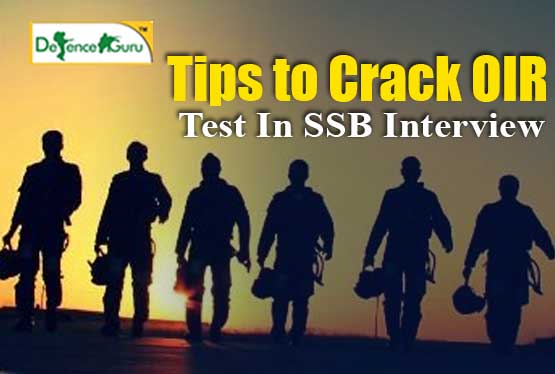 TIPS TO CRACK OIR IN SSB
Officer's Intelligence Ranking test is the first round a Defence candidate has to go through when appearing for the SSB session.
Did you ever probed into the details of OIR or wondered the cause of this test? If not, then do it now because having prior information before approaching a challenge is the habit of winners!
The name itself expels the meaning- an assessment of the Officer's level intelligence quotient. You go to any field or try any competitive exam, judgment of your intelligence is the central aim. The methods and test pattern may differ but the objective remains mutual.
Focusing on the destined objective of intelligence, OIR is conducted on the Screening day of SSB. It involves a written exam of approximately 50 questions of 1 mark each. There are no negative marks and the scheduled time limit is 30 minutes to finish this exercise.
The questions belong to verbal as well non- verbal category. This is done in order to check the reasoning as well as lingual aspect of the applicants. From error detection to jumbled words, there is a wide range of questions.
To create your base, your lasting impression in the very first round through OIR follow these simple tips:
Scan the syllabus. It's a pre- requisite to check all the topics that are asked in OIR to start with a good preparation. There are different set of topics for verbal and non- verbal category such as verbal include odd- one out, one word substitution etc, while non- verbal include series completion, figure problems etc.
Once you know the topics commence with a strategic preparation.
Your prime requirement is a good reasoning and general aptitude book. The questions are not so hard so as to require training and coaching. If you study in a focused manner then self study is enough for reasoning.
Understand the concept, the basics before proceeding to difficult level.
A notable point about reasoning is that every question seems of a different sort so you cannot apply one rule simply everywhere. But what you can apply is a common trick called practice!
Yes, practice is the one and only golden rule to top reasoning. The more you get exposed to various patterns of questions the more fluent you will be to solve them.
Regularity has to be linked with practiced. Until and unless you practice on daily basis no fruitful result can come. So whether you have to draw a time table or set an alarm, do it but make your preparation a beneficial one.
Take mock tests, online test series and previous year question papers. Solving last year questions adds strength to your preparation so get your hands quickly on the collection of last year question bank.
Manage your time. Although 30 minutes are sufficient because the level of OIR written test is not hard, yet keep a check on time by speeding up your solving skills which you will eventually get if you have practiced properly.
Indulge in mental calculation. It saves time and sharpens mind.
Make your notes as to the rules and methods that can be applied in different questions. Draft some short tricks, quick techniques and easy tools for reasoning.
Lastly, be reasonable! Haha… don't get literal. Reasonable in sense just polish your inherent intelligence and expose it through your answers because OIR only wants to see your basic intelligence and reasoning capacity in order to be qualified as an Officer for Indian Armed Forces.
Take note of the above hacks. All the best!