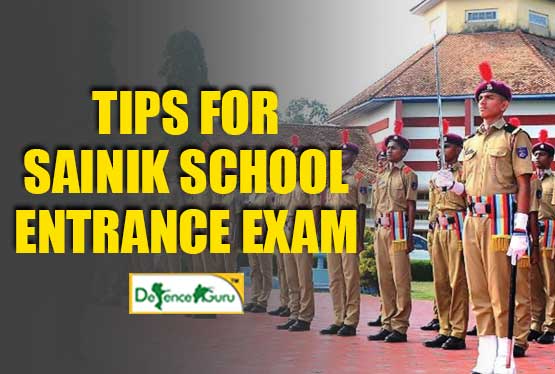 TIPS FOR SAINIK SCHOOL ENTRANCE EXAM
Today's child is tomorrow's future!
When there is determination in life no matter you are a class VIth student or an Engineer hard work automatically takes over your life and it is these passionate candidates who achieve success in life.
Focusing upon the young crowd of India who are willing to join Sainik School to devote their childhood for preparation of Indian Defnce, I bring to you the best preparation tips for clearing Sainik School entrance exam.
Established in 1961 by V.K Krishna Menon, Sainik Schools work with the aim of bringing quality education to common man along with preparing them for National Defence Academy. The school trains the students in all spheres: mental, physical, and behavioral. They are managed under the wings of State government and Ministry of Defence.
Without doubt, each student has to go through the scheduled entrance exam to join Sainik School. The pattern is: class VI exam includes mathematics, language and intelligence; class IX exam includes maths, science, English, social science; admission in class XI is done on the basis of marks scored in class 10th board. Time scheduled for class VI is 3 hours while that for class IX is 4 hours. The exam is conducted by AISSSEE (All India Sainik School Entrance Exam) in the month of January.
Here are some evergreen tips to easily crack Sainik School Entrance Exam:
CROSS CHECK: Before commencing with your preparation do check the eligibility, exam pattern and syllabus of the AISSEE exam. Only boys seeking admission in class VI, IX, OR XI can take the exam. The time duration and syllabus differs as already hinted above. You can note the same from the official website.
ANALYSIS: Once you have noted the syllabus in detail, analyze your understanding of the topics. What I mean is that check which topics you are good at and which topics need more work. Check your strength and weaknesses in regards to the syllabus. The topics which seem difficult must be handled first and the rest can be dealt later.
STUDY PLAN: You are going to need a little help at this step. Go to your parents, teachers, or siblings and ask them to help you in strategizing a good study plan for the preparation of AISSEE exam. Do take adequate breaks in between and cater to each and every subject.
PREVIOUS QUESTIONS: A good trick is to go through previous year questions and exam pattern so as to get an idea how the exam of AISSEE is conducted. The papers are easily available online. Just glance through them and get familiar with the exam.
CONSISTENCY: Without being regular no fruitful outcome can come your way. If you are determined to join Sainik School then be regular in your studies. It's not a class test that you study a day before exam and its done. No, not at all. Work daily, work regularly, work consistently.
ENTERTAINMENT: Human mind is unique in its functioning. Unlike a robot, it requires rest and break especially young minds require time to relax both mentally and physically. So do not overburden yourself with extreme preparation. Keep a balanced time table where you get your quality time to play, watch and hangout.
DIET: When the belly is full the mind works quick. Don't indulge in such harsh preparation that you neglect your own health. Keep up good diet so that you are able to perform well and achieve your goal. Be it chocolate, burger, shake or fruits, get plenty of it and make your mind work faster.
GUIDANCE: Don't be shy in taking help and suggestion from experts if you are stuck in any doubt regarding your subjects. Be it your parents, teachers, friends or siblings, don't hesitate in clearing your doubt because a successful establishment demands a strong base.
PRACTICE: Do practice last year papers and mock tests in order to check your progress and see the area which requires more improvement. Practice indeed adds finishing touch to your preparation.
SAY NO TO SOCIAL MEDIA: Today's generation is fast paced when it comes to technology and social media. It might give you some information and help in studies but an excess use of it causes distraction. Children often loose their concentration due to over use of technology, internet and social media. So be aware of these hazardous tools and do not let your focus drift apart.
BE OPTIMISTIC: Nothing beats fear than confidence and a positive approach. If you have given your best through a good preparation then need not fear. Be positive and let success come your way.
Early preparation brings in great results. If you are ready to give your time and hard work from a young age to join Indian Defence then you are a true aspirant of Indian Armed Forces. Take the above tips and strengthen your preparation. All the best.