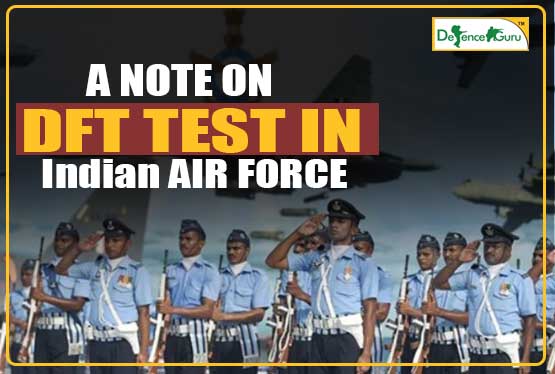 A NOTE ON DFT TEST IN INDIAN AIR FORCE (X AND Y GROUP)
'The harder you work the more luck favors you.'
Indian Armed Forces runs on similar pattern. The more work you put in, the better result you get, and the greater appreciation comes your way. Be it Indian Army, Navy or Air Force each branch demands a certain caliber.
Focusing specifically on Indian Air Force, this branch holds a wide range of service opportunities for both girls and boys. Working under the X or Y group as an Airman is one of the many employment positions available in Indian Air Force.
The X and Y group recruits suitable candidates for technical and non- technical position respectively. They do not work as Officers rather their position is that of an Airman. To form a career in this field one has to go through a certain selection process. While the process involves many steps my focus centralizes on DFT- Dynamic Factor Test in today's article. Before coming on to DFT it's important to have some idea of the selection process of Indian Air Force X and Y group so here is a brief about it:
The X and Y group entrance process is three fold as it involves:
TIER 1- WRITTEN EXAM:
An exam in online mode is conducted to test the basic knowledge and educational level of students.
The subjects of X group applicants include Physics, Mathematics, and English which has to be completed in 60 minutes. There 70 questions in total.
The subjects of Y group applicants include Reasoning and General Awareness (RAGA) and English which has to be completed in 45 minutes. There are 50 questions in all.
The subjects of X+Y group applicants include Physics, Maths, English and RAGA which has to be completed in 85 minutes. There are 100 questions in all.
TIER 2-
PFT:
Shortly spelt as PFT, Physical Fitness Test assesses the physical strength and fitness of the applicants. It is only qualifying in nature and holds no marks. The various tasks involved herein are:
10 push ups
10 sit ups
20 squat
1.6 km run in 6.5 Min.
AT1:
Following up PFT comes Adaptability test 1. As the name suggests this step checks the adaptability, the suitability of the applicants for Indian Air Force. It checks how well one can adapt the Air Force lifestyle and his presence of mind intelligence+ problem solving skill. Herein the candidates are given 45 Situation Reaction Tests (SRTs) which are to be completed in 30 minutes.
AT 2:
The applicants who successfully pass AT 1 have to appear for AT2 which again checks the adjustability of them but through different process. Here the candidates are given a topic on which they have to prepare and narrate a speech following which there is a group discussion round. Not only it assesses the personality, speech and knowledge of students but also their ability to adjust in a group.
TIER 3:
MEDICAL EXAMINATION:
Once you are done with all the above steps there remains this last, short and simple procedure called medical examination wherein the medical fitness of the applicants is checked as per the medical standards of Indian Air Force.
You must be curious to know where in the above process is DFT included.
Well, DFT is a part of tier 2 and has been newly introduced in Indian Air Force X and Y group selection.
The test is all about English Knowledge. Its objective is to test the basic proficiency of English of a candidate.
The applicants have to complete 20 questions and the time scheduled is 15 minutes. There will be an OMR sheet provided for the test.
Need not worry about DFT as the level is quite easy. The questions majorly rests on high school standards involving antonyms, synonyms, fill in the blanks etc.
Although new in the list, DFT is highly scoring and very simple to crack. Just keep brushing your basic English and winning would become a lot easier.