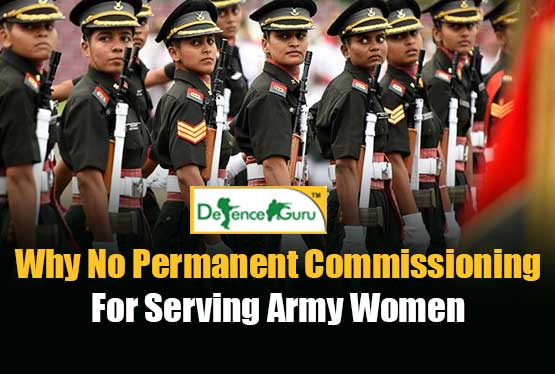 Answer this genuinely: how many times have we seen men as the dominating employee in the backdrop of Indian Armed Forces?
The answer is always. Since ages the Indian system is such that women are senior and given an inferior position when it comes to employment opportunities.
Like other fields the professional working area of Indian Defence is no different. It is majorly ruled by males be it Indian Navy, Indian Army or Indian Air Force. Just see the list of courses and their eligibility criteria. Most of them are open to male candidates while only a few remain for both male and female.
Although the scenario is changing with passing years still there is much gap in men and women employment opportunities.
As per the recent up-gradation of norms there is provision of granting permanent commission to future serving women.
Yes, just last year Indian Prime Minister, Narendra Modi announced opening up of permanent commission for women in the Indian Army. In October, the Army said to begin it from April 2020 but not in combat branches.

Hurray for that! But, but, but…. What about already serving and retired army women personnel?
That is the question of the day and Supreme Court just raised it openly to the Centre on Tuesday, 19th November. Here are the details of it:
SC asked the Central Government as to why there is permanent commission for future women recruits in Indian Armed Forces but not for any serving or retired ones.
The Court demanded the Government to present its stand on 28th November.
Sanjay Jain and senior advocate R Bala Subramanian raised question on difference in training and other technicalities for permanent and short service commission.

To this, D Y Chandrachud and Ajay Rastogi said, "If you want us to give a judgment, we will do so. But it be proper to ask the authorities to re-think the decision denying permanent commission to existing short service commission women personnel."
Furthermore, the Centre also added to its justification that the provision of giving permanent commission to future women recruits is only for Indian Army as Indian Air Force and Indian Navy has no discrimination between Short Service Commission and Permanent Commission. In fact once a person (male or female) joins Indian Air Force or Indian navy he/ she has to serve for 14 years.
The good news is that at least a question has been raised. What happens next remains mystery but there is hope for better working conditions for women in Indian Defence in near future.