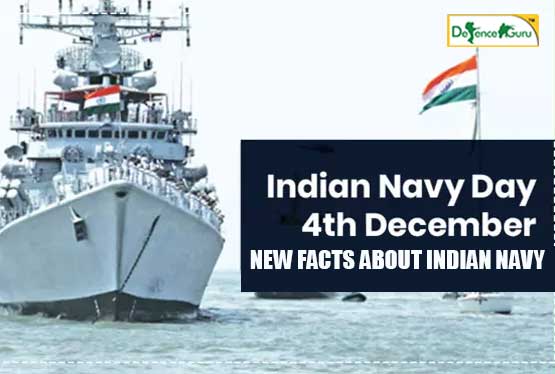 Indian Navy is one of the three major wings of Indian Armed Forces. It aims to safeguard India's maritime affairs and maintain harmonious relation between India and foreign countries. While the President of India is the Chief Commander, the Chief of Naval Staff commands the team.
Indian Navy has earned much fame through its commendable service and appreciative performance in past years. To commemorate the same, it celebrates Navy Day each year on December 4.
The day holds significance because on this very date in 1971, during Operation Trident, the Indian Navy sank four Pakistani vessels including PNS Khaibar, killing hundreds of Pakistani Navy personnel. Not just 4 December but a whole week prior to this date is celebrated with great zeal and enthusiasm. There are various events, theme and programs running all round the seven days. The theme for Indian Navy Day 2019 is 'Silent- Strong- and Swift'.
On this auspicious occasion it would be a matter of prestige to revoke some of the unknown facts about Indian Navy in order to venerate its work and Officers. So here is a collection of some needful facts about Indian Navy:
Indian Navy was originally named as Royal Indian Navy as was founded in 1612. After Indian Independence, in 1950, the name changed to Indian Navy.
The first mission of Indian Navy conducted independently was against Portuguese Navy during liberation of Goa in 1961.
Indian Navy is the 5th largest Navy of the world.
Indian Navy is the 4th most powerful Navy in the world.
Indian Navy is bestowed with the fastest cruise missile, that is, BrahMos with Mach speed of 2.8- 3.0
Located in Kerela, Ezhimala Naval Academy is the largest naval academy in Asia.
The father of Indian Navy is Chhatrapati Shivaji Raje Bhosale as he built strong naval presence across Konkan and Goa.
Vice Admiral Ram Dass Katari was the first Indian to assume office as the Chief of Staff of the Indian Navy
INS Viraat is not only Indian Navy's first aircraft carrier but also the oldest aircraft carrier in the world.
The Indian Navy has conducted three international operations, one to protect Seychelles and the other two to protect Maldives.
Indian Navy is proud to have successfully completed an expedition to North pole and South pole.
Indian Navy was the first navy to send a submariner on an expedition to Mt. Everest!
The flag of Indian Navy has St. George's Cross design.
Lt. Cdr. M.S. Kohli of the Indian Navy was the country's first successful military Officer expeditionary to Mount Everest in 1965.
The Indian Navy currently has two aircraft carriers: INS Viraat and INS Vikramaditya.
The first Indian to receive a permanent commission was sub-Lieutenant D.N. Mukerji.
MARCOS or Marine Commandos, also known as 'magarmach', are the special operations unit of the Indian Navy which played a huge role during the rescue mission of the hostages during the Mumbai terror attacks in 2008.
There are only three naval aerobatic teams in the world and one of them is Indian Navy's Sagar Pawan (Sea Breeze).
Sub-lieutenant Shivangi has turned to be Indian Navy's first woman pilot in 2019
The shining, white uniform, deep blue sea and the interior of various ships is not without secrets. There are so many stories hiding behind them. I have endeavored to unleash a few of them in the name of facts to pay respect to Indian Navy on the day of its celebration.