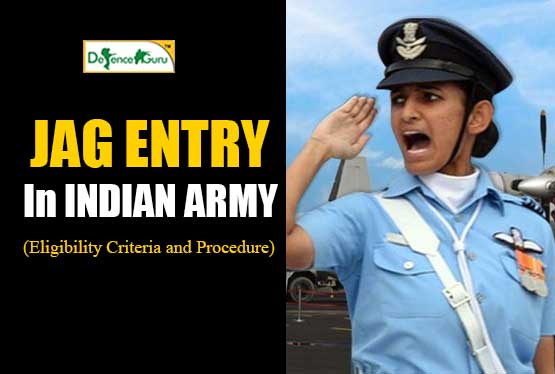 JAG ENTRY INDIAN ARMY
Justice equalizes evil and a good judiciary system ensures balance.
Any sphere of life, you name it, requires a proper law system to maintain peace and harmony. Indian Army is no different. To function smoothly and remove any debauchery Indian Army has its own law panel wherein expert judges are employed.
The reason I am telling you all this is to enlighten you with a splendid opportunity in the Indian Army through the career of law. The opportunity is spelt as JAG- Judge Advocate General which employs law graduate to function in Indian Army. Below is a compilation of all its essential details:
JAG ENTRY ELIGIBILITY
The must be a citizen of India / subject of Bhutan/ subject of Nepal/ a Tibetan refugee who came before 1st January, 1962/ an Indian origin- person coming from Pakistan, Burma, Sri Lanka, Uganda, East African Kenya, Tanzania, Zambia, Malawi, Zaire, Ethiopia and Vietnam.
The applicants must ensure their age lies between 21 to 27 years.
Talking about educational qualifications, applicants must possess 55% marks in LLB from a university recognized by the Bar council of India/ State +
They must be eligible for registration as an advocate under the Bar council of India/ State.
JAG ENTRY PROCEDURE
One of the overwhelming perks of JAG entry is that it requires no written exam. You heard it right… no written exam.
Interview is the only mode here.
The screening session for JAG entry begins with short listing the applications by Recruiting Directorate, Integrated HQ of Mod (Army) and DG.
Their decisions are combined and selected list of applicants is released on Join Indian Army website.
All students in the list are called for SSB interview and this is the only platform to prove your worth so better give your 100 percent.
Succeeding the interview will be your little medical assessment just to make sure you are fit and fine.
Based on the interview final merit list is out.
Selected candidates will receive a training of 49 weeks at OTA, Chennai.
JAG ENTRY APPLICATION PROCESS
If you want to take your lawyer degree to another level then start with the JAG registration process.
Begin the process by logging in to www.joinindianarmy.nic.in . Click on "apply" and then "registration". The notifications are usually available on the official website in the month of January and the interview is lined up in May- June.
Carefully fill in all your details as forms will be accepted online.
Take out a print out and note your roll number.
Army+ judiciary… that sounds like a marvellous combination! If you are pursuing or planning to pursue law then I would suggest you to grab the best of time and opportunity and try your hand at JAG.