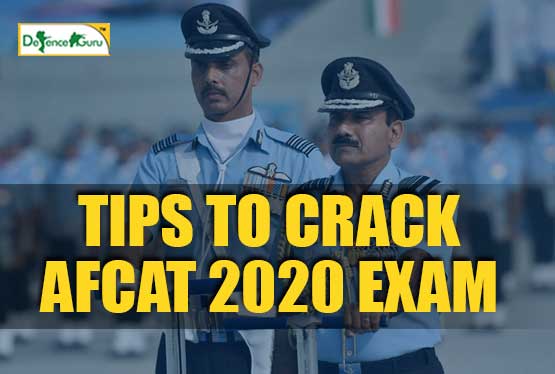 AFCAT Preparation Tips
AFCAT holds a lot of importance for the aspirants of Indian Armed Forces. It is illustrated as Air Force Common Admission Test and is aimed to admit candidates in the Indian Air Force.
AFCAT is an entrance test for all those willing to work as Officer in Flying, Ground Duty (Technical) and Ground Duty (Non-Technical). The Indian Air Force is the conducting body of this exam and it is held all across India.
As per the official notification the AFCAT 2020 exam will be held on 22nd and 23rd February, 2020.
There is certainly enough time to prepare but to gain positive results you must take a few suggestions. Hence coming from the experience and knowledge of experts here is a list of essential tips to easily crack 2020 AFCAT exam:
1- The foremost step is to know the syllabus and the exam pattern. AFCAT exam is an online test. It includes General Awareness, Verbal Ability in English, Numerical Ability and Reasoning and Military Aptitude. There are 100 questions and the total count of marks is 300. There is also a provision of 1 negative mark for every wrong answer. The exam is scheduled for 2 hours. Add to that the candidates applying for Technical exam shall also have to give EKT (Engineering knowledge test). This is a 45 minutes online based test with Mechanical, Computer Science and Electrical & Electronics as the main subjects. Total number of questions is 50 while the total marks are 150.
2- But the process doesn't end here. Once you are able to clear the written part you will have to take the interview which is conducted by AFSB. It comprises of OIR, PPDT, various Psychological and Group task. Applicants must note that those who wish to apply for Flying branch will also have to appear for an additional test called Computerized Pilot Selection System (CPSS).
3- Talking about preparation, start with an analysis of your strength and weaknesses. Understand your level of knowledge and then proceed further. Take the difficult topics first and follow it up with easier ones.
4- Draft a strategic time table. Give time to all portions of academics and don't forget to leave some quality time for yourself.
5- Practice last year papers as they perfect your preparation. The more you practice the better your performance turns. Also take mock tests frequently in order to know your preparation level and scope of improvement.
6- If you have joined a coaching institute its well and good but if you are one of those who believe in self- study then get habitual of making notes. Be it formulas, theory or current affairs make small notes or you could say pointers of essential topics. This will help in quick revision, last minute study and easy memorization of the topics.
7- When it comes to Mathematics do take doubt solving session. Be it your teacher, friend or family member takes help of whoever has knowledge but clear your basics and have a good foundation of concepts before moving to the next level. The level of Mathematics in AFCAT is from easy to moderate so you need not panic. Just get a strong hold of all basic concepts.
8- For General Knowledge it's needless to say that being updated with news and recent national- international activities is must. Read newspaper daily, watch news or download a news app.
9- To excel in Verbal English improve your vocabulary. Learn two new words each day along with its synonym and antonym. Also study other topics such as phrase, error detection, sentence completion etc. Most importantly get into practice of reading, be it novel, newspaper or your academic book.
10 - For Reasoning and Military Aptitude study strictly as per the syllabus. Gain knowledge of all important aspects of Indian Military. For Reasoning simply practice as many questions as you can because there are various sorts of problems and each has a different strategy to solve.
11- General Awareness, as the name suggests, is all about knowledge of general topics such as those included in history, geography, science etc. Go back to your school books or NCERT to brush up your general awareness.
12- Be consistent. Regular study is must. Do not take gap in between. You can switch the time sorts and reduced/ increase the hours as per your need and capability but study daily.
13- Take care of time management. Mathematics and Military Reasoning might take more time else just keep 4-5 seconds for each question. Practicing last year paper will automatically give you an idea of time management.
14- Coming on to AFSB interview, the best tip is to be honest, be yourself and play smart. It's an assessment of your intelligence, reasoning, observation, psychology, and ability to adjust in military lifestyle. Hence be the true you.
To add finishing touch to your performance in both AFCAT written exam as well as AFSB interview, simply don yourself with immense confidence and a little smile. If your preparation is good enough then there will be no place for worry.