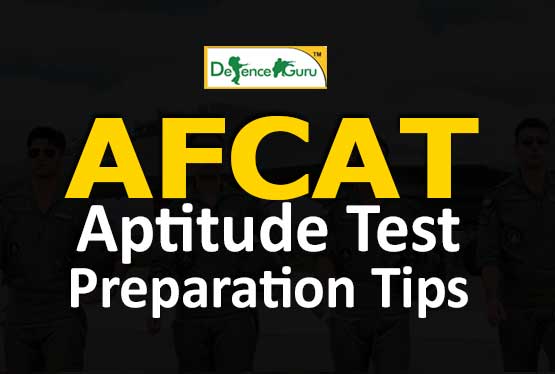 AFCAT APTITUDE TEST TIPS
AFCAT- Air Force Common Admission Test is an important exam in the backdrop of Indian Armed Forces.
As implied from the name AFCAT exam is conducted to recruit candidates for Indian Air Force under various positions such as Flying Branch and Ground Duty (Technical and non Technical) branch. The exam is held all over India and is being highly opted by the aspirants of Indian Armed Forces.
AFCAT exam is a two tier process as it involves an online- based written test followed by AFSB interview. Talking about the written exam, there are various topics involved in it. These include: general awareness, verbal ability, numerical ability, reasoning & military aptitude.
Today I Endeavour to share some crucial tips relating to the reasoning & military aptitude section of AFCAT written exam.
The aim behind keeping Reasoning & Military Aptitude as one of the topics is to assess the candidate's general intelligence and basic IQ.
Verbal skill and Spatial Ability are the major criteria included in this portion. Spatial Ability is all about space and how you comprehend it. It tests one's ability to think about shapes in two and three dimensions. This is not an assessment of your ability to analyze rather it checks your mental ability to manipulate figures and shapes.
The questions of Reasoning pertain to word analogy, odd- one out, sequencing, classification, coding- decoding, blood relation, Venn diagram etc. On the other hand Military Aptitude deals with questions on dot situation, hidden figures, completion of figure matrix, and rotated blocks.
In order to prepare well for Military Aptitude section the applicant must:
Practice a lot. Try as many questions as you can and switch to different types of problems in order to be thorough with this topic.
Solve last year question papers along with taking mock tests. It will not only support your practice but also give you an idea of what kind of questions are asked in AFCAT exam from this portion+ you will also be able to analyzes your preparation and scope of improvement.
Be logical while answering. Do not blindly mark any answer. Think before you choose.
Try elimination round according to which if you cannot find a suitable answer choose the one that best fits to your understanding.
Lastly choose good books for preparation. Not the one with high level but those which easily clear your basics.
Military Aptitude is certainly an interesting area of academics and if you want to gain positive results prepare this topic well as it is quite scoring after all the only things required are intelligence and practice.