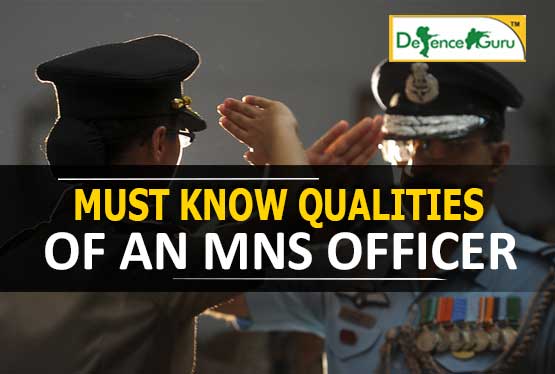 In the words of Donna Cardill "Nurses are the heart of healthcare".
When it comes to healing it often happens that care, compassion and soulful interaction works better than a prescription. Nurses are the ultimate pipeline of these qualities. In Indian Armed Forces there is a special place for recruitment of nurses under the banner of MNS Officer.
MNS is elaborated as Military Nursing Officer (MNS) wherein only female candidates are recruited. Candidates must qualify 12th examination or equivalent or They must have M.Sc or B.Sc nursing degree from an INC recognized university. They are selected on the basis of objective written test, interview and a medical examination. To be employed at this position demands certain qualities because nurses, although Officers, have a higher and deeper role. Hence their qualities are also exceptional. Here is a collection of important qualities of an MNS Officer:
ADAPTABILITY AND PATIENCE: Unlike other nurses, an Indian military nurse should be able to adapt to different places and living conditions. An MNS Officer is sent to different place in her 3 years duration and often in emergency situations she has to travel to various corners of the nation. Hence travel becomes a routine for an MNS Officer. Add to that there are instant transfer duties hence she must be comfortable with travelling and should be able to sustain harsh living conditions.
PHYSICAL STANDARD: 'The best teaching is through your own example'. When it comes to treating patients a military nurse should herself be fit and fine to be able to guide them. For this purpose there are certain physical criterions such as height, weight, eyesight etc which a MNS Officer must possess.
PATRIOTISM: Every working individual should be committed to his/ her work. Same applies to nurses but a Military nurse should also be committed to her nation. Patriotism is a crucial quality of an Indian MNS Officer. Serve India through nursing its soldiers and Officers is an ethical responsibility of an MNS Officer.
LEADERSHIP: Once you are selected as a MNS Officer you eventually receive training that incorporates leadership qualities. A MNS Officer often has to guide her fellow mates or lead them in a particular task hence leadership quality is must.
EMPATHY: Sympathizing with patients is considered as a virtuous quality but it is empathy that works wonders. Empathy is understanding the condition unlike sympathy which implies supporting or saying words of consideration. A MNS Officer must be able to perfectly understand the situation of a patient and then proceed with her nursing tactics accordingly.
COMMUNICATION: Soldiers and Military Officers are not always frank. It is hard to be able to communicate deeply to them therefore a MNS Officer has to have great communication skill to be able to talk to them and understand their issue.
CARE: Moreover caring should be an in- built quality of a Military nurse. The word 'care' is simply a synonym of 'nurse'. Your duty is effective when you show care, concern and compassion. A nurse works as a support system during one's vulnerable and scary situation hence to be able to effectively care is the prime feature of a good MNS Officer.
INTELLIGENCE: Military conditions are not easy to handle. Be it a soldier, Officer or military nurse, one should have enough intelligence, presence of mind and confidence to be able to tackle difficult situations. Polish your problem- solving skill to be employed as a good MNS Officer.
KNOWLEDGE: As an Indian MNS Officer you may not always get enough resources hence you must have upgraded knowledge and smartness to use alternatives for nursing a patient. Add to that being a good professional implies a constant urge for knowledge hence keep yourself updated with new developments, theories and techniques in the nursing career.
RESPECT: Last but not the least a MNS Officer should respect rules as well as patients. Be it unsuitable timings or rude behavior a Military nurse must show respect to the ailing patients. She should also co- ordinate well with her colleagues as in case of switching duties or working on other's time schedule.
These are some basic yet significant characteristics which form the backbone of a good MNS Officer. Try to inculcate them in your nature if you are aspiring to join Military Nursing Service.