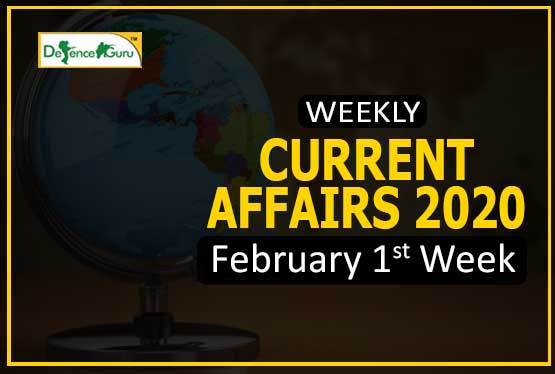 APPOINTMENTS
1.Jeff Weiner
LinkedIn CEO Jeff Weiner is stepping down after 11 years at the helm of the popular professional social networking company owned by Microsoft. He will be replaced in June by Ryan Roslansky, a senior vice president in charge of product who has been at LinkedIn since before the Microsoft acquisition. During Weiner's tenure, LinkedIn's revenue increased to more than $7.5 billion in the trailing 12 months from $78 million. Microsoft acquired LinkedIn for $26 billion in 2016.
2.Albin Kurti
Albin Kurti has been named as Kosovo's prime minister. Once dubbed 'Kosovo's Che Guevara' for his radical antics, the 44-year-old was named PM after his left-wing Vetevendosje party forged a coalition with the centre-right Democratic League of Kosovo (LDK). Mixing a left-wing agenda with fervent nationalism, Kurti has long been an insurgent force in Kosovo politics.
3.Deepa Malik
Indian Paralympic medal-winner Deepa Malik has been elected president of the Paralympic Committee of India. Malik, who won silver in shot putt F-53 at Rio 2016, was elected unopposed. She was also awarded Padma Shri award, Rajiv Gandhi Khel Ratna Award.
4. Navdeep Singh Suri
Navdeep Singh Suri, who was until very recently India's Ambassador to the UAE, has assumed the responsibility of India's Co-Chair of the Expo-2020 Dubai Committee. Mr Suri was also a recipient of the UAE's Order of Zayed II honour. FICCI is the industry partner of the Indian Government for its participation in Expo-2020 Dubai. India is one of the few countries which have been awarded to create a permanent structure at the Expo-2020 and proposes to showcase the country's strengths in innovation and start-ups in the hi-tech sector. Expo-2020 is a World Expo to be hosted by Dubai. It is scheduled to open on 20th October this year. Theme of this year is "Connecting Minds, Creating the Future".
5. Ajay Bisaria
India's High Commissioner to Pakistan, Ajay Bisaria has been appointed as the next High Commissioner of India to Canada. An IFS officer of the 1987 batch, Bisaria is expected to take up the assignment shortly. From February 2017 to November 2019, Vikas Swarup served as India's High Commissioner to Canada. Swaroop is now secretary (West) at the Ministry of external affairs.
6. Lt Gen Y K Joshi
Lieutenant General YK Joshi took over as General Officer Commanding-in-Chief of Northern Command at Udhampur. Before assuming the charge, he visited "Dhruva War Memorial". He paid tribute to martyrs who have sacrificed their lives under the Northern Command since 1972. Gen Joshi commanded 13 JAK RIF in Operation VIJAY and PARAKRAM. Nicknamed 'Joe', he also displayed outstanding leadership during the Kargil war.
7. M Ajit Kumar
The Government of India appointed M Ajit Kumar IRS as chairman of the Central Board of Indirect Taxes and Customs (CBIC). The appointment came just two days before the Union Budget 2020 presentation. The Appointments Committee of the Cabinet has approved the appointment. The new Chairman's immediate responsibilities will include accelerating the Goods and Services Tax (GST) revenues and to deal with the changes introduced in customs duties in the Union Budget for 2020.
8. Janak Raj
The Reserve Bank of India (RBI) appointed its Executive Director Janak Raj as member of the Monetary Policy Committee (MPC), the highest interest rate setting body. Raj replaces M D Patra, who was recently elevated as Deputy Governor of the RBI. The government had in 2016 constituted MPC to set the benchmark interest rate. The MPC is headed by the RBI Governor.
DEATHS
9.Kirk Douglas
Hollywood legend and veteran actor Kirk Douglas passed away in Beverly Hills, California in the US. Douglas was prolific as a film actor, with more than 90 credits to his name - ranging over six decades from the 1940s to the 2000s. He is perhaps best-known for his role as Spartacus, a Stanley Kubrick classic which won four Oscars and was so popular that its iconic "I am Spartacus" scene entered the pop culture lexicon.
10. Daniel Arap Moi
Former Kenyan President Daniel Arap Moi, who ruled the country for 24 years, has died. Moi was born September 2, 1924, in Baringo County. He became Kenya's second president after independence and went on to rule from 1978 to 2002.
AWARDS
11.International Gandhi Awards
President Ram Nath Kovind on presented the International Gandhi Awards for Leprosy to Dr N S Dharmashaktu under the Indian nomination (individual) category and the Leprosy Mission Trust under the institutional category. President Ram Nath Kovind has said that in the fight against Leprosy, India has achieved a lot over the years and successfully accomplished levels of leprosy elimination defined as less than one case per ten thousand population. Leprosy is an infectious disease that causes severe, disfiguring skin sores and nerve damage in the arms, legs, and skin areas around the body.
13. BAFTA Awards 2020
The British Academy of Film and Television Awards (BAFTA) ceremony was held at the Royal Albert Hall in London, Britain. 1917 was the big winner of the night with seven awards, including the coveted Best Film and Director
Best Film: 1917
Outstanding British Film: 1917
Leading Actress: Renée Zellweger – Judy
Leading Actor: Joaquin Phoenix – Joker
Director: Sam Mendes – 1917
Film Not In The English Language: Parasite
Supporting Actress: Laura Dern – Marriage Story
Supporting Actor: Brad Pitt – Once Upon A Time… In Hollywood
Original Screenplay: Parasite – Han Jin Won, Bong Joon-Ho
Adapted Screenplay: Jojo Rabbit – Taika Waititi
Cinematography: 1917 – Roger Deakins
Editing: Le Mans '66 – Andrew Buckland, Michael Mccusker
Production Design: 1917 – Dennis Gassner, Lee Sandales
Original Score: Joker – Hildur Guđnadóttir
Costume Design: Little Women – Jacqueline Durran
Sound: 1917 – Scott Millan, Oliver Tarney, Rachael Tate, Mark Taylor, Stuart Wilson
Special Visual Effects: 1917 – Greg Butler, Guillaume Rocheron, Dominic Tuohy
Rising Star Award: Micheal Ward
14. MP govt's Kishore Kumar Samman-2018
Noted actor Waheeda Rehman will be conferred the Madhya Pradesh government's National Kishore Kumar Samman. The award, for the year 2018, will be given to Rehman at her Bandra residence in Mumbai by Madhya Pradesh Culture Minister Vijaylaxmi Sadho. Rehman, one of Hindi film industry's most successful leading ladies with a string of box office hits and several awards. The award, which carries a Rs 2 lakh cash prize and citation, could not be given to Rehman during a function held in October last year as the actor was unwell. The function was held on October 13 coinciding with the death anniversary of singing legend Kishore Kumar.
15. First Mathrubhumi Book of the Year award
Noted Hindi poet-novelist and Sahitya Akademi honouree Vinod Kumar Shukla has bagged the inaugural Mathrubhumi Book of the Year award for his translated book "Blue Is Like Blue". The stories in "Blue Is Like Blue", translated into English by Arvind Krishna Mehrotra and Sara Rai. The award, given to the best fictional work released in the previous year, carries a cash prize of Rs 5 lakh, a plaque designed by Riyas Komu and a certificate. The award was presented at the Mathrubhumi International Festival of Letters 2020.
SPORTS
16.Monika Nagpure, Rutvik Bhajiwala win 31st Veer Savarkar Akhil Bharatiya Samudra Taran Spardha
In Gujarat, Monika Nagpure and Rutvik Bhajiwala both from Surat have won the 31st Veer Savarkar Akhil Bharatiya Samudra Taran Spardha. The annual all India Sea swimming competition was held off Gir Somnath coast of Gujarat. Monika had won this competition on two previous occasions also. She completed 16 nautical mile distance in 4.39.02 hours, while Rutvik completed 16 nautical mile distance in 7.04.38 hours.
17.Rohit Rajpal to continue as India's Davis Cup captain
Rohit Rajpal will continue as India's non-playing Davis Cup captain while veteran Leander Paes, too, has retained his place in the six-member squad picked for the tie against Croatia next month. Zeeshan Ali will be the coach. India are scheduled to travel to Croatia for their next tie from 6th to 7th of March. The All India Tennis Association (AITA) has asked Rajpal to lead the side in the 2020 season. Prajnesh Gunnewaran, Sumit Nagal and Ramkumar Ramanathan are the other singles players in the six-member squad. The Davis Cup is the premier international team event in men's tennis.
18. SAI, Hockey India launch High Performance Centres
Sports Authority of India (SAI) and Hockey India announced the establishment of the High Performance Centres in seven places across the country to provide state-of-the-art facilities to Junior and Sub-Junior players. The move is aimed at grooming young talent in view of 2024 and 2028 Olympic Games. While the National Hockey Academy at Dhyan Chand National Stadium, New Delhi along with SAI at Sundergarh, Bhopal and Bengaluru will be active within the next three months. The remaining three centres will be developed over the next one year. These seven centres will be set up under the Khelo India scheme and will have expert professional training, utilization of sports science and education of the youngsters. The SAI Centre Bengaluru will remain as the main site for the senior and junior national teams.
19.National Weightlifting Championships
In Senior Women's National Weightlifting Championships, Rakhi Halder of Bengal has bagged gold in the 64kg category of the 35th edition of the event in Kolkata. Though way short of her personal best, Halder lifted 93 kg in snatch and 117 kg in clean and jerk to clinch the gold medal. She was 10kg ahead of her nearest rival Harjinder Kaur of Chandigarh. Ranked 19th in the Olympic qualifiers list, Halder had produced a personal best of 218 kg at the Qatar International Cup last year to win the bronze medal. At the Commonwealth Championship in June 2019, Halder who is also an Indian Railways employee had clinched the gold with a total lift of 214-kg.
20.Avishek Dalmiya
Former BCCI president late Jagmohan Dalmiya's son Avishek became the youngest president of Cricket Association Bengal after being elected unopposed.n Avishek Dalmiya, 38, was holding the post of joint secretary before his elevation. BCCI president Sourav Ganguly's elder brother Snehasish Ganguly, a former Bengal left-hander, is the new joint secretary. Avishek has become the 18th president of CAB. The CAB president's post was lying vacant after former India captain Sourav Ganguly took over the reins of the BCCI.
21. National Weightlifting Championships
Service lifter Sambo Lapung set a new national record of 188 kg here in Khudiram Anusilan Kendra on without a mistake on his way to the gold medal in the men's 89 kg at the National Weightlifting Championships. Lapung, who won the 81 kg silver medal last year, increased to 145 kg and took a lead of 1 kg over R.V. Rahul in snatch. He later broke the 187 kg record on his last attempt to add 333 kg. Lapung, from Arunachal Pradesh, a former national champion weighing 69 kg, won a national title after four years.
22. Indian boxers bag six gold at Golden Girl Championship in Sweden
In Boxing, India's junior youth dominated the ring at the Golden Girl Championship in Boras, Sweden, claiming 14 medals, including six golds, the overall championship trophy and the 'Best Boxer' award. While the junior women's team clinched five golds, three silvers and one bronze medal, the youth team secured a single gold and four bronze medals. Haryana's Prachi Dhankar (50 kilogram), playing in the junior category, won the 'Best Boxer' award. Besides Prachi, Ethoibi Chanu Wangjam (54 kilogram), Lashu Yadav (66 kilogram) and Mahi Raghav (80 kilogram) also won gold medals.
23. Australian Open: Novak Djokovic wins his record 8th Men's singles title
In tennis, Serbia's Novak Djokovic won his record 8th Men's singles title in Australian Open at Rod Laver Arena in Melbourne. He beat first-time Australian Open finalist Dominic Thiem of Austria. The men's doubles title was clinched by Joe Salisbury of the UK and American Rajeev Ram who beat Australia's Luke Saville and Max Purcell.
24. Flame-Throated Bulbul 'Rubigula' official mascot for Goa 2020 National Games
'Rubigula', Flame-Throated Bulbul, has been unveiled as the official mascot for the Goa 2020 National Games in Panaji, Goa. Goa will be hosting the 36th edition of the National Games from 20th October to 4th November 2020. The event will see participation by 36 states and union territories, 12,000 athletes. The Flame-Throated Bulbul is the state bird of Goa.
25. Sofia Kenin wins Australian Open final
In Tennis, American Sofia Kenin won her first Grand Slam title with victory over Spain's Garbine Muguruza at the Australian Open. Kenin won 4-6, 6-2, 6-2 against two-time major winner Muguruza in Melbourne. Kenin, who turned 21 in November, is the youngest Australian Open champion since Russian Maria Sharapova in 2008.
INTERNATIONAL
26. Sri Lanka celebrates its 72nd Independence Day
Sri Lanka celebrated its 72nd Independence Day on 4 February. On this day, Sri Lanka became an independent nation after getting independence from Britain. The national anthem at the main ceremony was sung only in Sinhala and not in Tamil, as has been the tradition since 2016. Tamil political parties had demanded to keep both versions of the national anthem. This was the first Independence day speech of Gotabaya after he was elected President last November.
27. Frequency of Maitree and Bandhan Express increased
The frequency of the Maitree Express and Bandhan Express trains connecting Bangladesh and India has been increased. In a press release issued the High Commission of India in Bangladesh said that Maitree Express running between Dhaka and Kolkata will now run 5 days a week. Earlier it was running 4 days a week. Bandhan Express running between Kolkata and Khulna will now be running twice a week. Earlier it was running once a week.
28. World Cancer Day: 04 February
World Cancer Day is observed every year on 04 February. It is observed to create awareness about cancer and to encourage its prevention, detection, and treatment. Cancer is the second leading cause of death globally. World Health Organization (WHO) has warned that cancer cases will rise by 81 percent in low and middle-income countries by 2040 because of a lack of investment in prevention and care.
29. Somalia declares national emergency following locust infestation sweeping Horn of Africa
Somalia has declared a national emergency following locust infestation sweeping the Horn of Africa, as insects devastate food supplies in one of the poorest and most vulnerable regions in the world. The Agriculture Ministry said food sources for people and their livestock are at risk. Experts say the locust swarms are the result of extreme weather swings. Somalia's declaration - the first country in the region to do so - is aimed at boosting national efforts in tackling the hungry insects.
30. New natural gas field containing 80 trillion cubic feet of gas discovered in UAE
The United Arab Emirates announced the discovery of a new natural gas field containing 80 trillion standard cubic feet of gas in the cross-border area of the Emirates of Abu Dhabi and Dubai. The discovery of the Jebel Ali gas field will contribute to achieving gas self-sufficiency for the nation and support the next phase of its major development projects in line with the nation's strategic development plan for the coming 50 years. This new gas field, spanning an area of 5,000 square kilometres in the cross-border area of the two emirates, represents one of the largest natural gas discoveries in the UAE. The discovery strengthens the UAE's position among countries with the world's largest natural gas reserves. This discovery will help UAE in transiting the gulf nation from a net importer of gas to a potential net exporter of gas in coming times.
31. World Wetlands Day: February 2
World Wetlands Day is celebrated internationally each year on 2 February. It marks the anniversary of the signing of the Convention on Wetlands of International Importance (Ramsar Convention) in Ramsar, Iran, on 2 February 1971. World Wetlands Day was first celebrated in 1997.
32. Pakistan declares national emergency to battle locusts
Pakistan, which is facing its worst locust attack in decades, has declared a national emergency to tackle the insects destroying crops on a large scale in Punjab province, the country's main region for agricultural production. The decision was taken at a meeting convened by Prime Minister Imran Khan. The meeting, attended by federal ministers and senior officials of the four provinces, also approved a National Action Plan (NAP) that requires a sum of 7.3 billion to overcome the crisis. The prime minister directed the authorities concerned to make immediate measures on the basis of damage of ripened crops.
33. International Children's Film Festival ends in Dhaka
The 13th International Children's Film Festival of Bangladesh concluded in Dhaka with an award giving ceremony in which 11 awards were conferred in various categories. The Best Feature Film award in the international section was given to the Dutch film Romy's Salon, directed by Mischa Kamp. The Finnish director Merja Maijanen bagged the best director award for her film Good Girl. German film Day X, directed by Katharina Rivilis won the Best Short Film Award. The Bangladeshi director Ragib Mahmud Shafayet Shah got the Young Talent Award for his film The Smoker while Sudipto Shah won the Social Film Award for his film Khoka Jokhon Chhotto Chhilen. A total of 179 films from 39 countries were screened at five venues in Dhaka during the Children's Film Festival which started on 24th January.
34. Maldives rejoins Commonwealth
The Maldives has once again become a member of the Commonwealth of nations. President Ibrahim Mohamed Solih made the announcement, fulfilling one of his key presidential pledges. The president said that the Commonwealth Secretary-General, Patricia Scotland, confirmed Maldives' reinstatement into the organization as its 54th member state. The Maldives first became a member of the Commonwealth in 1982 but former President Abdulla Yameen decided to leave it in October 2016, amid mounting pressure from the group over corruption and deteriorating human rights.
NATI ONAL
35. NASA astronaut Christina Koch returns to Earth after record-setting stay in space
NASA's astronaut Christina Koch returned from space to Earth safely. Koch returned after an 11-month mission, breaking the world record for the most time spent by a woman in space. Koch has spent 328 days on International Space Station ISS, surpassing the previous record of 289 days held by fellow American Peggy Whitson. Koch's medical data will be especially valuable to NASA scientists as the agency draws up plans for a long-duration manned mission to Mars.
36.5th India-Russia Military Industrial Conference in Lucknow; 14 MoUs signed
The fifth India-Russia Military Industrial Conference was held on the sidelines of the ongoing Def Expo 2020 in Lucknow. Over 100 Russian and over 200 Indian industry leaders participated in the conference. Seminars and discussions on various defence related issues are also being held on the second day of the Defence Expo. 14 MoUs were signed between Indian and Russian companies under the Make in India initiative. The MoUs were related to production of different defence equipment such as parts of T-72, T-90, radar systems, ASW Rocket launchers and 3D modeling.
37.India ranks 40 out of 53 countries on global Intellectual Property index
India slipped to 40th position on the International Intellectual Property (IP) Index, which analyses the IP climate in 53 global economies. Last year India was ranked at 36th position out of 50 countries. The US, the UK, Sweden, France and Germany remained the top five economies on the intellectual property index in 2019 retaining their spots from the last year.
38.External Affairs Minister Jaishankar addresses India - Central Asia Business Council in New Delhi
India - Central Asia Business Council organized by FICCI was held in New Delhi. External Affairs Minister Dr S Jaishankar called upon Indian businesses to take initiatives vis-a-vis the Central Asian markets. Dr Jaishankar said, Central Asia is not a distant region for India and it is a part of the country's extended neighbourhood. Dr Jaishankar expressed the hope that the Chabahar port can become the fulcrum of connectivity to Central Asia.
39.First case of Swine flu detected in Cuttack hospital
The first case of Swine Flu (H1N1) has been detected in Srirama Chandra Bhanja Medical College and Hospital (SCB) Hospital, Cuttack in Odisha. The person belongs to the Dhenkanal district. He has been kept in isolation in a special ward.
40. WHO calls for USD 675m in donations to fight novel coronavirus
The World Health Organization has called for 675 million US dollar in donations for a plan to fight the novel coronavirus, mainly through investment in countries considered particularly "at risk". WHO chief Tedros Adhanom said at a news conference in Geneva that they are launching a strategic preparedness and response plan and requesting 675 million dollar to fund the plan for the next three months. Mr Tedros said 60 million US dollar of the funds would be for WHO operations while the remainder would go to countries requiring assistance to guard against the deadly virus. WHO was sending 500,000 masks and 40,000 respirators to 24 countries from its warehouses in Dubai and Accra. Tedros also hailed a 100 million dollar donation from the Bill and Melinda Gates Foundation announced earlier for virus testing, treatment and vaccine research.
41. India becomes second largest steel producer of Crude Steel
As per World Steel Association data, India became the second largest steel producer of crude steel after China in 2018 and 2019, by replacing Japan. India's crude steel production in 2018 was at 109.3 MT, an increase of 7.7 per cent from 101.5 MT in 2017. China remains number one with 920 million tonnes of production in 2018 and 996.3 million tonnes in 2019. The United States and South Korea rank fourth and fifth respectively.
42.Cabinet approves to confer the status of Institution of National Importance to five IIITs
The Union Cabinet gave its approval to confer the status of Institution of National Importance to five Indian Institutes of Information Technology, IIITs. The Five IIITs in PPP mode at Surat, Bhopal, Bhagalpur, Agartala and Raichur will now be able to use the nomenclature of Bachelor of Technology, BTech or Master of Technology or PhD degree. The cabinet has approved the introduction of the Indian Institutes of Information Technology Laws (Amendment) Bill, 2020.
43.Cabinet gives in principle approval to set up a new major port in Maharashtra
The Union Cabinet has given in principle approval to set up a new major port at Vadhavan near Dahanu in Maharashtra. The total cost of the project is likely to be over 65 thousand crore rupees. Vadhavan port will be developed on landlord model. A Special Purpose Vehicle, SPV will be formed with Jawaharlal Nehru Port Trust as the lead partner with equity participation equal to or more than 50 per cent to implement the project. The SPV will develop the port infrastructure including reclamation, construction of breakwater, besides establishing connectivity to the hinterland.
44.Gujarat: New academic year in schools to start from April instead of June
Gujarat Government has announced to start a new academic year in schools from 20th April 2020 instead of June first week. The students will need to go to school for 13 days after annual examinations, followed by summer vacation. At present, the schools observe the summer vacation immediately after the annual examinations. The new academic year is in line with CBSE schools. According to the new academic year, the annual examinations and results will be completed by 20th April. The new academic year will start from 20th April and Schools will remain open till 3rd May. As per the new schedule, the summer vacation will be from 4th May to 7th June.
45.Rajasthan CM to dedicate UNESCO world heritage site certificate for Jaipur at historical Albert Hall
Rajasthan Chief Minister Ashok Gehlot dedicated the UNESCO world heritage site certificate for Jaipur to the people at a function to organize at historical Albert Hall. UNESCO Director-General Audrey Azoulay will be felicitated on the occasion. UNESCO declared the Walled City of Jaipur world heritage site in July last year which is famous for its grid plan-based architecture and buildings constructed with the pink façade. The historic walled city of Jaipur in Rajasthan, was founded in 1727 AD under the patronage of Sawai Jai Singh II. It serves as the capital city of the culturally-rich state of Rajasthan.
46.International Seafood Show in Kochi from 7-9 February 2020
The Marine Products Export Development Authority (MPEDA), under Ministry of Commerce and Industry, Government of India, in association with the Seafood Exporters Association of India (SEAI), is organizing the 22nd edition of India International Seafood Show (IISS) 2020 in Kochi from 7-9 February 2020. The theme of this year's seafood show is "Blue Revolution- Beyond Production to Value Addition". Over 200 exhibitors, 350 stalls and more than 5000 delegates, including foreign delegates, are expected to attend the three-day event at Kochi. The delegates include seafood processors, buyers and stakeholders, from other related sectors, representing firms in India and abroad. IISS 2020 will highlight the technological advances and sustainable practices followed in the seafood processing sector in India. The IISS is one of the oldest and largest seafood events in the world. It attracts seafood traders from the major markets like USA, EU, Japan, South East Asia and other countries.
47. Brihadeeswarar temple in Thanjavur, Tamil Nadu gets ready for Kumbabishekam
In Tamil Nadu, the rare Kumbhabhishekam of the heritage Brihadeeswara Temple in Thanjavur will be held in a short while from now. The 'kumbhabhishekam' of the 1,000-year old Brihadeeswara temple in Thanjavur is being held with traditional rites and rituals within a few hours from now. The kumbhabhishekam, which relates to the rejuvenation of the temple, was last performed in 1997. Lakhs of pilgrims have flocked to the temple town of Thanjavur, on the banks of the river Cauvery, to witness the rare spectacle.
48. Indore to host 21st edition of IIFA Awards from March 27-29
The 21st edition of the International Indian Film Academy Awards (IIFA Awards) will be held in Indore from March 27-29, while Bhopal will host a function in run up to the mega Bollywood event. This was announced by IIFA organisers in the presence of Bollywood actors Salman Khan and Jacqueline Fernandez and Madhya Pradesh Chief Minister Kamal Nath at a press conference. An event related to the IIFA Awards will be held in Bhopal on March 21, while the main function spanning over three days will be organised in Indore from March 27-29. This will be the 21st edition of the awards, which first started in 2000 and later became one of the most high- profile events related to the Hindi film industry.
49. India's biggest rural technical festival 'Antahpragnya 2020' started in Telangana
M Prashanthi, District Collector of Nirmal, inaugurated National Level India's Biggest Rural Technical Festival titled 'Antahpragnya 2020' in the state of Telangana. The theme of this festival is 'Spot and encourage rural tech innovators'. The 3-day technical fest from Jan 31 to Feb 2 with over 200 events viz Campus Farming competition, Robo Racing, Robo Soccer, and others.
50. RBI Governor Shaktikanta Das named 'Central Banker of the Year 2020 – Asia Pacific'
Shaktikanta Das, The governor of the Reserve Bank of India (RBI), has been named 'Central Banker of the Year 2020 - Asia-Pacific' by The Banker. The Banker is a London-based international financial affairs publication owned by The Financial Times. It is known for its annual rankings of the world's top banks. The 2020 list "celebrates the officials that have best managed to stimulate growth and stabilise their economy".
51. PM Modi presided over inaugural Ceremony of DefExpo 2020 at Lucknow
Prime Minister Narendra Modi presided over the inaugural Ceremony of the DefExpo 2020 at Lucknow, Uttar Pradesh. The aim of this Defence Expo is to bring the leading technologies in the defence sector under one roof and provide a myriad of opportunities for the government, private manufacturers, and startups. The 5-day event will cover the entire spectrum of the country's aerospace, defence and security interests. After the invocation ceremony, the Prime Minister will visit the India and UP Pavilions. The Uttar Pradesh Pavilion will be displaying industrial prowess and the huge potential of the State for the investors in the identified Defence Corridor in the state.
52. Prez Kovind inaugurates annual Udyanotsav at Rashtrapati Bhavan
President Ram Nath Kovind opened the annual Udyanotsav of Rashtrapati Bhavan. The Mughal Gardens at Rashtrapati Bhavan will be opened for the general public from 05 February. The main attraction of this year's Udyanotsav, beside Tulips and Exotic flowers, are bulbous flowers. Around 10 thousand Tulips are specially cultivated in Mughal Gardens and they are in vivid colours of red, white, orange and yellow. Flower Carpets in magnificent designs will also be on display in the Central Lawns revealing the skill and craft of the gardeners of Rashtrapati Bhavan.
53. Ninth edition of India-Bangladesh joint military exercise begins in Meghalaya
The ninth edition of Indo-Bangladesh Joint Military Exercise SAMPRITI-IX commenced at Umroi, Meghalaya. The main focus of this edition of the fourteen days joint exercise is on Counter-Terrorism Operations in mountainous and jungle terrain. The Defence Ministry has said that a delegation consisting of 31 officers and 138 other ranks of Bangladesh Army and a company group of Indian Army will participate in the joint military exercise.
54. Navy conducts coastal security exercise 'Matla Abhiyaan'
The Indian Navy carried out a five-day coastal security exercise, 'Matla Abhiyaan', with personnel of two naval boats. The exercise, named after Matla River, aimed to interact with coastal communities to spread awareness on coastal security and understand the navigational complexities in the Sunderban delta waters. During the exercise, the two boats undertook patrol in the Sunderban delta, and along the Indo-Bangladesh protocol route. The personnel of the naval boats interacted with the crew of fishing boats, tankers and launches operating in the Matla and Hooghly rivers and the narrow creeks of Sunderbans.
55. Union govt sets target of 30km of highways a day in current fiscal
The Union Government has set the target for construction of highways about 30 kilometres per day in the current fiscal. In a written reply in the Rajya Sabha, Road Transport and Highways Minister Nitin Gadkari said, the average construction of Highways is 25.23 kilometres per day till December in 2019-20 whereas it was 24.37 kilometres per day during the corresponding period in 2018-19. A total of two thousand one hundred 55 kilometres length of roads have been built in the first three months of the current financial year as compared to two thousand three hundred 51 kilometres in the corresponding period last year.
56. India, Maldives sign five MoUs for establishing Addu Tourism zone
India and Maldives signed five MoUs for establishing the Addu Tourism zone in five islands of Addu atoll at a cost of 2.49 million dollars. A 6th MoU to set up a bottled water plant in Hoarafushi was also signed. All six projects are grant projects falling under India's High Impact Community Development Scheme (HICDP). These projects are driven by the needs of communities on the islands.
57. First Coronavirus death outside China reported from Philippines
The death toll in novel coronavirus in China has risen to 304. Around 14,380 people have been infected with the virus in mainland China and 160 in other countries. The number of suspected cases has also gone up to 19,544 in China. The Philippines has also confirmed its first novel coronavirus death, the first one outside China. It was the second confirmed case in the country. Recently, India's second case of coronavirus has been reported in Kerala, three days after a student from the state was tested positive.
58. Madhya Pradesh bags first position for implementation of PMMVY
Madhya Pradesh has bagged the first position for the implementation of Pradhan Mantri Matri Vandana Yojana. Union Minister of Women and Child Development Smriti Irani will present this award to Madhya Pradesh at a function in New Delhi. Indore district has also bagged the first place for better performance of the scheme. The main objective of the Matru Vandana Yojana is to provide incentives of five thousand rupees for the loss of wages of working women and to ensure their proper rest and nutrition during pregnancy. In Madhya Pradesh, more than 14 lakh 55 thousand beneficiaries have been registered under the Pradhan Mantri Matra Vandana Yojana.
59. Andhra govt launches doorstep pension distribution scheme
The Andhra Pradesh Government has initiated a doorstep pension delivery scheme across the state, under which, various welfare pensions are being delivered at the doorstep of the pensioners. The "YSR Pension Kanuka" initiative to end the struggles of old people who find it difficult to go to the pension office. Also, the age for old age pensioners (OAP) has been reduced from 65 to 60 years. With the increase in the pensioners, the list of beneficiaries has gone up to 54.64 lakh this year.
60. SRO announces it is preparing low-cost satellite launch vehicles
The Indian Space Research Organisation (ISRO) has announced that it is preparing low-cost satellite launch vehicles costing around 30-35 crores rupees each, which can put into orbit satellites weighing 500 kgs. The first such launch is expected to take place in the next four months from the country. This capability will give ISRO a big commercial boost as it will be able to cater to micro, mini and medium segments of the market.
61. Mumbai's favourite arts festival Kala Ghoda kicks off
Mumbai's favourite arts festival Kala Ghoda kicked off. In its 21st edition, this year the annual arts extravaganza is packed with a bigger, tighter selection of vibrant events. For the next nine days, Mumbaikars have the opportunity to enjoy host of festivities including contemporary artworks, talks by esteemed names in the city and performances across music, theatre and stand-up comedy and much more on the streets of South Mumbai.
62. Budget 2020-21 announces largest ever science mission: A 8000 cr National Mission on Quantum Technologies & Applications
The government in its budget 2020 has announced a National Mission on Quantum Technologies & Applications (NM-QTA) with a total budget outlay of Rs 8000 Crore for a period of five years to be implemented by the Department of Science & Technology (DST). Quantum technologies are rapidly developing globally with a huge disruptive potential. Their applications which will receive boost include those in aero-space engineering, numerical weather prediction, simulations, securing the communications & financial transactions, cyber security, advanced manufacturing, health, agriculture, education and other important sectors .
63. Union Budget 2020-2021
Presenting the first Union Budget of the third decade of the 21st century, Finance Minister-Smt. Nirmala Sitharaman, unveiled a series of far-reaching reforms, aimed at energizing the Indian economy through a combination of short-term, medium-term, and long term measures. The Union Budget was structured on the overall theme of " Ease of Living". Further, three prominent themes of the budget are:-
Aspirational India - better standards of living with access to health, education and better jobs for all sections of the society.
Economic Development for all - "Sabka Saath,Sabka Vikas , Sabka Vishwas".
Caring Society - Both humane and compassionate.
The income tax rates have been revised.
10% tax for income between Rs 5-7.5 lakh as against 20%
15% tax for income between Rs 7.5-10 lakh as against 20%
20% tax for income between Rs 10-12.5 lakh as against 30%
25% tax for income between Rs 12.5-15 lakh as against 30%
30% tax for income above Rs 15 lakh
15% concessional tax rate for new power generation companies.
Tax on cooperative societies reduced to 22% without exemptions.
100% tax concession to sovereign wealth funds on investment in infrastructure projects.
For year 2020-21:Nominal growth of GDP estimated at 10%.
Fiscal deficit of 3.8% estimated in RE 2019-20 and 3.5% for BE 2020-21.
Rs 690 billion will be spent toward healthcare spending
High-speed train between Mumbai and Ahmedabad will be actively pursued, Nirmala Sitharaman says while presenting Union Budget 2020.
Insurance cover for bank depositors to be raised to Rs 5 lakh from Rs 1 lakh
5 new smart cities in public-private partnership mode
Delhi-Mumbai Expressway to be completed by 2023
100 more airports to be developed by 2024
To launch a new direct tax dispute settlement scheme -- Vivaad se Vishwaas scheme.
Govt plans to sell part of its holding in Life Insurance Corporation (LIC) by way of Initial Public Offering.
Government doubles the divestment target for the next fiscal at Rs 2.1 lakh crore.
Start-ups with turnover up to Rs. 100 crore to enjoy 100% deduction for 3 consecutive assessment years out of 10 years.
India will host the G20 Presidency in the year 2022 and the Finance Ministry is set to allocate Rs 100 crore for the preparations.
Defence gets Rs 3.37 lakh crore as the defence budget
Rs 2.83 lakh crore to be allocated for the 16 Action Points; Rs 1.6 lakh crore allocated to agriculture and irrigation; Rs 1.23 lakh crore for Rural development and Panchayti Raj.
Rs 4,400 crore for clean air; Rs 53,700 crore for ST schemes; Rs 85,000 crore for SC, OBCs schemes; Rs 28,600 for women specific schemes; Rs 9,500 crore for senior citizen schemes.
Rs 30,757 crore rupees for Union Territory of J&K; Rs 5,958 crore rupees for Union Territory of Ladakh.
National recruitment agency: New common entrance test for non-gazetted government jobs and public sector banks.
5 new Smart cities to be set up via PPP model.
Rs 1.7 lakh crore allocated to transportation.
100 more airports to be set up by 2024 to support UDAN scheme.
Rs 6,000 crore for BharatNet programme; Fibre to Home connections under BharatNet will be provided to 1 lakh gram panchayats this year itself
5 archaeology sites to be developed for world-class museums
Rakhigarhi (Haryana)
Hastinapur (Uttar Pradesh)
Shivsagar (Assam)
Dholavira (Gujarat)
Adichanallur (Tamil Nadu)
Maritime museum to be set up at Lothal- the Harappan age maritime site near Ahmedabad, by the Ministry of Shipping.
Rs 18,600 crore worth Bengaluru suburban transport project launched; 20% equity will be provided by the Centre.
New Education Policy to be announced soon.
Fish production to be raised to 200 lakh tonnes by 2022-23
Rs 3.6 lakh crore allocated to water sanitation and pipeline project; Rs 12,300 crore for Swachh Bharat.
64. Indian Coast Guard Day: 01 February
Indian Coast Guard (ICG) celebrated its raising day on February 1. ICG protects India's maritime interests and enforces maritime law, with jurisdiction over the territorial waters of India, including its contiguous zone and exclusive economic zone. It operates under the Ministry of Defence. Director General of ICG: Krishnaswamy Natrajan
65. India-Bangladesh JT Exercise SAMPRITI-IX
As part of the ongoing Indo-Bangladesh defence cooperation, a joint military training exercise SAMPRITI-IX is being conducted at UMROI, Meghalaya, India from 03 Feb to 16 Feb 2020. Exercise SAMPRITI is an important bilateral defence cooperation endeavour between India and Bangladesh and will be the ninth edition of the exercise which is hosted alternately by both countries. During the joint military exercise SAMPRITI-IX a Command Post Exercise (CPX) and a Field Training Exercise (FTX) will be conducted.
66. Bengaluru has the worst traffic in the world: Report
According to a report by TomTom, the Netherlands-based global provider of navigation, traffic and map products, Bengaluru is the world's most traffic congested city. It beat 415 other cities across 57 countries to earn the title in 2019. Drivers in this city are expected to spend an average of 71% extra travel time stuck in traffic. In 2019, a commuter spent an additional 243 hours in traffic while driving during peak hours. Manila in the Philippines came a close second, with a similar average time spent by commuters in traffic. Mumbai, Pune and New Delhi were the other Indian cities that also featured in the top 10, taking fourth, fifth and eighth places respectively.
67. MP government to roll out 365-day work scheme
The Kamal Nath government of Madhya Pradesh is coming up with a ramped up version of Yuva Swabhiman Yojana, a scheme for the unemployed, hiking monthly stipend to Rs 5,000 and increasing the number of working (hence payable) days to 365. The decision comes just about a week after Nath's return from the WEF meet at Davos, where he showcased MP's potential before investors and emphasized the need to mobilize the economy and generate more jobs. Yuva Swabhiman Yojana, a Congress manifesto promise and a flagship programme of the Nath government, was launched on January 31, 2019, guaranteeing 100 days of work and pay to unemployed youth. On the lines of MNREGS, the government is ready to extend the guarantee of 100 workdays to 365 days of temporary employment a year. The scheme is part of Nath's attempt to generate employment and boost the economy.
68. Month-long Nagoba jatara concludes in Telangana
A Month-long Nagoba jatara concluded in Telangana with the ceremony of Betal puja. It is the second biggest tribal carnival and celebrated by the Mesaram clan of Gond tribes for 10 days. Tribal people from Maharashtra, Chhattisgarh, Orissa and Madhya Pradesh belonging to the Mesram clan offer prayers at the festival.
69. Yellow rust attack sets off alarm bells in Haryana and Punjab
The detection of yellow rust disease in the wheat crop in sub-mountainous parts of Punjab and Haryana has raised anxiety among farmers. According to agricultural experts, yellow rust, or stripe rust, takes its name from the appearance of yellow-coloured stripes that run parallel to the venation of leaf blades. The symptoms of yellow rust include stunted and weakened plants, shrivelled grains, fewer spikes, loss in number of grains per spike and grain weight. The disease usually occurs early in the growth season, when temperature ranges between 2°C and 15°C. High humidity and rainfall are favourable conditions for increasing the infection on both leaf blade and leaf sheath.
70. Madhya Pradesh: 3-day Narmada Mahotsav to be held from 31 Jan- 02 Feb
In Madhya Pradesh, three-day Narmada Mahotsav is being started from in the picturesque plains of Amarkantak on the occasion of Narmada Jayanti. Local tribal art and culture will be duly demonstrated during Amarkantak Narmada Mahotsav-2020. The Narmada is a major source of drinking water, irrigation and hydroelectricity for Madhya Pradesh and Gujarat. During the Mahotsav, one day will be reserved for all women activities under the theme of "Beti Bachao - Beti Padhao".
71. Uttar Pradesh's Chandauli district tops NITI's ranking in December
Chandauli district in Uttar Pradesh has topped the list of aspirational districts ranked by the government think tank NITI Aayog in December. Belangir (Odisha) and YSR (Andhra Pradesh) have been placed at the second and third positions. The delta rankings took into account incremental progress made by over 112 aspirational districts across six developmental areas in December 2019. Health and nutrition, education, agriculture and water resources, financial inclusion, skill development and basic infrastructure were the development areas that were taken into consideration for the ranking. The ranking of aspirational districts is done every month.
BUSINESS
72.RBI keeps repo rate, reverse repo rate unchanged
The policy repo rate remains unchanged at 5.15 percent under the Liquidity Adjustment Facility (LAF). Consequently, the reverse repo rate under the LAF remains unchanged at 4.90 percent and the Marginal Standing Facility (MSF) rate and the Bank Rate at 5.40 per cent. At the same time, the central bank maintained an accommodative stance to support growth. The RBI's six-member monetary policy committee (MPC) voted six-zero in favour of the status quo of interest rates.
73.Flipkart shuts down fashion portal Jabong, to focus fully on Myntra
E-commerce marketplace Flipkart is downing shutters on Jabong and the portal is now redirecting the users to the Myntra website. Walmart-owned Flipkart had acquired Jabong for $70 million in 2016. Earlier in July 2019, Flipkart had said that it had started to cut a significant chunk of its marketing expenditure in Jabong and redirecting its users towards Myntra by providing discounts. Flipkart had acquired fashion e-commerce platform Myntra in May 2014.m Soon after the Walmart acquisition in November 2018, Flipkart merged both Myntra and Jabong.
74. Insurance cover on bank deposits increases from Rs one lakh to five lakh
Insurance cover on bank deposits has been increased to five lakh rupees from one lakh rupees. The Reserve Bank of India (RBI) said in a statement that the cover is provided by the Deposit Insurance and Credit Guarantee Corporation (DICGC), a wholly-owned subsidiary of the RBI. Finance Minister Nirmala Sitharaman had made the announcement regarding increasing insurance cover to five lakh rupees in her Budget Speech. The move will help boost the confidence of people in the banking system. As the insurance cover stands increased, the banks will pay a premium of 12 paise against 10 paise per 100 rupees deposited.
75. Economic Survey 2020 tabled in Parliament; projects growth at 6 to 6.5 per cent for the next fiscal
Economic Survey 2019-20 has projected economic growth at 6 to 6.5 per cent in the fiscal year starting 1st of April this year. It has put current fiscal growth at five per cent and said the fiscal deficit target for the current fiscal may need to be relaxed to revive growth. Finance Minister Nirmala Sitharaman tabled Economic Survey in both the houses of Parliament. The survey called for more reforms to make it easier to do business in the country. It said, about 1.24 lakh new firms were created in 2018, which is an increase of about 80 percent from about 70,000 in 2014. It said, the industrial sector as per Index of Industrial Production registered a growth of 0.6 per cent in 2019-20 (April-November) as compared to 5.0 per cent during 2018-19 (April-November).