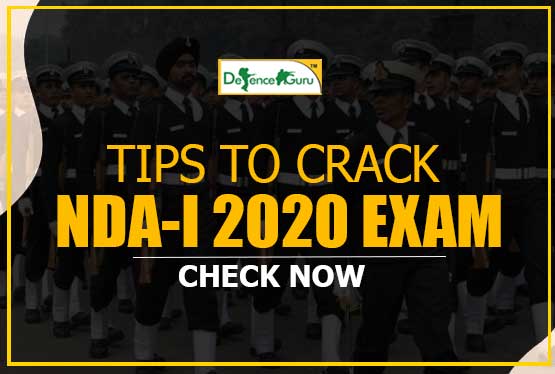 NDA-I 2020 EXAM TIPS
NDA Exam is the most prominent examination among the students who want to join Indian Defence Forces. This exam is regulated by the UPSC (Union Public Service Commission). It is the gateway for the students to join Indian Army, Air Force and Navy. It is a national level examination conducted two times in a year. Through the NDA exams you can directly become an officer in the defence right after your 12th. A lot of grub work and polishing of personality needs to be done to be able to ace out these exams. After all, it is the question of serving the nation, you have got to be the best, to get selected. The students looking for the guidance and preparation tips for NDA written examination are informed to go through this article. Here, we have mentioned all the beneficial information about how to prepare for NDA 2020.
Complete Details of NDA 2020 Exam:-
Selection procedure of NDA:-
Eligibility criteria of NDA 2020 Exam:-
The academic qualifications vary slightly according to the post that the candidate has applied for. The details of educational qualification for different posts are specified below:
- For Army Wing of National Defence Academy: Pass certificate in 10+2 exams via recognized board or a University.
- For Air Force and Naval Wings of National Defence Academy and for the 10+2 Cadet Entry Scheme at the Indian Naval Academy: Candidate should have passed Class 12th exam in the 10+2 pattern of School Education or equivalent with Physics and Mathematics conducted by a State Education Board or a University.
- Candidates who are appearing in Class 12 or equivalent examination can apply.
- Candidates appearing in Class 11 exam are not eligible.
Check: NDA-1 2020 Exam Notification
Age Limit for the NDA 2020 Exam:-
- The age of the candidates must be between 16.5 to 19 yrs old.
- No relaxation has been given to any caste or religion.
- The age limit is the same for all the categories.
Tips for NDA–I 2020 Exams
There are no perfect tips that you can follow to clear the NDA, there are few tips that actually work to make your preparation a little bit better. So the mantra is to focus on these points to enable and smoothen out your own selection process-
- Schedule your Study Plan Smartly
For better preparation, it is necessary to have a smart study plan. Here, smart study plan means to manage your time and your syllabus efficiently. Your preparation schedule must be well-organized so that you are able to score good marks.
Firstly, do the analysis of your complete syllabus and mark the topics that require more concentration. Start preparing the topics from basics. If your basics are clear then only you can solve the high level questions.
- Focus on General Knowledge, Mathematics and English Subjects
English Portion is the best scoring portion of the exam. Try to prepare your English as hard as you can. Proficiency in English is required for clearing the NDA examination. Your English is not only tested in the written but if there is fluency and command over your English, then it may leave a good impression on the selectors also at the time of interview. As General Knowledge is part of the syllabus, so prepare it well. You can strengthen your GK portion by reading newspapers, magazines, journals, refering books of prominent writers that focus on current affairs, etc. Mathematics is a scoring subject, if you are good at maths, try to cover the maximum questions in the examination, on average most of the candidates are weak at maths, so make your maths a little bit better than the others to avail that extra edge over others.
- Solve Previous Year Question Papers
It is very important to do the preparation in the right direction. By solving previous year questions, your speed will be enhanced as well as you will get the idea about the examination pattern and difficulty level of the questions asked in the examination.
Check: NDA-2 2019 Maths Question Paper
Revision is the key to success. Candidates are advised to make short notes and revise them on a regular basis. This will help the candidates to remember it longer. Do not study unnecessary topics at the last hours. In the last week before examination, revise all the topics & subjects you have studied properly. This will help you to score better in the examination.
- Health Maintenance and Personality
Selection through NDA is based not only on the written test but your personality and health also plays a major role in it. It is advised to all the aspirants to keep yourself fit and healthy through the intake of sufficient food and water. Besides this, also prefer yoga or some another exercise or meditation to relieve out your stress levels.
- GAT- General Ability Test
While preparing for NDA, get your basic concepts cleared of Physics, chemistry and biology. For History, Civics, and Economics, all you need is to memorize a few major concepts, but nothing tricky. GAT covers the major portion of NDA test and so, you just can't ignore any aspect of this section. Go through the syllabus for GAT section very carefully and prepare for each and every topic mentioned under the heading.
- Keep track of current events
You just cannot survive in NDA exam and interview, if you are not aware of nearly all the current events. You must know all about the major events happened, say, at least of last five years. For this, all you have to do is to watch the news, read the newspaper, listen to the interviews of famous personalities, keep track of all the awards and prizes, on a daily basis and you are good to go.
The adage to ace out these exams is to be positive, determined and to believe in yourself . Prepare strategically and put in a lot of hard work with utmost honesty and dedication. Follow the above given tips, perform well and be confident in the exams and the day will be yours.