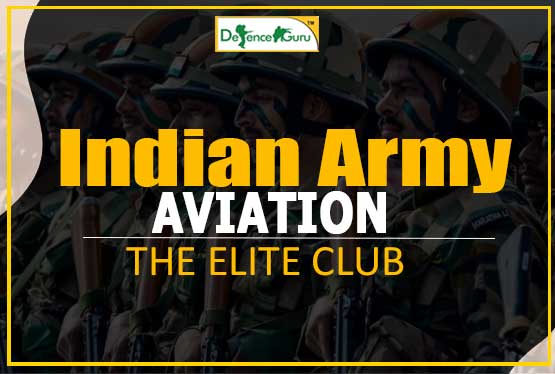 Join Indian Army Aviation - The Elite Club
BRIEF HISTORY
The Indian Army aviation Corps was raised on 01 Nov 1986 consequent to the apt realization that the third dimension will be the deciding one whenever the clouds of an armed conflict loom over the subcontinent in the times to come. This is primarily because of the inherently mobile and flexible nature that this young arm and its capability to carry out operations over a large area in a short span of time despite the high level of battlefield transparency that exists by the virtue of the latest surveillance devices inducted by us as well as our adversaries. Surprisingly young as it may seem, but the trials for acceptance of the new concept of 'Flying Observation Post' were carried out and accepted in 1938-39, leading to the rising of 'D' Flight of RAF in 1940. An army aviation unit is an aviation-related unit of a nation's army, sometimes described as an Air Corps. These units are generally separate from a nation's dedicated air force, and usually comprise helicopters and light support fixed-wing aircraft.
Army Aviation has come a long way from its humble origins and emerged as an arm to reckon with by virtue of the diverse plethora of helicopters flown by extremely professional aviators in the olive greens. Army Aviation has proved its mettle in all the operations as well as during humanitarian crisis faced by the nation besides playing an indispensible part of various peace keeping missions all over the world. It was created with the aim of providing the Indian Army with an air component to provide combat and combat support in coordinated operations as an integrated member of the Combined Arms Team. The Army Aviation Corps emerged from the erstwhile Air OP units of the Indian Army that were tasked primarily to support field artillery. With the creation of the Army Aviation Corps and the transfer of the Indian Air Force's light helicopters, the Army Aviation Corps was utilized principally for reconnaissance and observation missions. Contemporarily, however, with the induction of the Advanced Light Helicopter, the Indian Army Aviation's role in the Combined Arms Team has expanded significantly and expanded dimensionally.
PROCEDURE FOR ENTRY INTO ARMY AVIATION
Direct Commissioning from IMA/OTA
- Should be a volunteer for Army Aviation during training stage at the academy.
- PABT and medical to be cleared.
- Two years of attachment with fall back arm after getting commissioned.
After Getting Commissioned into an Army Aviation
- Minimum of 2 years service and not more than 29 years of age.
- PABT and medical to be cleared.
- For direct commissioning, two years of attachment with fall back arm after getting commissioned.
- Inter Arm Service Transfer for permanent cadre of Army Aviation at 8-10 years of service.
REVISED MEDICAL STANDARDS
Army Aviation follows Indian Air Force medical standards for induction as a pilot with the following exceptions.
Ophthalmology
- Visual acuity 6/12 correctable to 6/6.
- Post-Lasik permitted after six months of surgery if surgery done > 20 yrs age.
Hearing
- CV/FW 610 cm; Audiometric loss < 20 dB between 250-2000 Hz; 30 dB at 3000 Hz; 35 dB at 4000-800Hz.
Anthropometry
- Standing Ht – Min 162.5 cm; Sitting Ht – Min 81.5 cm; Leg Length – Min 99.0 cm.
Musculoskeletal System
- Cervical/Lumbar Spondylosis: Fitness based on clinical features, MR/CT scan neurosurgical opinion.
Compression Fracture Spine
- A single consolidated stable compression fracture in an asymptomatic candidate is not a cause for rejection.
Training to undergo for Army Aviation Corps
Training is imparted to all candidates at the Combat Army Aviation Training School (CATS) at Nasik. The Army Aviation training was previously conducted in School of Artillery, Deolali. But now it is carried out at an independent Combat Air Training School also at Deolali.
The Cheetah helicopter simulator has been set up at Combat Army Aviation Training School (CATS). It is expected to reduce substantial cost in training and also to reduce pilot risk during training. The simulator is designed to expose the trainee to different weather conditions like snow, rain, storm and different terrains in addition to night flying training in handling emergencies, tactical handling of the flying machine, its different maneuvers and more. The project to install a simulator was proposed in December 2000 and approved in April 2002, with CATS Nasik chosen as the centre for installation.
Army Aviation Corps Aircraft
- FOR ATTACK AND COMBAT- HAL Rudra, HAL LCH
- FOR TRANSPORT AND UTILITY- HAL Dhruv, HAL Chetak, HAL Cheetah and Cheetal.
Roles and Tasks
- Tactical offensive action (Anti-tank warfare, air assault, and fire support).
- ISTAR (Intelligence, Surveillance, Target acquisition, Reconnaissance).
- Logistic and battlefield support.
- Tactical transport both internally and externally, of personnel and material.
- Combat Search and rescue (CSAR).
- Medical evacuation (MEDEVAC).
- Liaison.
- Disaster relief.
The army aviation pilots are drawn from other combat arms, including artillery officers, to form a composite third dimensional force for an integrated battle. IAF operates and flies attack Helicopters like the Mil Mi-25/Mi-35 and HAL Rudra which are owned and administered by the Indian Air Force, but under the operational control of the Army and play a major role to support the armored columns and infantry. Apart from the attack role, helicopters like the HAL Chetak, HAL Cheetah and HAL Dhruv provide logistical support for the Indian Army in remote and inaccessible areas, especially in the Siachen Glacier.
The ability to observe deep into the enemy area has always been one of the quintessential pre-requisites of warfare and 20th century saw a major revolution in warfare when the advent of airpower added a third dimension to the battlefield on land and in sea. Building from those days, Army Aviation Corps, the youngest Corps in the Indian Army has notched up an enviable record of successes, awards and decorations. It is an amalgamation of diverse influence and traditions of the 'Aviation' and the 'Army'. The motto 'Suveg Va Sudrid' clearly narrates the daily ongoing epic of Army Aviation's ceaseless operational involvement across diverse terrains, in contrasting weather and climatic conditions in a variety of difficult situations. Nothing describes the omnipotence of Aviation's reach and presence better than it's ubiquitous round the clock application in the present day context and thus have garnered accolades far out of proportion.