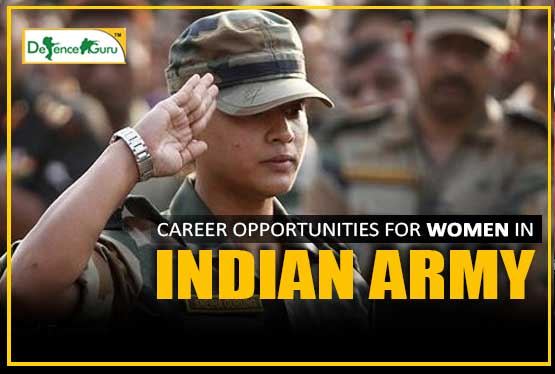 Women Employment in Indian Army
Well certainly dolling up in your shimmery attires and tip toeing the streets in those stunning heels is not what all girls are made up of, some are made of steel and know well how to steal the lights and thunder in their combat boots as well. Certainly we are talking of the new age girls- the empowered, confident and self reliant women who are worth saluting in every way and women in uniform are a shining example of this. So, in this article we will be dealing with a plethora of employment opportunities available for women in the Indian Army. Let's ponder over the same-
Career options for Women in Indian Army
Way back since 1992 women candidates were being inducted into Indian Armed Forces displaying an exemplary amount of valor and professionalism. Women earlier were limited to only joining the Army Medical Corps, the Army Dental Corps and the Military Nursing Service but as of now the Indian Army boasts of a proud 5,660 women officers of which 4,224 are in medical and nursing services while 1,436 are in various other branches and to garner more women into the forces and to boost their confidence the government has granted permanent commissioning to women officers in Indian Army.
Tremendous options and opportunities behold for young women in Indian Army as the Indian Army is the widest branch of Indian Armed Forces and in this section we will abreast you of the opportunities available for all the girls who wish to be a part of this reputed cadre.
Career Arenas for Women in Indian Army
Short Service Non Technical Commission- Commenced and notified by the UPSC, all the graduates within the age group of 19-25 years are eligible to apply for this exam conducted twice a year with a selection eligibility of 12 candidates that are liable to enter the Indian Army through this mode.
Short Service Commission Women NCC- The most commonest way for girls to join the Indian Army. The age limit is the same as above that is should be between 19-25 years with vacancies releasing twice a year through which 8 selections are invited and eligible. Written exam is not the criteria but to serve in the Indian Army as an NCC member there is a mandation of having completed 2 years of NCC in senior division.
Short Service Commission Women Judge Advocate General- A massive opportunity for all the candidates who have completed their LLB with a minimum degree of 55% to join and serve in the Indian Army as Judge Advocate General. The age limit falls between 21-27 years and a total of 8 selections are recruitable for this position. One prime mandatory aspect for joining this post is that the candidates applying for this post should be registered with the Bar Council of India.
Short Service Commission Women Technical Entry Scheme- All the female engineers with a technical panache and holding a degree in engineering, falling in the age group of 20-27 years are eligible to be hired under AG Branch/ Directorate General Branch. Every year a total of 40 applicants are selected for these posts.
Military Nursing Service- This field is especially for women who want to work as military nurses and is yet another amazing employment opportunity to work in Indian Army. Both the positions for working in the short commission as well as permanent commission is available here. The age eligibility criteria is between 21-35 years with the entrance exam comprising of a written test, interview and a medical examination and also having the academic eligibility of comprising of 10+2 level with Physics, Chemistry and Biology as the required subjects.
Life as a lady cadet in the Indian Army has no parallel and is something unimaginable and one of a kind of sorts so all the ladies out there who want to roll in some action with that rush of adrenaline and a love for adventure, the time is right to pull up your socks and make a smart career decision with gaze and pride and be a part of this premier brigade and join the Indian Army.
Read More : Career Opportunities For Women In Indian Armed Forces