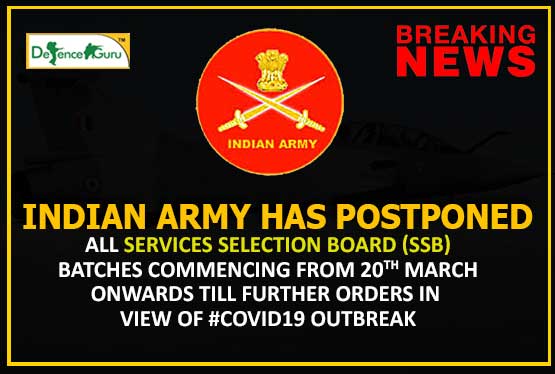 2020 SSB Interview scheduled from 20th March onwards postponed.
STAY SAFE STAY PROTECTED
A state of Public health emergencies declared worldwide as COVID-19 is a severe threat to India and worldwide. The outbreak of Coronavirus (COVID-19), are stressful times for people and communities all around the world. Fear and anxiety about a Coronavirus lead to various measures taken by the government for safety and precaution of their people. Following several exams are being cancelled or postponed in country here comes the latest news released from ANI – Indian Army postponed all SSB Batches commencing from 20th March onwards.
All the SSB aspirants need not to get panic on this stress related scenario prevailing in the world. SSB Interview scheduled from 20th March onwards invites candidates from different states to report at one place. Hence considering the safety of all the aspirants who are travelling from different states to SSB Centre appearing for SSB interview such step are taken by the Indian Army.
"Indian Army has postponed all Services Selection Board (SSB) Batches commencing from 20th March onwards till further orders in view of #COVID19 outbreak"- Source ANI News.
For further updates related to SSB Interview schedule keep yourself updated with official website of Indian Army (SSB Centres telephonic numbers are displayed to contact your respective centres for updates regarding SSB). You can also visit anytime anywhere to Centurion Defence Academy Utube channel, Facebook page, Instapage, Defence Guru webpage of Centurion Defence Academy for any further updates on SSB Interview 2020.
Time is crucial for all the aspirants and this extended time is in your hand which can be utilized best for your preparation of SSB. Revision of various tests on Statge- I & II can be revised and practiced more frequently and abruptly on this time.
Guidelines issued by Central & Sate Government authorities undertaking precautions for COVID-19 follows:
1. Clean your hands often
- Frequently wash your hands with soap and water for at least 20 seconds.
- When soap and running water are unavailable, use an alcohol-based hand rub with at least 60% alcohol. Always wash hands that are visibly soiled.
- Avoid touching your eyes, nose, or mouth with unwashed hands.
2. Avoid close contact
- Avoid close contact with people who are sick.
- Distance between yourself and other people.
3. Stay home if you're sick
4. Cover coughs and sneezes
- Cover your mouth and nose with a tissue
- Throw used tissues in the trash
4. Wear a facemask if you are sick.
5. Clean and disinfect.
Candidates accept the news boldly and move forward with your SSB preparation for on role process to be held very soon under Indian Army.