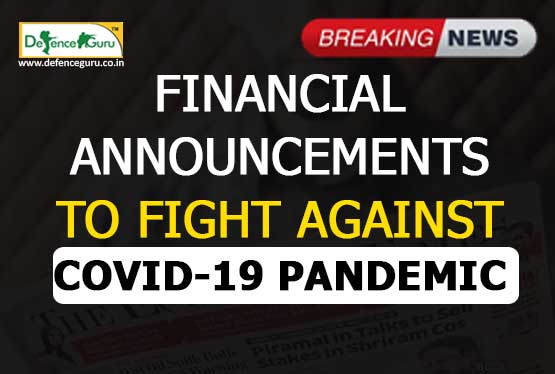 Financial Announcements by Finance Mininster Nirmala Sitharaman on 26th March Thursday Day-2 of National Lockdown stimulates the Indian Government immediate action-plan for 1.3 billion Indians.
Within 36 hours of lockdown the massive announcement under PM Gareeb Kalyan Scheme of Rs 1.7 lakh crore for the poor, working and non-working citizens come up as a ray of light in Covid-19 pandemic war. Key highlights of the financial announcement:
1. From PM Gareeb Kalyan Scheme, Rs 1.70 lakh crore allocated to help Indians.
2. Free 5 kg rice/wheat for the poor (80 crore poor people will get benefit).
3. Rs 50 lakh cover for Frontline workers (health insurance for 3 months for each individual health workers who are busy helping people to fight against the coronavirus).
4. 8.7 cr farmers to get Rs 2,000 (direct cash transfer in their Jan Dhan bank account).
5. Pay hike for MANREGA workers (Wage increased from Rs 182 to Rs 202 that will benefit 5 crore families).
6. 20 crore poor women to get Rs 500 per month for next three months in their Jan Dhan accounts.
7. Pension for elderly, widowed, disabled.
8. Free LPG for 8.3 cr poor families.
9. Rs. 20 lakh Collateral free loans for Self Help Groups (doubled from the current limit of Rs 10 lakh).
10. Government to pay 24% EPF (both employer and employee contribution) to staff earning less than Rs 15,000 monthly wage (benefit 80 lakh employees in the organized sector).
11. Government to bear EPF cost for 3 months.
12. EPF members will be allowed to draw non-refundable advance of 75% from credit in their PF account or 3 months salary, whichever is lower.
13. Ex-gratia of Rs 1,000 for the next three months, in two installments.
'SARKAR' stand with 'JANTA' and these financial aids to its citizens will be benefitted by the government for next the 3 months on various dimensions by the Central and State Governments ensuring India stands United & Strong on all grounds to fight against COVID-19 pandemic.