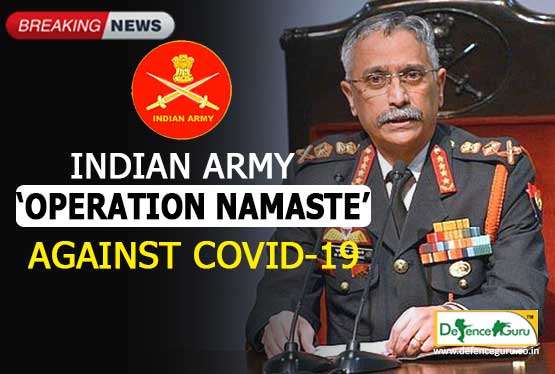 Indian Army 'Operation Namaste' against COVID-19
Following National Lockdown from 25th March, on 3rd Day i.e. 27th March Friday the Indian Army embarked for India with an anti-Covid-19 curbing operation i.e. Operation Namaste.
With an operational plan the Indian Army had landed on ground to begin the Operation Namaste against Coronavirus. So far many assertive steps have been put in by the Central & State Governments, Medical Sector, Media Sector and Sanitation Sector on various levels.
Now Indian Army is set on ground with an effort to combat Covid-19. On Friday Indian Army Chief MM Naravane has announced himself that:
The army has successfully come out of all operations in the past, and will successfully execute Operation Namaste which is aimed at curbing the spread of Covid-19.
Operation Namaste high points include:
1. A helpline number has been issued by the Indian Army.
2. Indian Army has established eight quarantines facilities so far.
3. Indian Army Corona helpline centers are at- Southern Command, Eastern Command, Western Command, Central Command, Northern Command, South-Western Command, Delhi Headquarters.
4. On Friday Indian Army has issued the helpline number to help all the victims fighting against Coronavirus as well as will provide any information regarding Covid-19.
The latest statistical data released on 27th March:
World 537,331 Coronavirus Cases
24,135 Deaths
124,451 Recovered
In India 753 Coronavirus Cases
20 Deaths
67 Recovered
All efforts will be successfully accomplished once only when each one of us will come together to fight against deadly Coronavirus.