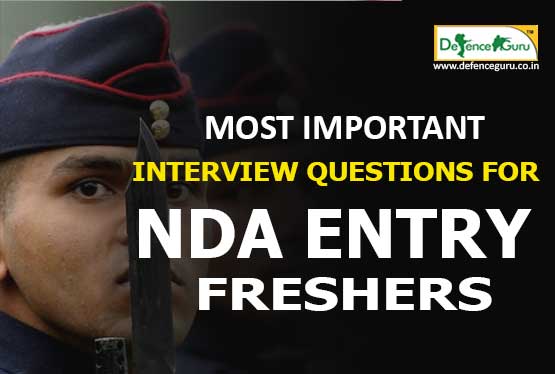 Interview Questions for NDA Cadet
What actually you are preparing to beat the cut throat competition for NDA Entry? Have you ever thought how thisstrenuous task can be accomplished? What are your strategies to tackle these grilling rounds of SSB Interview have you ever wondered?
More than thousands of defence aspirants each year apply for NDA Entry but only few who got recommended each year. The competition is getting day by day more competitive & difficult and if you have practiced well in your practice sessions then you can be the next who get recommendation in NDA Entry.
Expert Analysts and Defence Officers have always mentioned in their speeches that how students successfully qualify for SSB Interview but drastically failed to clear the interviewround and miss the opportunity of joining Indian Armed Forces.
In this article we have some sample Interview Questions listed for all the NDA Entry aspirants who thought why only 1% students got to make the final selection? What actually they do? And what actually their success strategy is?
If you want to get selected in the interview be prepared by looking into National Defence Academy job interview questions and answers given at our page. Personal Information Question to which you are already familiar is asked in a bit quirky manner to access the personality of the candidate. Personal Information Questionnaire (PIQ) is the first thing that the candidate has to fill after getting screened in, an Interview questions are properly based on the PIQ. It is said that a perfectly filled PIQ is the recommendation letter, so to get recommended next first you have to know yourself and stick to your PIQ answers in all the possible ways.
Some questions which are mostly asked over PIQ form are –
Question 1. What is your name, the meaning of your name?
Question 2.How many siblings are you? What is your number among them?
Question 3.Tell me something about your family members?
Question 4.Why don't you continue your father's current occupation and support your family?
Question 5.What kind of friends you like and what kind of friends you don't like?
Question 6.Describe your best friend and compare him with you (appearance, height, texture, thinking, lifestyle, ambition, hobbies, interest, something common between both of you)?
Question 7.What are your hobbies and interests?
Question 8.How do you spend your time, your hobbies and interest?
Question 9.Tell me something about Football/ basketball/ or any other sports you mentioned in your sports activity field.
Question 10.Tell me something about your native place?
Question 11.Tell me some differences between your native place/ maximum residence/ current residences?
Question 12.Tell me something about your educational qualification starting from 10 to the current educational position?
Question 13.Why did you choose this specific stream in 11th class?
Question 14.Why there is a fluctuation in the percentage of your academics?
Question 15.Why did you change your school in 10th and 12th?
Question 16.Why there is a gap between your 12th or graduation?
Question 17.Institution where you completed your schooling, since when any achievements, any responsible position held in the institution during your education and represented the institution at which levels?
Question 18.Tell me about your participation in curricular activities.
Question 19.Subjects you liked the most and those you don't like at all, why?
Question 20.How many sports have you played and what was your position in it?
Question 21.Tell me about your occupation.
Question 22.How do you spend your money?
Question 23.Whom do you share your secrets with?
Question 24.Tell me about your experience in NCC?
Question 25.Tell me about the activities in which who have led a group of people.
Question 26.What are you doing at the moment what are the additional options (if not the army)?
Question 27.Why do you want to join the defence forces? Why not others?
Question 28.Why do you want to join this specific battalion?
Question 29.Tell me about your friends.
Question 30.Did you do any special preparation for SSB Interview?
Question 31.Will you come back again for SSB Interview if you fail this time?
Question 32.What if you do not get recommendation this time?
Question 33.What do you think who is the strongest candidate in your group?
Question 34.What is the role of defense forces in our country?
Question 35.Who are the General / Chief of Indian Army, Navy and Air Force?
Question 36.Tell me about your strength and weaknesss. How are you doing with them?
Question 37.Tell me your motivation behind opting defence forces?
Question 38.Why should I select you?
Few tips suggested by defence experts to answers these interview questions which you will face as a fresher for NDA Entry.
Your answers in the interview should match your answers in SD of Psych test and your PIQ.
Be true & gracefulin anything that is asked to you, don't hide anything.
If you have a weakness, just tell it to them and also tell how you are overcoming it (this is very important).
Think of this interview as a conversation, formal one.
Do not say bad things about friends/parents when asked about them. This shows your integrity and love towards your friends/parents that you are giving away their weaknesses to a stranger.
Finally, do not forget what you are present for – be specific to the interview and to the point. Be diplomatic, blunt and observe things.
If you don't know any answer, accept it, say sorry and tell you'll definitely learn about it.
Your final selection will depend on your performance in Interview round as it is the most important part of your SSB. Candidates are judged on the basis of their personality, attitude, dedication, enthusiasm, stiffness, mental and moral abilities in a much easier and smoother way by the Interviewer Officer who will be sitting right in front of you. The above tips will give you more confidence and help you to remove the nervousness.
Just keep in mind that IO sitting in front of you is much more smarter than you and also knows what and how you think, so you have got to be cautious in dealing with them with your answers, hence be original and real with your answers with them and also stick on ground to turn your answers sounds much more real and factual to the fact.
For further defence related exam and course query you can write to us in our comment box given below. If you need any advice or suggestions from us you can speak to us on our contact numbers provided in the defence guru page. All your queries will be answered shortly without any delay with the updated clarification and factual information derived from the official sources.