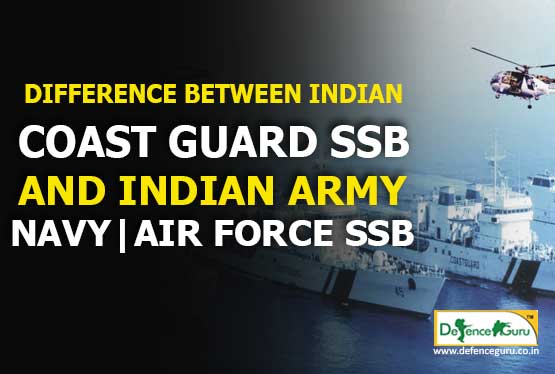 Difference Between Indian Coast Guard SSB and Indian Army | Navy | Air Force SSB
Water keepers patrol local waterways, prosecute polluters and interception in the anti-smuggling effort safeguarding the water boundaries. The Coast Guard works in close cooperation with the Indian Navy, the Department Of Fisheries, the Department Of Revenue (Customs) and the Central and State police forces. India's fourth armed force protects India's maritime interests and enforces maritime law, with jurisdiction over the territorial waters of India, including its contiguous zone and exclusive economic zone.
Career in Indian Coast Guard is better than best option for youth of the nation. Onboard every Coast Guard ship, there is a balanced mix of officers and sailors, belonging to different branches. Indian Coast Guard offers various job opportunities as officer to young and educated youth by conducting recruitment in different categories at Officer Level and Sailor Level Entries.
Let's understand the complete process of Indian Coast Guard SSB and the difference between Indian Army/Navy/Air Force SSB.
Firstly both the SSB's are conducted after passing the written exam of the respective position in Indian Army/Navy/Air Force/Coast Guard. The difference is minimal if we compare the SSB but it is important to clearly understand that minute difference very thoroughly in the beginning of the preparation.
There are basically two vital stages of this whole process in Indian Army/Navy/Air Force SSB's:
STAGE I Testing
1. Screening include Verbal & Non Verbal Test and PPDT
STAGE II Testing
2. Psychology include Thematic Appreciation Test (TAT), Word Association Test (WAT), Situation Reaction Test (SRT), Self Description Test (SD)
3. GTO include Group Discussion (GD), GPE or MPE (group/military planning exercise), Progressive group task (PGT), Snake Race/Group Obstacle Race, Individual Lecturette (IO), Half Group Task (HGT), Individual Obstacles, Command task, Final Group Task (FGT)
4. Personal Interview.
5. Conference.
Indian Coast Guard SSB is conducted in two stage i.e Preliminary Selection Board (PSB) and Final Selection Board (FSB). Coast Guard PSB and FSB details are presented in this article.
The candidates are called for the Stage 1 test at Preliminary Selection Board at Chennai, Mumbai, Kolkata and Noida. In the reporting centre candidates are required to appear with two copies of each data i.e. original document and duplicates document copies along with the two copies of online applications with recent passport size photographs duly sighed by the candidates at the time of application process.
Stage-1 Preliminary Selection Board (PSB) is conducted for two days. Screening is not the one that you give in the Army, navy Air Force Board. The first day is the written test i.e. verbal and non-verbal and second day is Picture Perception & Description Test (PPDT).
On Day1 Power presentation is shown which includes total 80 questions in 7 Parts.
Total 80 questions are shown on the screen
Each question will have 5 options
Right answer is to be marked on the OMR sheet within the allotted time
Each candidate will be provided with writing material (writing pad, OMR, rough sheet).
The PSB is conducted for Day 1 as follows:
Part

Test

Question

Time

Part 1

Reasoning- Number Series, Blood Relation

10

6 second each

Part 2

English- Antonym, Synonym

10

5 second each

Part 3

English- Spelling check, Correction of words

10

5 second each

Part 4

Memory – No. of words displayed 4 second

10

8 second each

Part 5

English- Formation of new word from the word displayed

10

1 minute each

Part 6

Reasoning- Mirror Image (Clockwise and Anticlockwise)

10

20 second each

Part 7

Counting the no of alphabet in a given series

Puzzles

10

8

10 second each

3 second each
PSB Day 1 test result are declared on the same day and selected candidates move to PSB Day 2 Stage 2 i.e. PPDT. This test is standard in both the SSB for army and coast guard.
In PPDT, a blurred image is shown to the candidates for 30 seconds
Candidates have to write a story in 4 minutes
Based on the seven basic parameters such as Age, Sex, Character, Mood, Past, Present and Future
Written test followed by Group Discussion
Group conclude the story based on the image shown to them.
Shortlisted candidates from PSB will get a call from FSB in Noida. FSB conducts 4 day process where the first day is the Psychology test, second day GTO, third day Interview and the fourth day Conference. The candidates selected in this are directed to medical checkup and the then the final merit list is declared.
The two stage process of PSB and FSB in Indian Coast Guard recruitment is drafted in this article. If you are capable of observing the minute differences in SSB pattern of Army and Coast Guard then abruptly you can mark the areas where you need to focus for the final selection.
We are expecting that with this article all your doubts have met clarity as well as made you more vigilant, cautious and attentive decision towards your career. Regarding your desired courses if you have any query/doubt/FAQ's or questions related to exam pattern, exam syllabus, paper format, books to refer, official notification news are not clear, how to apply, where to apply, when to start preparation and many more questions will be shortly answered back to you personally or in an article form by the trusted defence team of Centurion Defence Academy.
Feel free to show your interest with us as we are here to nurture your dream, it is our duty that your minor or major questions should never come up as a set-back reason in your dreams.
To get detailed information on Notifications, Syllabus, Tips and Tricks, Admit Card Dates, Result, Cut off, Trend Analysis, Information about Physical Fitness Test and Medical Examination and Current Affairs, simple Follow us on You tube, Instagram, Twitter, Facebook. Visit our official website www.centruiondefenceacademy.com. Read articles related to defence and defence examination at defenceguru.co.in.