Know About the Legends of Indian Armed Forces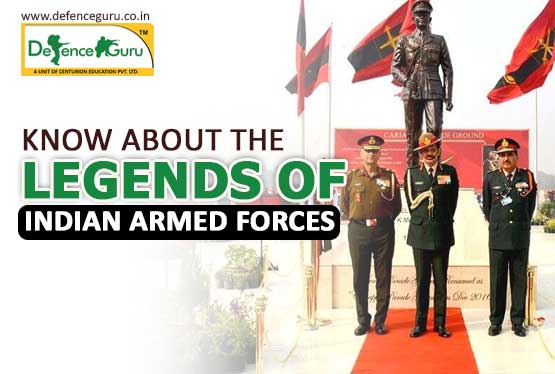 Legends of Indian Armed Forces
"Either you surrender, or we Wipe you out" – Field Marshal Sam Manekshaw (then General) To Pakistan on 13th December 1971.
Three days later on 16th December 1971.
93000 Pakistani soldiers led by General AAK Niazi surrendered in presence of Lt. General Jagjit Singh Aurora.
Devotion to duty and outstanding bravery marks a military gentleman with a Field Marshal's baton in his knapsack and an impediment in is hope. The must read interesting facts about the legends of Indian Armed Forces presented in this article, motivating force that drives the young minds.
To date, only two Indian Army officers have been conferred the rank of Field Marshal. It was first conferred to Sam Manekshaw in 1973 and the second individual to be conferred the rank was Kodandera M. Cariappa in 1986. The first and only officer of the Indian Air Force as Marshal of the Indian Air Force was conferred to Arjan Singh in 2007. Field marshal is equivalent to an Admiral of the fleet in the Indian Navy or a Marshal of the Air Force in the Indian Air Force.
A Field Marshal is the five-star rank and highest attainable rank in the Indian Army. Though the rank is placed above General, it is not observed in the regular structure. They wear a full uniform on all ceremonial occasions.
Know About 1st Indian Army Field Marshal Sam Manekshaw:
Field Marshall S.H.F.J. Manekshaw, M.C. (3 April 1914 – 27 June 2008) affectionately known as "Sam Bahadur" ("Sam the Brave"), he was commissioned from the first course to pass out of the Indian Military college (now known as the Indian Military Academy), Dehradun, in 1934 .
First conferred to Sam Manekshaw in 1973, in recognition of his service and leadership in the 1971 Indo-Pakistani War.
Commissioned into the British Indian Army on 1 February 1935 with antedate seniority fixed as 4 February 1934, Manekshaw's distinguished military career spanned four decades and five wars, beginning with service in World War II.
He was first attached to the 2nd Battalion of Royal Scots, and later posted to the 4th Battalion of 12th Frontier Force Regiment, commonly known as the 54th Sikhs.
Manekshaw rose to be the 8th COAS of the Indian Army in 1969, and under his command Indian forces conducted successful campaigns against Pakistan in the Indo-Pakistani War of 1971 that led to the Liberation of Bangladesh in December 1971.
The decisive results achieved by the Indian Army during this war, under the military leadership of Manekshaw, gave the nation a new sense of confidence, and in recognition of his services, in January 1973 the President of India conferred the rank of field marshal on him.
Later, he was also awarded the Padma Vibhushan and the Padma Bhushan, the second and third highest Indian civilian awards respectively, for his services to the Indian nation.
Know About 2nd Indian Army Field Marshal Kodandera Madappa Cariappa:
Kodandera Madappa Cariappa, OBE (28 January 1899 – 15 May 1993), the second individual to be conferred the rank and first Indian to be appointed as Commander-In-Chief (C-in-C) of the Indian Army.
His distinguished military career spanned almost three decades. Cariappa joined the British Indian Army on 1 December 1919, and was commissioned as temporary second lieutenant in the 2/88 Carnatic Infantry.
He was later transferred to 2/125 Napier Rifles, then to the 7th Prince of Wales Own Dogra Regiment in June 1922, and finally to the 1/7 Rajput, which became his parent regiment.
He was the first Indian officer to attend the course at Staff College, Quetta, the first Indian to command a battalion in the Indian Army, and also was one of the first two Indians selected to undergo a training course at the Imperial Defence College, Camberly, UK. He served in various staff capacities at various unit and command headquarters (HQ) and also at the General HQ, New Delhi.
He led the Indian forces in Kashmir during the Indo-Pakistani War of 1947. As a token of gratitude for the exemplary service rendered by him to the nation, the Government of India conferred the rank of field marshal on Cariappa in his 87th year, on 14 January 1986.
He was awarded the 'Order of the Chief Commander of the Legion of Merit' by American President, Harry S. Truman.
Unlike Manekshaw, who was conferred the rank just before his retirement, Cariappa was already retired in 1953, and since a field marshal never retires, therefore retired officers cannot be given the rank. But as a token of gratitude for the exemplary service rendered by him to the nation, the Government of India overruled the pre-established criteria, and conferred the rank of field marshal on him on 15 January 1986 at a special investiture ceremony held at Rashtrapati Bhavan.
Know About 1st Indian Air Force Field Marshal Arjan Singh:
Arjan Singh, DFC (15 April 1919 – 16 September 2017) known as Arjan Singh Aulakh was a senior air officer of the Indian Air Force.
For his role in successfully leading the squadron against the Japanese during the Arakan Campaign in combat, Arjan Singh received the Distinguished Flying Cross (DFC) in 1944.Leader in 1944.
On 15 August 1947, he had the unique honour of leading the fly-past of over a hundred IAF aircraft over Delhi, over the red fort.
In 1971, Arjan Singh was appointed as India's Ambassador to Switzerland and concurrently served as the Ambassador to the Vatican.Three years later, he was appointed as the country's High Commissioner to Kenya.
Served as a member of the National Commission for Minorities and was also the Lieutenant Governor of Delhi.
Having flown over 60 different types of aircraft from Pre-WW-2 era biplanes to the more contemporary, Gnats & Vampires, he also had flown in transports like the Super Constellation.
In 1989, he was appointed the Lt Governor of Delhi. On 17 April 2007, Dr Manmohan Singh, Prime Minister of India, wrote to Arjan Singh and honoured him as Marshal of the IAF.
Arjan Singh was awarded the Padma Vibhushan for his leadership of the air force, and subsequently in recognition of the air force's contribution in the war, the rank of the CAS was upgraded to that of Air Chief Marshal.
Arjan Singh has remained a source of inspiration to fellow Indians and Officers. His simple formula for success is summed up in a few words by him.
Firstly, you should be thorough in your profession of everyone;
Secondly, complete the job at hand to the satisfaction of everyone;
Thirdly, you must have implicit faith in your subordinates;
And fourthly, your efforts should always be honest and sincere.
An incident from the glorious life of Field Marshal Sam Manekshaw fills the youngster with the best lesson of life.
A young officer was on his round when one of the riflemen did not notice him and missed saluting him.
The youngster got cheesed off and summoned the Gorkha and asked him the reason for not saluting him. The Gorkha innocently gave out the reason that he did not see "Lieutenant Huzoor".
The youngster not convinced, punished the Gorkha to a thousand salutes. The soldier immediately started saluting…
Field Marshal Sam Manekshaw who was passing by and asked the youngster as to what was happening. The youngster said, "Sir, this soldier had the audacity of not saluting me. So I have punished him with 1000 salutes."
Sam replied, "Bloody good punishment young man, but ensure that you return each of his salutes."
For the next two hours the unit was treated to a scene of a Gorkha saluting and the young officer returning each of his salutes.
This incident depicts a strong message from Field Marshal Sam Manekshaw in Indian Army that RESPECT IS A TWO WAY STREET!
An inspirational message draws the attention of everyone inspiring to attain the highest rank in the Indian Army and Indian Air Force, a rank which only handful of officer has ever received.
We are expecting that with this article all your doubts have met clarity as well as made you more vigilant, cautious and attentive decision towards your career. Regarding your desired courses if you have any query/doubt/FAQ's or questions related to exam pattern, exam syllabus, paper format, books to refer, official notification news are not clear, how to apply, where to apply, when to start preparation and many more questions will be shortly answered back to you personally or in an article form by the trusted defence team of Centurion Defence Academy.
Feel free to show your interest with us as we are here to nurture your dream, it is our duty that your minor or major questions should never come up as a set-back reason in your dreams.
To get detailed information on Notifications, Syllabus, Tips and Tricks, Admit Card Dates, Result, Cut off, Trend Analysis, Information about Physical Fitness Test and Medical Examination and Current Affairs, simple Follow us on You tube, Instagram, Twitter, Facebook. Visit our official website www.centruiondefenceacademy.com. Read articles related to defence and defence examination at defenceguru.co.in.


Leave a Reply
Defence Guru Team feels pleasure to appreciate from you ! Required fields are marked *.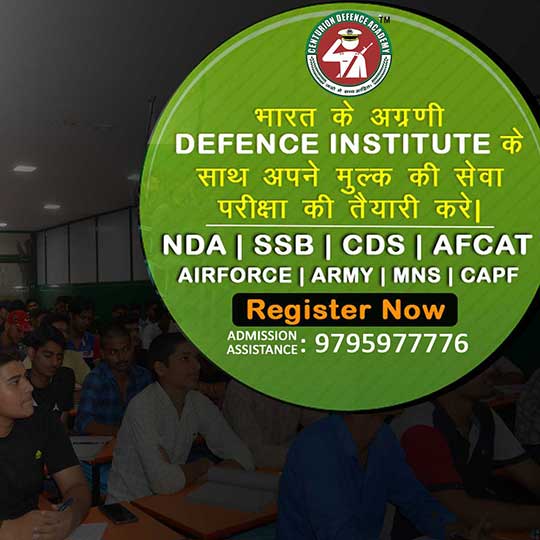 Newsletter Sign Up
Sign up to our newsletter and get exclusive deals you will not find anywhere else straight to your inbox!
-->