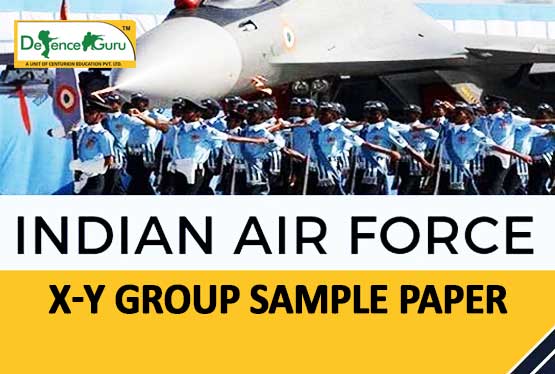 Air Force X and Y Group Sample Paper
Searching for questions which can earn scoring marks for your exams. Presuming that practiced questions could be same in the exam is the case on the basis of probability. To dig deep means to make an effort with all of your resources.
Here comes Team Centurion specifically prepared Air Force Group X and Y exam Sample Paper which you can practice randomly and prepare for the Indian Air Force Exam as Airmen in Group X and Y Trade. Preparation for the Air Force Group X and Y exam is done on your part now what come next is practice on most appropriate sample paper which do not waste your valuable time and provide you the real life experience of exam.
Unmarried male candidates preparing for AF Group X and Y 2020 Exam could be benefitted in a greater extent with this sample paper designed specifically after tracking all the required details of AF Group X and Y 2020 course. Questions in sample paper is based on the latest examination pattern followed by thorough analysis of the previous year exam pattern and questions.
Stay updated with updated Mock test and Sample Papers prepared under the trusted and reliable source. Team Centurion aware you of the exact module and pattern of the paper, access the Sample Paper PDF given below. On attempting the same level of paper pattern you will be able to target the area you should work for attaining maximum marks and how you can work on your weaker sections for the upcoming exam can be determined well under the Sample paper result.
Appearing candidates can view Air Force Group X and Y 2020 Exam Pattern before going to the exam with this article.
1. Eligible applicants need to appear in the Online Written Test (CBT- objective-type).
2. The test is of 80 Minutes (1 Hour 20 Minutes)
3. Maximum Question- 100 (MCQs) Maximum Marks- 100
4. Medium of examination Hindi and English both
5. Sections in the exam: Four
English. - 20 questions
Physics. - 25 questions
Maths. - 25 questions
RAGA. - 30 questions
6. Each question carry 1 Marks for Correct Answer and .25 Marks for Incorrect Answer.
Air Force Group X and Y 2020 divided into 4 subjects i.e.
English – Verbal and Non Verbal English
Physics
Mathematics
RAGA – Reasoning, General Awareness
Note: Questions are based according to 10+2 syllabus
Analysis derived from the Air Force Group X and Y experts the following Strategic Plan will definitely provide better help for your preparation. To bust myths and facts about Air Force Group X and Y 2020 Entrance Exams in a better and much easy way:
1. Appearing candidates are suggested to apply for the Group X and Group Y exam also as it is reported many time to us that you are exempting from Group X and Group Y exam due to lack of perfection in any particular subject but that is not the case always you can score well in Group X and Group Y exam as well despite being the fact of imperfection in any particular subject depending on your luck and learning you gathered since childhood as this exam is based on 10+2 syllabus.
2. If you are eligible don't loose the opportunity and appear in both the exams.
The Air Force Group X and Y 2020 sample paper PDF given below access the PDF and start practicing paper i.e. based on the exact paper pattern for the upcoming Air Force Group X and Y 2020 exam. Solving sample papers is of great use for you as well their solutions might keep you growing, which would be beneficial for your growth.
To get detailed information on Notifications, Syllabus, Tips and Tricks, Admit Card Dates, Result, Cut off, Trend Analysis, Information about Physical Fitness Test and Medical Examination and Current Affairs, simple Follow us on You tube, Instagram, Twitter, Facebook. Visit our official website www.centruiondefenceacademy.com. Read articles related to defence and defence examination at defenceguru.co.in.
Access Air Force Grand X and Y Sample papers PDF, the link is provided below:-