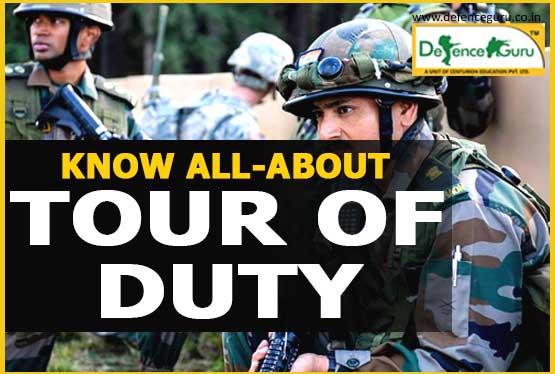 Tour of Duty
'Indian Army proposes three-year voluntary 'Tour of Duty', for youths both as officers and soldiers'.For the first time in Indian defence forces this concept has been proposed and considered bringing a sigh of relief for civilians who are unemployed or luring to join Indian Army for a short period of time. An officer or soldier after completing one year of training and three years of ToD is likely to display visible improvement in self confidence, teamwork, responsibility, initiative, stress management, innovation and social skills.
From where concept of Tour of Duty came?
Tour of Duty concept is already being followed in developed nations like Israel, USA while in Britain during World War II emergency this concept is utilized where many citizens are inducted to join the Britain Army.
What do you understand by Tour Of Duty or TOD?
Tour of Duty is an internship with military, the short,voluntary 'tour of duty'is for youths who 'do not want to make defense services their permanent vocation, but still want to experience the thrill and adventure of military professionalism.
The proposal is a shift from the concept of permanent service in the Armed Forces, towards short service experience for three years.
Why Tour of Duty proposal is considered?
The Indian Army is considering a proposal to attract youth working professionals to join the force for three-year tenure as officers and in other ranks for a variety of roles.Indian Army proposal come up as a combating step towards the fact that unemployment in our country is a reality, however there is a resurgence of nationalism and patriotism.
Benefits of a 3 years service?
Fulfils the aspirations of those who want to experience the thrill and adventure of the military profession and the glamour of donning the uniform
Better prospects in corporate world after the year tenure
Officers joining at 25-27 would be preferable to the current SSC workforce joining them at the age of 33-34 after 10/12 years of service
ToD model would result in significant reduction in salary and pension budget
ToD could benefit modernization
Selection Procedure on role for Tour of Duty
It is expected to be tested on around 100 officers and 1000 jawans in the first go
Initially, the number of vacancies would be around 100 which can be expanded later
They will be trained for the first year of three year period
There will be no dilution in selection criteria.
A Tour of Duty officer will earn somewhere around Rs 80,000 to 90,000 per month.
Statistical considerations at present and ToD recruitments show up as:
At present, the Army recruits young people under short service commission for an initial tenure of 10 years which is extendable up to 14 years. Around 50-60% of them are also granted Permanent Commission to serve till at least 54 years of age and thereafter get pension.The Army currently has around 43,000 officers, with almost 80% of them in the permanent commission (PC) cadre, and 11.8 lakh other ranks.
However, not only youth of India will get benefits from ToD, the Army would gain significant financial benefit from the scheme.Sources said the cumulative approximate cost of pre-commission training, salary and other expenses is nearly Rs 5.12 crore and Rs 6.83 crore on an officer if he or she is released after 10 and 14 years respectively.The saving on enlisting just 1000 jawans via ToDjawans could be Rs. 11,000 crore and cost for those released after three years would be just Rs 80 lakh to Rs 85 lakh each.
The Indian Army is considering a proposal and looking deep into its possibilities and present scenario of country's security, economy, social and employment status the significant measure if adopted could change the view of nation in many ways.
To understand TOD better, watch Maj. Nasreen Fatima's video on TOD.
Which will help you to clearly understand and accept the facts about Indian Army proposal for Tour of Duty.