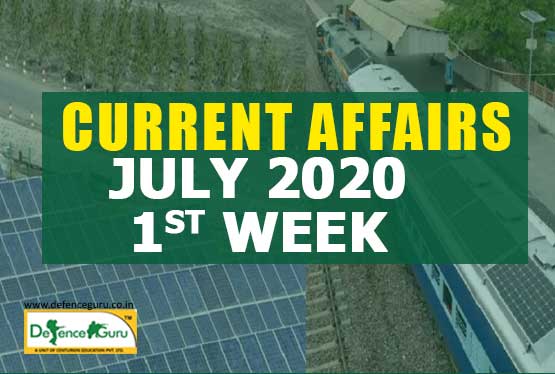 Current Affairs July 1st Week 2020
APPOINTMENTS
1.Injeti Srinivas
The Appointments Committee of the Cabinet approved the appointment of Injeti Srinivas as chairman of the International Financial Services Centres Authority (IFSCA). The former corporate affairs secretary and 1983-batch IAS officer of the Odisha cadre will head the IFSCA for a period of three years. While at the helm of the ministry of corporate affairs (MCA), Srinivas was instrumental in pushing through significant reforms in the Insolvency and Bankruptcy Code (IBC) and the Companies Act. The IFSCA was recently established by the finance ministry on April 27 as the unified authority to regulate all financial services in International Financial Services Centres (IFSCs) in the country.
2.Airtel's Ajai Puri to chair COAI, Jio's PK Mittal
Telecom industry body COAI (Cellular Operators Association of India) announced the appointment of Bharti Airtel chief operating officer for India and South Asia, Ajai Puri, as its new chairman and Reliance Jio president P K Mittal as vice-chairman for 2020-21. Puri has replaced Vodafone Idea CEO Ravinder Takkar as the chairman of the COAI on rotation basis. Puri has been with Bharti Airtel since 2004. Mittal was senior Deputy Director General in the Department of Telecommunications previously. This is the first time Reliance Jio has got a leadership position in the industry body.
3.Sukhbir Singh Sandhu
Senior bureaucrat Sukhbir Singh Sandhu was given six months extension, till mid January next year, as the chairman of National Highways Authority of India. Sandhu, a 1988 batch IAS officer of Uttarakhand cadre, took charge of the post in October last year. The Appointments Committee of the Cabinet has approved the extension beyond July 21, 2020 i.e. up to January 21, 2021. Meanwhile, last week's cyberattack on the mail server of the National Highways Authority of India (NHAI) has been found to be a ransomware attack that resulted in loss of all data in the server, in addition to breaches in hardware where data is stored.
4.Karnam Sekar
Public sector Indian Overseas Bank (IOB) said its managing director and chief executive Karnam Sekar retired. Karnam had joined the bank as an OSD (officer on special duty) and whole-time director on April 1, 2019 and was elevated as MD and CEO on July 1, 2019 after the retirement of Subramaniam Kumar. Sekar was appointed as OSD of IOB after merger of Dena Bank and Vijaya Bank into Bank of Baroda. He was MD and CEO of Dena Bank since September 21, 2018.
5.Major General Nigar Johar
The Pakistan Army has appointed a woman officer as lieutenant general for the first time. Major General Nigar Johar, who got the coveted post of a three-star general, has also been appointed as the first female surgeon general of the Pakistan Army. In 2017, she became the third woman officer in the Pakistan Army to attain the rank of major general. The other two women major generals were Shahida Badsha and Shahida Malik.
6.Shrikant Madhav Vaidya
Shrikant Madhav Vaidya took charge as the new chairman of Indian Oil Corporation (IOC). Prior to his elevation, Vaidya was the Director (Refineries) on the IOC Board, since October 2019. He succeeds Sanjiv Singh, who has superannuated from the services of the Corporation on June 30. Vaidya will also be the chairman of Chennai Petroleum Corporation Ltd, a stand-alone refining subsidiary of IOC, and Indian Oiltanking Ltd, a joint venture providing terminalling services.
7.Sanjay Dwivedi
Professor Sanjay Dwivedi has been appointed as the Director General of the Indian Institute of Mass Communication (IIMC). Dwivedi is at present Registrar of Makhanlal Chaturvedi National University of Journalism and Communication, Bhopal. The Appointments Committee of the Cabinet has approved his appointment as the DG, IIMC on direct recruitment basis for a period of three years. IIMC established in 1965, is an autonomous institute under the Ministry of Information and Broadcasting.
8.Indra Mani Pandey
Senior diplomat Indra Mani Pandey has been appointed as the next Ambassador and Permanent Representative of India to the United Nations and other International Organisations in Geneva. Mr Pandey, a 1990 batch IFS officer is presently additional secretary in the External Affairs ministry. He is expected to take up the assignment shortly.
9.Shashank Manohar
India's Shashank Manohar stepped down as International Cricket Council (ICC) chairman. He announced this just one week before the election process for his successor was announced. Deputy chairman Imran Khwaja, formerly of Singapore Cricket Association, will be the interim head. As per the ICC rules, Manohar could have stayed for another two-year-term as a maximum of three terms is allowed.
Awards
10.India's AI enabled MyGov Corona Helpdesk wins two global awards
India's Artificial Intelligence (AI) enabled MyGov Corona Helpdesk has bagged two awards at the Global Leadership Summit and Festival of AI and Emerging Technology, CogX 2020. AI enabled MyGov Corona Helpdesk bagged two awards under categories of Best Innovation for Covid-19 - Society and People's Choice Covid-19 Overall Winner. The recently held CogX 2020 is a prestigious Global Leadership Summit and Festival of AI and Emerging Technology held annually in London.
Books
11.Maruti Suzuki chairman R C Bhargava pens book on industrialising India
The Chairman of Maruti Suzuki, RC Bhargava has authored the book "Getting Competitive: A Practitioner's Guide for India" from his experience as a policymaker and a leading industrialist. The book has been published by HarperCollins India. In this book Bhargava draws upon his experience of more than 60 years as a policymaker and industry leader to give practical suggestions.
12.Urjit Patel Book on Indian Banking's NPA Crisis to release soon
Urjit Patel, who resigned as governor of the Reserve Bank of India in December 2018, will release a book later in July. Titled 'Overdraft: Saving the Indian Saver', Patel's book focuses on Indian banking's bad loans crisis, its causes and how he dealt with it as the RBI governor. Patel, under whose governorship demonetisation was carried out, resigned from the RBI in December 2018. The resignation came at a time when relations between the government and the central bank had soured, with the former threatening to invoke a never-before used clause to give directions to the monetary authority.
13.The Vice President of India Releases "The Future of Higher Education" Book by ICT Academy
Vice President of India, M Venkaiah Naidu has virtually released a book titled "Future of Higher Education- Nine Mega Trends". The book is authored by CA V Pattabhi Ram. The Virtual event was hosted by ICT Academy. The book covers the new norms in the key areas of higher education such as Student-Teacher relationship, Learning methods, Laboratories & Examinations among others which has taken a paradigm shift during this COVID pandemic. The book is based on a survey of about 5000 educators across India who were part of ICT Academy's "SkyCampus" Digital Knowledge Series.
DEATHS
14.Saroj Khan
Three-time National Award winner, veteran Bollywood choreographer, Saroj Khan, passed away due to cardiac arrest. She was 71.She joined the Indian film industry as a child artist, playing the younger Shyama in Nazarana. She eventually became a background dancer in 1950s films like Bimal Roy's "Madhumati" under the guidance of dance director B. Sohanlal. In a career spanning four decades, Khan choreographed nearly 2000 songs. The legendary artiste was a recipient of three National Awards for films Devdas, Jab We Met and Sringaram (Tamil). She won Filmfare Awards for movies like Hum Dil De Chuke Sanam, Guru, Khalnayak and Chaalbaaz.
15.Everton Weekes
Legendary batsman Everton Weekes, the last of the famed West Indies 'Three Ws', died at the age of 95. He was hailed as "a founding father" of the sport in the Caribbean. Everton Weekes made his first-class debut at 19-year-old and his Test debut in 1948 at 22. He retired in 1958, after which he had served as a coach, administrator, and ICC match referee.
SPORTS
16.Quinton de Kock named men's Cricketer of the Year in CSA's virtual awards
White-ball skipper Quinton de Kock was named the men's 'cricketer of the year' at Cricket South Africa's (CSA) annual awards ceremony. The 27-year-old also bagged the Test cricketer of the year while young opener Laura Wolvaardt took home the women's cricketer of the year and ODI cricketer of the year awards. Pacer Lungi Ngidi was named ODI and T20 player of the year while David Miller was voted the fans' favourite player. With the win de Kock became one of the multiple winners of the award, joining the elite company of Jacques Kallis (2004 and 2011), Makhaya Ntini (2005 and 2006), Hashim Amla (2010 and 2013), AB de Villiers (2014 and 2015) and Kagiso Rabada (2016 and 2018).
17.Lt Col Bharat Pannu secures podium position at vRAAM 2020
Lt Col Bharat Pannu, a serving Indian Army Officer has created history by successfully securing a podium place at the first edition of the Virtual Race Across America (vRAAM) 2020. With this, he has become the first Indian ever to win a podium place at an international ultra-cycling race. Pannu is an army officer posted with the Army's Aviation Test Team. The Race Across America (RAAM) is a 5000 km transcontinental race from the West Coast to the East Coast of the United States of America with a cut-off time of 12 days. This year, the organisers had to cancel the event due to the ongoing pandemic and came up with a virtual format for the race. Lt Col Pannu finished 3rd on the leaderboard with a total distance of 4086km in 12 days and a total cumulative elevation gain of 71,000 meters.
18.Chinese badminton superstar Lin Dan announces retirement
China's two-time Olympic champion Lin Dan has announced his retirement. It means that Lin, who won gold at the Beijing 2008 and London 2012 Games, will not compete at the 2020 Tokyo Olympics, which have been pushed back to next summer because of coronavirus. The end of Lin's glorious career comes just over a year after the retirement of his great rival and friend, the Malaysian star Lee Chong Wei.
19.Ravindra Jadeja named India's 21st century Most Valuable Player by Wisden
All-rounder Ravindra Jadeja has been named the Most Valuable Player for India in the 21st century by Wisden. The 31-year-old's MVP rating, which was calculated using the cricket data analysis tool CricViz, was 97.3. His rating is second only to Muttiah Muralitharan of Sri Lanka making him the second most Valuable Test Player of the 21st Century. Wisden used CricViz, a detailed analysis tool in cricket to analyse his performance.
20.Kiren Rijiju launches NADA app to help athletes stay updated about banned substances
Sports minister Kiren Rijiju unveiled National Anti-Doping Agency's first mobile app to provide information about prohibited substances and their inadvertent use. The initiative is an important step towards dope-free sports. The app aims to create a bridge between athletes and the NADA by providing easily accessible information on various aspects of sport, and most importantly about prohibited substances and their inadvertent use which may affect the career of athletes. To ensure a smoother, quicker process of dope test for athletes, the app allows a doping control officer to record their availability to conduct a test through this app.
INTERNATIONAL
21.Israel successfully launches Ofek 16 spy satellite into space
Israel launched the new Ofek 16 spy satellite into orbit from a launchpad at Palmahim airbase. This was the first launch of an Israeli spy satellite into space since the Ofek-11 which entered orbit in September 2016. Ofek 16 is an electro-optical reconnaissance satellite with advanced capabilities including breakthrough 'blue and white' technology and its payload was developed by defence firm Elbit Systems. IDF's (Israel Defense Force) 9900 Intelligence Unit will be responsible for the Ofek 16 satellite once it gets operational.
22.Kuwait: 8 lakh Indians may be forced to leave the Gulf country
Amid the coronavirus pandemic and its rising economic repercussions on countries, Kuwait government approved an expat quota bill which limits the number of Indians living in the Gulf nation. With the approval to the bill, the fate of nearly eight lakh Indians living in Kuwait now hangs in the balance. The National Assembly's legal and legislative committee has determined that the draft quota bill is constitutional. The bill will be transferred to the respective committee so that a comprehensive plan is created. The bill states that Indians should not exceed 15 per cent of the total population in Kuwait. Kuwait has a total population of over 43 lakh people, out of which nearly 30 lakh are expats. Reportedly, there are around 14.5 lakh Indians living in Kuwait. With the approval to the expat bill, some eight lakh Indians may be now forced to leave Kuwait.
23.India funded new school infrastructure inaugurated in Nepal
A new four-storey school building built with Indian assistance of Rs 1.94 crore for students pursuing both vedic and modern education was inaugurated in Nepal's Ilam district. The new building of Shri Saptmai Gurukul Sanskrit Vidyalaya, which was setup in 2009 and has a unique qualification of imparting vedic as well as modern education including Sanskrit. The new school building was built at a cost of Nepali Rupees 31.13 million (INR 1.94 crore).
24.International Day of Cooperatives: 04 July
International Day of Cooperatives is celebrated on the first Saturday of July every year, this year it was observed on July 4, 2020. The main aim of this celebration was to increase awareness of cooperatives and highlight the contributions of the cooperative movement to resolving the major problems addressed by the United Nations. The day also aims to strengthen and extend partnerships between the international cooperative movement and other actors, including governments, local, national and international levels. The theme for this year is Cooperatives For Climate Action.
25.World Allergy Week 2020: 28 June to 4 July 2020
The World Allergy Week 2020 was celebrated from 28 June to 4 July 2020. Each Year World Allergy Organization (WAO) organises World Allergy Week to raise awareness of the impact of allergy in our communities. The theme for 2020 is "Allergy care does not stop with COVID-19."
26.Jean Castex replaces Édouard Philippe as French prime minister
French President Emmanuel Macron has named Jean Castex, who coordinated France's reopening strategy after the coronavirus lockdown, as the country's new prime minister. The relatively low-profile Castex replaced Edouard Philippe resigned earlier. Macron is reshuffling the government to focus on restarting the economy after months of lockdown. Castex, 55, is a career public servant who has worked with multiple governments.
27.World UFO Day 2020: 02 July
World UFO Day is celebrated annually on 2 July and is dedicated to Unidentified Flying Objects. The first World UFO Day was celebrated in 2001 by UFO researcher Haktan Akdogan. One of the major aims of the day is to raise awareness about the possible existence of UFOs and aliens/ intelligent beings from outer space. The day is also used to encourage governments across the world to declassify their knowledge of UFO sightings throughout history.
28.Iran issues arrest warrant for Donald Trump, asks Interpol to help
Iran has issued an arrest warrant and asked Interpol for help in detaining President Donald Trump. Iran believes that he carried out the drone strike that killed a top Iranian general in Baghdad.. While Trump faces no danger of arrest, the charges underscore the heightened tensions between Iran and the United States since Trump unilaterally withdrew America from Tehran's nuclear deal with world powers.
Interpol HQ: Lyon in France.
Founded in: 1923
29.World Sports Journalists Day: 02 July
World Sports Journalists Day is observed on July 2 every year to celebrate the services of sports journalists for the promotion of sports. The day was established in 1994 to commemorate the 70th anniversary of International Sports Press Association (ISPA). ISPA was founded in 1924 during the Olympic Games in Paris.
30.FCC designates 2 Chinese companies - Huawei Technologies, ZTE Corporation as National Security Threats
The US Federal Communications Commission (FCC) has designated two Chinese companies - Huawei Technologies and ZTE Corporation as national security threats. FCC Chairman Ajit Pai said both Huawei and ZTE have close ties with Chinese Communist Party and China's military apparatus. The FCC has increasingly scrutinised Chinese companies as tensions grow between Beijing and Washington over trade, the coronavirus and security issues. The agency is considering banning these Chinese telephone companies from entering the US market. The US contends that Huawei's equipment could be used by China for spying.
31.China forces birth control on Uighur Muslims
The Chinese government is taking draconian measures to slash birth rates among Uighurs and other minorities as part of a sweeping campaign to curb its Muslim population. This was found in an investigation conducted by the United States-based news agency Associated Press (AP). Among the Muslim minorities in China, most belong to Uyghurs ethnic groups. Minority women in Xinjiang are regularly forced to take pregnancy checks and to take IUDs.
NATI ONAL
32.Himachal first state with LPG gas connections in 100 percent households
Himachal Pradesh has become the first state in the country where all households have LPG gas connections, said chief minister Jai Ram Thakur. As many as 1.36 lakh families in the state have benefitted from the Pradhan Mantri Ujjawala Yojana. Collecting fuel wood and cooking food on traditional chullahs was not only cumbersome, but also had adverse effects on the health of the women. It also affected the environment as trees are cut for fuel wood.
33.Nekar Samman Yojane: Over 20000 Weavers in Karnataka to Get Annual Financial Help of Rs 2000
In a huge blessing for the people of weaver's community in the state, the Karnataka government launched 'Nekar Samman Yojane'. In this scheme, the state government will be able to directly transfer Rs 2,000 financial assistance to the bank accounts of 19,744 weavers in the first phase. According to the fourth national handloom census, Karnataka has 54,789 registered handloom weavers in the state. The silk, cotton and woollen handloom weavers and other handloom weavers engaged in allied activities in the state are eligible for the Nekar Samman Yojane of the Karnataka government.
34.Haryana Cabinet approves proposal to reserve 75% private-sector jobs via ordinance
According to a proposed ordinance cleared by the state cabinet, Seventy-five per cent of private-sector jobs in Haryana will be reserved for local candidates. In the month of June 2020, Haryana had the highest unemployment rate among all states in the country. The unemployment rate in June 2020 was 33.6 percent. The ordinance will reserve jobs having a salary of less than Rs 50,000 per month in various privately managed companies, societies, trusts, limited liability partnership firms and partnership firms for local candidates.
35.Bengal Govt Launches Document-Scanning App 'SelfScan'
The chief minister of West Bengal, Mamata Banerjee launched a new app called 'SelfScan'. This new application has been developed by the state's information technology department and as the name suggests, it is built to scan documents. The announcement comes just days after the Indian government banned 59 Chinese applications in the country. These applications also included popular document scanning app CamScanner. According to the description, the app is completely free and comes without adds. The user won't even need to register in order to use this app.
36.Assam government to upgrade Dehing Patkai wildlife sanctuary to national park
The Assam government decided to upgrade Dehing Patkai Wildlife Sanctuary into a national park. The announcement comes just months after the National Board of Wildlife's (NBWL) conditional clearance to a coal mining project by Coal India Limited (CIL) in the Dehing Patkai Elephant Reserve sparked a spate of virtual protests in the state. Subsequently, North Eastern Coalfields (NEC), the CIL subsidiary, temporarily suspended all mining operations in the region. The 111.942 sq km Dehing Patkai Wildlife Sanctuary is located within the larger Dehing Patkai Elephant Reserve, which spreads across the coal- and oil-rich districts of Upper Assam (Dibrugarh, Tinsukia and Sivasagar) and is believed to be the last remaining contiguous patch of lowland rainforest area in Assam.
37.Sardar Vallabh Bhai Patel Covid Hospital built by DRDO in record time of 12 days becomes operational
Defence Minister Rajnath Singh along with Home Minister Amit Shah and Health Minister Harsh Vardhan visited the Sardar Vallabhbhai Patel COVID hospital in Delhi. The one thousand -bedded hospital with 250 ICU beds became operational. The facility was built in a record time of 12 days by Defence Research and Development Organisation, DRD `O along with the Home Ministry, Health Ministry, the Armed Forces, Tata Sons and other industry players. The hospital will be operated by a medical team of doctors, nurses and support staff from the Armed Forces Medical Services while the facility will be maintained by the DRDO. The COVID-19 patients referred by the district administration will be admitted and treated free of cost at this facility. Critical cases will be referred to AIIMS, New Delhi.
38.World's largest Covid Care facility with 10,000 beds inaugurated in Delhi
Delhi Lieutenant Governor Anil Baijal inaugurated the 10,000-bedded Sardar Patel Covid Care Centre and Hospital (SPCCCH) at Radha Soami Satsang Beas. This is the world's largest Covid care facility which will function as an isolation centre for mild and asymptomatic Covid-19 positive patients. Operationally, the SPCCCH has been linked to the Deen Dayal Upadhyay Hospital and Madan Mohan Malviya Hospital. Indo-Tibetan Border Police (ITBP) is chosen as the nodal agency for operating the center.
39.AIR begins broadcast of its first ever news magazine programme in Sanskrit
All India Radio started the broadcast of its first ever news magazine programme in Sanskrit. The programme titled, 'Sanskrit Saptahiki' will be of 20 minutes duration and can be heard at 7.10 A.M on every Saturday on All India Radio FM News Channel. Sukti, Prasang, Saptahiki, Sanskrit Darshan, Gyan Vigyan, Bal Vallari, Ek Bharat -Shreshtha Bharat and Anvikshiki will be featured in the News Magazine. The weekly programme will have elements from the prominent developments of the week, news from the world of Sanskrit, explaining the humane values enshrined in Sanskrit literature, philosophy, history, art, culture and tradition. It will give voices to the children and youth and their feelings about the great Indian tradition and culture.
40.Govt blocks 40 websites of banned pro-Khalistan group 'Sikhs For Justice'
The Centre blocked 40 websites linked to pro-Khalistan gourp Sikhs for Justice (SFJ) for 'a campaign for registering supporters for its cause'. "Sikhs For Justice(SFJ), an unlawful organization under the UAPA, 1967, launched a campaign for registering supporters for its cause. The Ministry of Electronics and Information Technology (MeitY) is the nodal authority for monitoring cyberspace in India. Last year, the home ministry had banned the SFJ for its alleged anti-national activities. The SFJ pushed for Sikh Referendum 2020 as part of its separatist agenda. 
41.'Intzaar Aap Ka' campaign started in Madhya Pradesh to attract tourists
In Madhya Pradesh, in order to attract tourists to the tourist places of the state; 'Intzaar Aap Ka' campaign has started on social media platforms. The Madhya Pradesh Tourism Board has been inviting tourists by describing the characteristics of each tourist destination in an attractive way with that tagline on social media platforms. Madhya Pradesh Tourism board is inviting tourists for safe outing during the monsoon season at various religious, natural and archaeological tourist places of the state like Mahakaleshwar, Pachmarhi, Kanha, Bandhavgarh, Amarkantak and other tourist places.
42.More than 25 Cr saplings to be planted in UP under 'Mission Vriksharopan-2020'
Uttar Pradesh Chief Minister Yogi Adityanath inaugurated 'Mission Vriksharopan-2020' in Kukarel forest in the capital city Lucknow. Under this programme, more than 25 crore saplings will be planted across the state. Notably, medicinal, fruit yielding, environmental, shady, fodder, and other important plants of more than 201 species were planted in a day through extensive public participation and interdepartmental coordination. The plantation drive also focuses upon prevention of malnutrition, biodiversity conservation and plantation along the banks of Ganga and tributaries.
43.Elyments - First Indian Social Media Super App
With more than 500 million social media users in the country and the numbers are only increasing, under the inspiration of Spiritual Leader Sri Sri Ravi Shankar (Founder of the Art of Living), more than 1000 IT professionals came together to develop the first Made in India social media super application.
The application is called 'Elyments'.
The application has already been downloaded around 2 lakh times and been crowd tested for several months.
The application is developed by Sumeru Software Solutions Private Limited.
44.India third largest e-waste generator in the world
India is the third largest electronic waste generator in the world after China and the USA. These three countries together contributed 38% of total 53.6 million tonnes (Mt) of e-waste, generated worldwide in 2019. Releasing these data, the UN's Global E-waste Monitor 2020 presented a worrying scenario where only 17.4% (9.3 Mt) of the total e-waste was collected and recycled globally. It means gold, platinum and other high-value recoverable critical raw materials (cobalt, palladium, indium, germanium, bismuth, and antimony), worth US $57 billion, dumped or burned in e-waste last year. Europe ranked first worldwide in terms of e-waste generation per capita with 16.2 kg per capita.
45.Nagaland bans import, trade and sale of dog meat
The Nagaland government banned the import, trading, and sale of dog meat in the north-eastern state. Earlier, the Mizoram government had taken a similar decision in March. It said that dog meat consumption is prohibited in India through the Food Safety and Standard (Food Products Standard and Additives) Regulation, 2011. However, this is poorly enforced, and in the states of Nagaland, Mizoram, Tripura and Arunachal Pradesh. Thousands of dogs each year are illegally captured from the streets or stolen from homes, and cruelly transported from neighbouring states in gunny bags to be brutally slaughtered for consumption by being beaten to death.
46.IIT Kanpur develops virtual classroom system 'Mobile Masterjee'
The Indian Institute of Technology (IIT), Kanpur has developed an innovative virtual classroom aid titled 'Mobile Masterjee'. The classroom-to-home teaching setup is designed to record the lectures/instructions by the teachers while using smartphones. 'Mobile Masterjee' can capture the videos in horizontal (table) and vertical (blackboard) positions. Developed by the Imagineering Lab of IIT Kanpur, it is targeted at helping the rural schools overcome the teaching and learning challenges posed by the pandemic. It is lightweight and compact, and has adjustments to fit sheets/book on it for delivering instructions to pupils.
47.ADB becomes observer of Network For Greening The Financial System
The Asian Development Bank (ADB) has joined the central banks and supervisors Network for Greening the Financial System (NGFS) as an observer. NGFS, launched at the Paris One Planet Summit on December 12, 2017, is a group of central banks and supervisors willing to share best practices and contribute to the development of environment and climate risk management in the financial sector. ADB joins the ranks of the World Bank, the International Finance Corporation, the International Monetary Fund, and the Organisation for Economic Cooperation and Development as NGFS observers.
48.HRD Minister, Sports Minister to launch 'Fit India Talks' to inspire school children
The government's flagship program Fit India is launching a series of interactive sessions with some of the top sports persons of the country intended to inspire the school children. The sessions, titled Fit India Talks, will premiere in the presence of Human Resource Development Minister Ramesh Pokhriyal Nishank and Sports Minister Kiren Rijiju along with badminton star PV Sindhu and Indian football team skipper Sunil Chhetri. Leading sports celebrities will be sharing their experiences of childhood, stories on how they got inspired, their failures, struggles and their success. This will give the audience a very inspirational yet interesting account of their journeys - from common school students to world-class champions. The likes of badminton star Ashwini Ponnappa, Indian women's hockey team skipper Rani Rampal, table tennis star Manika Batra, shooter Apurvi Chandela and inspirational Paralympian Deepa Malik will join in at the sessions.
49.Zydus Cadila's potential COVID-19 vaccine gets DCGI nod for human clinical trials
A potential COVID-19 vaccine indigenously developed by the Ahmedabad-based Zydus Cadila Healthcare Ltd has got Drugs Controller General of India (DCGI) nod for human clinical trials. The approval process was fast-tracked following recommendation by the subject expert committee on COVID-19, considering the emergency and unmet medical need during the pandemic. The assent for human trials was given after the company submitted data of clinical trial on animals to the DCGI, in which the vaccine candidate was found to be successful with respect to safety and immunogenicity.
50.Demand for work under MGNREGA saw 21% jump last June 2020
MGNREGA continues to attract rural labourers pushed into distress due to the Covid-19 crisis triggering calls for increasing the mandatory workdays to 200 and raising the minimum wages under the scheme to Rs 600 per day. Presently, under MGNREGA, the Law guarantees 100 days of work, though the actual days of work provided is much less, while the minimum wages for 2020-21 is around Rs 200 per day. Data sourced from the MGNREGA website till July 1 shows that in June around 43.7 million households sought work under the scheme that was the highest in the last seven years. This was 21 per cent more than the number of households who demanded work under the scheme in May 2020.
51.Housing and Urban Affairs Minister launches toolkit for Swachh Survekshan 2021
Housing and Urban Affairs Minister Hardeep Singh Puri launched the toolkit for Swachh Survekshan-2021. Swachh Survekshan-2021 is the sixth edition of the annual cleanliness survey of urban India conducted by the Ministry of Housing and Urban Affairs. The Swachh Survekshan Survey 2021 will be conducted from 4th January to 31st January 2021. The Swachh Survekshan Survey was launched in 2016 to encourage cities across the country to improve urban sanitation. The Swachh Survekshan Survey of 2018 was the World's Largest Cleanliness Survey in which 4203 cities were ranked.
52.Prime Minister Modi shuts China's Weibo app account
Sina Weibo, China's alternative to Twitter, said it has deleted Prime Minister Narendra Modi's account at the request of the Indian embassy. Since posting on Sina Weibo the first time in 2015 during a visit to China, Modi has been an infrequent user of the Chinese social media platform. He had more than 200,000 followers and 100 posts before the account was shut. Sina Weibo is a Chinese microblogging website. Launched by Sina Corporation on 14 August 2009, it is one of the biggest social media platforms in China.
53.Sahiya didis in Jharkhand played important role in door-to-door Intensive Public Health Survey
In Jharkhand, the Accredited Social Health Activists (ASHA) generally known as Sahiya didis have played an important role in the recently conducted door-to-door Intensive Public Health Survey from June 18 to 25 to prevent the spread of COVID-19. Jharkhand has become the first state to complete such a survey within a stipulated time. The Sahiya didis identified 55 thousand 215 people aged above 40 years with the highest risk of Corona infection, or are suffering from severe respiratory diseases. The ASHAs in Jharkhand, known as "Sahiyas", have been supporting delivery of health care services to the last mile, especially in the tribal areas.
54.Very rare snake spotted in Uttar Pradesh's Dudhwa National Park
A "very rare" Red Coral Kukri snake was spotted in the Dudhwa National Park in Uttar Pradesh's Lakhimpur Kheri. Red Coral Kukri is a nocturnal non-venomous reptile feeding on insects and worms. It gets its name from its red orange colour and its teeth, which are shaped like Nepali "khukri" to break eggs. This is only the fourth sighting of the Red Coral Kukri snake in the last couple of years - which in itself is a marked increase from earlier sightings.
55.Govt clears Defence acquisition worth Rs 38,900 Cr
Defence Acquisition Council (DAC) accorded approval for Capital acquisitions of various platforms and equipment required by the Indian Armed Forces. Proposals for an approximate cost of 38900 Crore rupees were approved. The meeting chaired by Defence minister Rajnath Singh focused on indigenous design and development. These approvals include acquisitions from Indian Industry amounting to 31130 Crore rupees. The long felt need of the Indian Air Force to increase its fighter squadrons, the DAC also approved the proposal for procurement of 21 MIG-29. It also approved upgradation of existing 59 Mig-29 aircraft and procurement of 12 Su-30 MKI aircraft.
56.IITGn team develops AI-based tool to detect Covid-19 from chest X-ray
Indian Institute of Technology-Gandhinagar IITGn has developed an Artificial Intelligence-based tool to detect COVID-19 from Chest X-ray. This tool can be used for quick preliminary diagnosis before the medical test. Ahmedabad correspondent reports that the Artificial Intelligence-based tool has been developed by the researchers of the Computer Science and Engineering Department of IITGn. Any user can upload a digital copy of the chest x-ray or CT-scan in standard image formats such as jpeg, png etc and check whether he or she is COVID-19 positive or not. The format of any test image of a new person will be automatically transformed and diagnosed using the AI tool.
57.Yellow dustbins for only corona residual in Indore
In Madhya Pradesh, to prevent corona infection, the Indore Municipal Corporation is placing Yellow colour dustbins at all major places in the city. This is the third dustbin apart from blue and green colours dustbins and being placed for only corona infected material. Indore is among the top 10 COVID 19 infected cities of the country. Indore is possibly the first city to place a separate dustbin for the corona residual. People throw COVID 19 infected PPE kits, gloves and masks to green and blue litter bins or outdoors after use these days, which can cause the spread of corona pandemic.
58.Tamil Nadu announces monthly Rs 3,000 stipend for lawyers to overcome financial difficulties
Tamil Nadu government has announced a monthly stipend of 3,000 rupees to junior lawyers for two years to help them overcome financial difficulties. The stipend has been a longstanding demand of the Bar Council of Tamil Nadu. The Tamil Nadu Government is implementing an Advocates Welfare Scheme for more than three decades. Under the scheme, on the demise of the advocates, currently seven lakh rupees each is being given to their families. Now as an additional measure, the young advocates are going to be handed over a monthly dole of three thousand rupees for the next two years.
59.Jharkhand govt decides to postpone Shravani Mela held in Deoghar
Jharkhand state government has decided to postpone the world famous Shravani Mela held in Deoghar this year in view of the spread of novel Coronavirus infection. The state government is not in favor of organizing such a big fair from public health point of view to prevent corona infection, as millions of devotees from all over India and abroad visit Deoghar during Shravani Mela. This year's Shravani Mela was originally slated to be held from July 5. Deoghar's Baba Baidyanath temple and Dumka's Basukinath temple receive over 50 lakh devotees during the month-long affair.
60.Delhi Chief Minister Arvind Kejriwal inaugurates first Plasma bank of the country
Delhi Chief Minister Arvind Kejriwal inaugurates the Plasma Bank for the treatment of Covid-19 patients. The facility has been set up at Institute of Liver and Biliary Sciences, New Delhi. Plasma Bank will remove the hurdles faced by the patients to get the Plasma therapy. He appealed to the people to come forward in large numbers to donate the Plasma. The interested donors can call 1031 and can whatsapp at 8800007722 to donate the plasma. Only those people can donate the plasma, who was earlier infected with the corona virus and now recovered.
61.First Edition of 'Matsya Sampada' launched by Union Minister
Union Minister for Fisheries, Animal Husbandry and Dairying, Giriraj Singh has launched the 1st Edition newsletter "Matsya Sampada" fisheries and aquaculture published by the Department of Fisheries and the operational guidelines of Pradhan Mantri Matsya Sampada Yojana (PMMSY). From the first quarter of 2020-21, newsletter Matsya Sampada will be published on a quarterly basis. The operational guidelines for the PMMSY scheme have also been published in the first edition of the newsletter. The newsletter will serve as a means of communication for educating and providing the latest information and developments related to the fisheries and aquaculture sector to all the stakeholders involved in the sector.
62.SERB launches 'Accelerate Vigyan' scheme to strengthen scientific research mechanism
The Science and Engineering Research Board has launched a new scheme called 'Accelerate Vigyan'. The scheme will provide a single platform for research internships, capacity building programs and workshops across the country. The primary objective of this inter-ministerial scheme is to encourage high-end scientific research and prepare scientific manpower, which can lead towards research careers and knowledge-based economy. Accelerate Vigyan will initiate and strengthen mechanisms for identifying research potential, mentoring, training and hands-on workshops on a national scale.
63."Dream Kerala project" announced for rehabilitation of Keralites returning from abroad
Kerala has announced "Dream Kerala project" for rehabilitation of the Keralites returning from abroad and for the overall development of the State. The State's economy is badly hit with many non-resident Keralites losing their job amid COVID crisis. The project aims, not only, the rehabilitation of returnees but also, using their skill and knowledge for reviving the State. The various departments under the State Govt will be coordinating the project. Through the Dream Kerala project , ideas and suggestions from the public will be invited. Stipulated time frame has been fixed for early implementation of projects.
64.Ashadhi Ekadashi celebrated in Maharashtra
Ashadhi Ekadashi, one of the most significant festivals in Maharashtra which also marks the culmination of the pilgrimage undertaken by the Warkaris (devotees of Lord Vitthal) from different parts of the state on their feet to travel hundreds of kilometres to reach temple town Pandharpur in Solapur district. Maharashtra Chief Minister Uddhav Thackeray performed the Mahapooja of Lord Vitthal and Goddess Rukmini at the temple town of Pandharpur in the wee hours. The CM prayed to make Maharashtra and the country free of Coronavirus and to grant peace and prosperity to farmers in the state. In normal times, lakhs of Warkaris from Maharashtra and other states throng the temple in Pandharpur on 'Ashadhi Ekadashi'. However, in view of the COVID-19 pandemic, the Maharashtra Government cancelled this year's annual 'Wari' (pilgrimage), which is characterised by people walking from far with palanquins to Pandharpur.
65.World Bank to give $750 million funding support to MSMEs in India
The World Bank's Board of Executive Directors has approved a $750 million MSME Emergency Response program to support funding to micro, small, and medium enterprises (MSMEs) in India, severely impacted by the COVID-19 pandemic. The programme will help in improving funding capacity of small finance banks (SFBs) and non-banking financial companies (NBFCs) for the MSME sector. The World Bank said this programme will address the immediate liquidity and credit needs of some 1.5 million viable MSMEs to help them withstand the impact of the current shock and protect millions of jobs.
66.National Chartered Accountants Day: 01 July
National Chartered Accountants Day or CA Day is celebrated on July 1 every year. This day is celebrated to commemorate the finding of the Institute of Chartered Accountants of India (ICAI) by the parliament of India in 1949. ICAI is India's national professional accounting body and also the second biggest accounting organization in the world. The ICAI is the sole licensing and regulatory body for the financial audit and accounting profession in India.
67.National Doctor's Day: 01 July
National Doctor's Day is celebrated every year on 1 July. It is observed every year to thank the doctors and physicians for their relentless service to humanity. The theme of this year's Doctors Day is 'Lessen the mortality of COVID 19'. The first National Doctor's day was celebrated in July 1991. In India, this day marks the birth as well as the death anniversary of Dr. Bidhan Chandra Roy. He was one of the most renowned physicians in India and former Chief Minister of West Bengal.
68.India-Bangladesh form 50:50 Joint Venture Company for LPG business in Bangladesh
India and Bangladesh signed an agreement for the formation of a 50:50 Joint Venture Company (JVC) for LPG business in Bangladesh. The new Joint venture company set up takes further the 'neighbourhood first' policy of the government of India. The energy cooperation between India and Bangladesh has made big strides in recent times. The new Joint venture is another step in the same direction. The Joint Venture Company will help reduce the cost of imprt of LPG and make it more affordable for the consumers in Bangladesh. The company plans to diversify into LPG export to the north eastern states of India from Bangladesh which will prove to be a win-win situation for both the countries.
69.Van Mahotsav week : 1-7 July 2020
Van Mahotsav is an annual one week tree planting festival observed from 1-7 July 2020 in India. During this festival thousands of trees are planted all over India. In 1950, it was started by K. M. Munshi, the Union Minister for Agriculture and Food at that time. It was started to create awareness in the mind of the people for the conservation of forests and planting of new trees.
70.Ladakh pays homage to Col Chhewang Rinchen on his 23rd Death Anniversary
Ladakh has remembered and paid homage to Col Chhewang Rinchen on his 23rd Death Anniversary. He was one of the six people to be decorated with Two Maha Veer Chakra awards. He was the youngest ever recipient of the Maha Vir Chakra, the second highest Indian gallantry decoration. On 21 October 2019 Defense Minister Rajnath Singh inaugurated the Col Chewang Rinchen Setu, India's highest altitude all-weather permanent bridge, in eastern Ladakh just 45 km from the border with China. The 1400-ft long bridge on Shyok River, at 14,650 ft is strategically located on the Darbuk–Shyok–DBO Road between Leh and Karakoram Pass.
71.UP CM Yogi Adityanath launches piped water project ''Har Ghar Jal'' for Bundelkhand region
Uttar Pradesh chief minister Yogi Adityanath launched the ambitious piped water project ''Har Ghar Jal'' that means water to every house for Bundelkhand region. The 12 projects for which the foundation stone was laid by the Chief Minister are part of the ''Jal Jeevan Mission'' Har Ghar Jal, started by Prime Minister Narendra Modi. The first phase of the project which costs 2185 crores in the 3 districts of Bundelkhand region will be covered. A population of 14 lakh under 770 village panchayats in Mahoba, Lalitpur and Jhansi will benefit from it. Surface water and underground water will be used to provide drinking water through taps in every household of the region. Work for this first phase is expected to complete in the next 2 years.
72.IIT Madras launches India's first online BSc degree in programming and data science
Indian Institute of Technology -Madras has launched the world's first ever online degree (B.Sc) and diploma courses in programming and data science. Union HRD minister Ramesh Pokhriyal Nishank launched the programme through a webinar. Anyone who has passed class 12th examination can enrol in the online course. Moreover, there are no age restrictions for learners. The online application process will begin soon.
Business
73.Yes Bank launches 'Loan in Seconds' for instant loan disbursements
Yes Bank has launched a digital solution, "Loan in Seconds" for instant disbursement of retail loans. The account holders identified by the bank can avail this quick loan disbursal facility without any document. The solution aims to provide customers, completely paperless and hassle-free loans to help them meet their immediate financial needs.
74.HDFC Bank to offer ZipDrive Instant Auto Loans across 1,000 cities in India
HDFC Bank announced its plans to offer instant auto loans called ZipDrive to its customers in 1,000 cities. The offering is now being extended to Tier 2 and 3 cities, such as Bhimavaram in Andhra Pradesh, Hardoi in Uttar Pradesh, Thalassery in Kerala, and Balasore in Odisha among other places, across India. The move comes amidst demand for entry-level cars as people try to avoid public transport. Under the scheme, HDFC Bank customers are given pre-approved loan offers using the bank's proprietary algorithm and analytics.
75.CBSE partners with Facebook to launch free training program for teachers, students
The Central Board of Secondary Education-CBSE has partnered with Facebook to launch a free and comprehensive training program for teachers and students of its affiliated schools. The program will cover teacher training on augmented reality and student training on digital safety and online well- being. The training program will be of three weeks in which 10 thousand teachers will be trained on augmented reality while 10 thousand students will be trained on digital safety and well-being. The participants will also receive a joint e- certificate from CBSE and Facebook on successful completion of the course.
76.NPCI to set up Rs 500 crore smart data centre in Hyderabad
The National Payments Corporation of India (NPCI), the umbrella organisation for operating retail payments and settlement systems in the country, will develop its smart data centre in Hyderabad at an investment of Rs 500 crore. The foundation stone for this Tier-IV data centre was laid by Telangana Information Technology and Industries Minister KT Rama Rao at Narsingi village in Hyderabad. The Smart Data Centre is being constructed by L&T and will be built with an Internet of Things (IoT) based building- management system that will have eight layers of security, conforming to top global standards of data centres.
77.India's GDP may contract by 6.4% in FY21: Care Ratings
Care Ratings revised India's GDP growth forecast for the current financial year to (-) 6.4 percent. It has been revised as economic activity continues to be under restriction due to the lockdown on account of the COVID-19 pandemic. The rating agency, in May, had projected a decline in GDP growth of 1.5-1.6 per cent in FY21. According to the report GDP forecasts for FY21 are unique as they would be varying depending on the evolving situation and the assumptions being made on the recovery process in the country.
78.Intel Capital Invests Rs 1,894.50 Crore in Reliance Jio Platforms
Reliance Industries has confirmed that Intel Capital has made an investment of Rs 1,894.50 crore in Jio Platforms. This investment translates into a 0.39% equity stake in Jio Platforms, with an equity value of Rs 4.91 lakh crore and an enterprise value of Rs 5.16 lakh crore. This now takes the total investment in Jio Platforms to Rs 117,588.45 crore, joining investments made by Facebook, Silver Lake Partners, Vista Equity Partners, General Atlantic, KKR, Mubadala, Abu Dhabi Investment Authority, TPG, L Catterton and PIF. At this time, Intel Capital has strategic global investments in 5G, cloud computing and artificial intelligence technology areas.
79.Fitch cuts India growth projection to 8% for FY22
Fitch Ratings cut India's growth forecast for 2021-22 fiscal to 8% from 9.5% projected last month. It, however, retained its projection of Indian economy contracting by 5% in the current fiscal. Indian economic growth stood at an estimated 4.2% in 2019-20. In May update to the outlook, Fitch had projected 9.5% growth in 2021-22. S&P has forecast a 5% contraction in the fiscal year starting April, and the growth to recover to 8.5% next fiscal. Moody's expects India's real GDP to contract by 4% in fiscal 2020 due to the shock from the coronavirus pandemic and related lockdown measures, followed by 8.7% growth in fiscal 2021 and closer to 6% thereafter.
80.HDFC Bank launches ''e-Kisaan Dhan'' app for farmers
HDFC Bank launched ''e-Kisaan Dhan'' app for farmers across India to access a bouquet of agricultural and banking services on their mobile. The app, which serves as a repository of knowledge and information for any individual engaged in farming, helps meet needs of the rural ecosystem. The app will also provide value-added services, like mandi prices, latest farming news, weather forecast, information on seed varieties, SMS advisory, e-pashuhaat and Kisan TV. Users can also avail multiple banking services, like procuring loans, opening bank accounts, insurance facilities, online calculation of KCC loan eligibility, and for acquiring government social security schemes. The app will help with traditional banking services and keep users informed about new government schemes and ways to access them.
81.Eight core industries output contracts 23.4% in May 2020
The output of eight core infrastructure industries shrank by 23.4 per cent in May due to the coronavirus-induced lockdown. The growth rate of Index of Eight Core Industries for May 2020 declined by 23.4% (provisional) compared to decline of 37 percent (provisional) in the previous month of April 2020. Its cumulative growth during April to May, 2020-21 was -30.0 per cent. Out of the total items included in the Index of Industrial Production, the Eight Core Industries comprises 40.27 percent weight of the total. The Eight Core Industries are: Coal, Crude Oil, Natural Gas, Refinery Products, Fertilizers, Steel, Cement, Electricity.
82.Swiggy ties up with ICICI Bank to launch digital wallet
To enable a 'single-click' checkout experience on its platform, on demand delivery platform Swiggy launched its own digital wallet 'Swiggy Money' in partnership with ICICI Bank. The digital wallet will enable its customers to store money and be used for all food orders on Swiggy. 'Swiggy Money' is powered by ICICI Bank's 'insta wallet service', which is built on a cloud platform with API integration. It enables Swiggy to create a digital wallet instantly for its customers.
Read More: Weekly Current Affairs