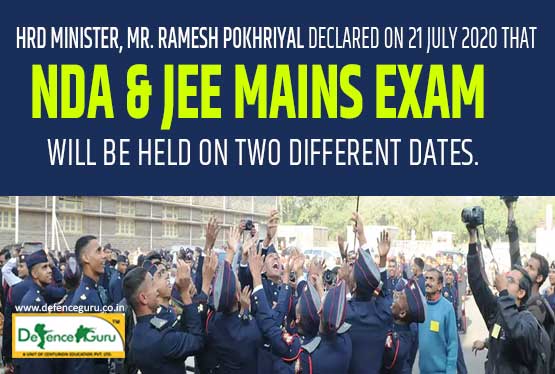 Good news for all defence aspirants, anxiety, confusions, stress all busted with HRD minister Dr. Ramesh Pokhriyal, Tuesday tweet.
NDA and JEE aspirants' major concern about rescheduled dates of examination are put to rest by HRD minister Dr. Ramesh Pokhriyal, Tuesday tweet. Buzz that scared many aspirants who have applied for Joint Entrance Examinations (Main and Advanced) 2020 and National Defence Academy Examination 2020 had received an overwhelming response from the HRD Minister.
Young aspirants preparing for JEE Mains and NDA entrance examinations simultaneously need not to worry about the clash of dates for entrance examination that is likely to be held on 6th September.
HRD minister Dr. Ramesh Pokhriyal made it clear with his tweet that,
"I have received representations from many students regarding the clash of dates of #JEEMain with #NDA. The matter has been examined. Students appearing in JEE (Main), who could not update that they are also appearing in the NDA exam scheduled on 6th Sept, should not worry. @DG_NTA will ensure that the two exams don't clash for candidates appearing in both the exams".
NTA in its latest notice, asked candidates to update their application forms by marking a 'YES' in the given column that asks if the candidate is also registered for UPSC NDA NA exam.
"The candidates appearing for UPSC NDA and NA Examination (I), 2020 being conducted on September 6, 2020 are informed to also update as 'YES', in their online application form, during the correction period so that there is no clash of their schedule of JEE (Main) with NDA and NA Examination (I), 2020" .
As per the clear instructions students who are also appearing for NDA exams will not be allotted the same date of examination i.e. September 6. Students were supposed to mark in the form whether they are appearing for both JEE Main and NDA, as mentioned. Earlier, JEE Main was scheduled to be held from July 18 to 23, but was later postponed to September 1 to 6. UPSC NDA NA (I) and (II) will be held jointly on September 6.
Amid Covid-19 pandemic dramatic situation all national and state level examinations have been postponed and rescheduled several times, thus rescheduling might lead to some clashes in terms of dates, thereby HRD Minister immediate actions vested a smile and trust on young aspirants. Assuring to students appearing in both JEE Main and NDA exams, the HRD minister told students that they should not worry even if the dates of their two exams are clashing.