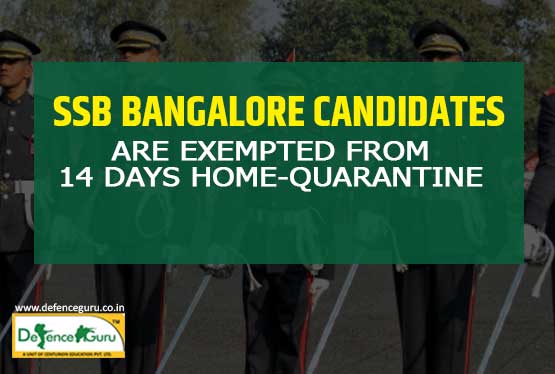 लॉकडाउन के बाद एसएसबी इंटरव्यू का शुभ आगमन हो गया है, सभी कैंडिडेट्स एसएसबी इंटरव्यू के तहत संपूर्ण RULES को फॉलो करते हुए एसएसबी सेंटर पहोच रहे है | एसएसबी इंटरव्यू की आव्यशक सूचनाओं की जानकारी पर एक नज़र:
Candidates reporting for SSB Interview at SSB Bangalore centre from 31st July 2020 are exempted from 14 days Home-Quarantine, as published by the official twitter handle of Home Quarantine in Bengaluru Urban Region, the official statement says,
"Candidates coming to attend SSB interviews at SSB, Bangalore, are exempted from 14 days Home-Quarantine, subjected to the condition that they shall stay inside the SSB campus. Any violation will lead to Institutional quarantine".
The major development for candidates came on behalf of current government policy which states that, "any inter-state traveler has to be at Home Quarantine for a period of 14 days".
Concerning the issue the Home-Quarantine Team (NHWC-Neighborhood Home-Quarantine Watch and Care) had gone through the complete check-in procedures for SSB candidates, thereby relating to the concerned development the NHWC drafted an official statement for candidates attending SSB Interview in Bangalore, starting from July 31st, 2020.
"The candidates coming for SSB will be treated as 'business travelers' and hence are automatically exempted from the 14 days Home Quarantine rule. In addition to that, as per the requirement of SSB, they also are coming with a Covid 19 negative certificate. They also are camped inside the campus where SSB is conducted".
"In this background, it is clarified that there is no need for 14 days 'Home Quarantine' and as such the candidate are advised to report at the BRCs (Border Receiving Centres), at the Airport/Railway Station/Bus terminus, as special business travelers coming for SSB by producing the SSB call letter. Upon that, they will be allowed to proceed to the SSB campus with a 'Quarantine stamp' plus initial of 'SSB'".
The initiative taken on the issue came up as a welcoming and satisfactory development for SSB candidates who are all set to go ahead in 31st July SSBs. All the best defence aspirants!