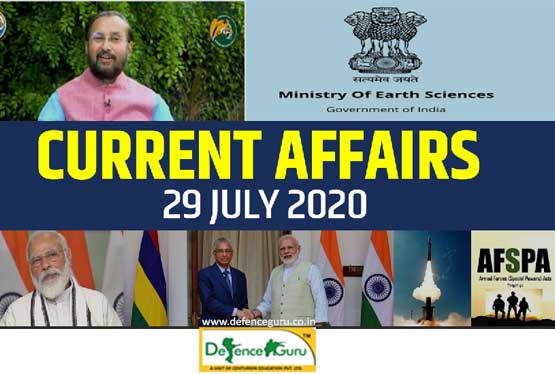 Environment Minister salutes front line forest personnel for Tiger conservation
Union Environment Minister PrakashJavadekar saluted the front line forest personnel whose efforts he said have taken the tiger on the assured path of recovery in the country. In his message on Global Tiger Day today, the minister said that tiger conservation is a classic example of AtmaNirbharta as envisaged by Prime Minister NarendraModi.

Environment Minister informed that India has 2 thousand 967 tigers as per the latest Tiger Census. The nation registered an increase of 741 tigers in the last 4 years. Mr.Javadekar said, Project Tiger was launched in 1973 with just 9 tiger reserves and today the country has 50 tiger reserves. He said, tiger is placed at the peak of the food chain and their increased numbers is testimony of a robust bio-diversity.
Earth Sciences Ministry announces National Awards for excellence in Earth System Science
Ministry of Earth Sciences (MoES) National Awards for excellence in Earth System Science have been announced. This year the Life Time Excellence Award is being awarded to Professor Ashok Sahni for his significant contribution in the field of Geology, Vertebrate Paleontology and Biostratigraphy.

The National Award for Ocean Science and technology is being awarded to Dr. V. V. S. S. Sarma, Senior Principal Scientist, CSIR-National Institute of Oceanography, Vishakapatnam and Dr. M. Ravichandran, Director, National Centre for Polar and Ocean Research, Goa. The National Award for Atmospheric Science and technology will be presented to Dr. S. Suresh Babu.
PM Modi to discuss vision, roadmap for Banks, NBFCs this evening
Prime Minister NarendraModi will today join stakeholders from Banks and NBFCs to discuss and deliberate on vision and roadmap for the future. The topics on agenda include credit products and efficient models for delivery, financial empowerment through technology, prudential practices for stability and sustainability of financial sector.

Banking sector plays an important role in contributing to India's economic growth through financing infrastructure, agriculture, local manufacturing including MSMEs. Financial inclusion can play a big role in financial empowerment through technology. Senior officers from Government will also be a part of the interaction.
India, Mauritius PMs To Inaugurate New Supreme Court Building On Thursday
Prime Minister NarendraModi and his Mauritian counterpart PravindJugnauth will jointly inaugurate Mauritius' new Supreme Court building which has been constructed with Indian assistance, the Ministry of External Affairs (MEA) said.
The inauguration is scheduled to take place on Thursay through video-conferencing in the presence of senior members of the Mauritian judiciary and other dignitaries from both the countries.
The building has been constructed with Indian "grant assistance" and will be the first India-assisted infrastructure project within the capital city of Port Louis, the MEA said.
The new Supreme Court building project is one of the five projects being implemented under the 'Special Economic Package' of $353 million extended by India to Mauritius in 2016.
The project has been completed within schedule and below the expected costs, the MEA said.
The building is spread over an area of more than 4700 square metres with over 10 floors and a built up area of around 25,000 square metres.
The building flaunts a modern design and green features with focus on thermal and sound insulation and high energy efficiency.
The new building will bring all divisions and offices of the Supreme Court of Mauritius into a single building, improving its efficiency.
In October 2019, Prime Minister Modi and the PM of Mauritius had jointly inaugurated the Phase-I of the Metro Express Project and the new ENT Hospital project in Mauritius, also built under the special economic package.
Under Phase-I of the Metro Express project, construction of the 12 km metro-line was completed in September last year, while work on its Phase-2, which includes a 14 km long metro line, is ongoing, the MEA said.
Through the Ear, Nose, Throat (ENT) Hospital project, India assisted in construction of a 100-bed state-of-the-art ENT hospital in Mauritius, it said.
The successful and timely completion of India-assisted high quality infrastructure projects in Mauritius will also create greater opportunities for Indian companies in Mauritius and in the region, the MEA said.
SOME IMPORTANT Abbreviations:-
ABM – Anti-Ballistic Missile
Ballistic missiles are used to deliver nuclear, chemical, biological, or conventional warheads in a ballistic flight trajectory.
A missile that counters this ballistic missile is called an ABM.
The Prithvi Air Defence (PAD) is an anti-ballistic missile developed to intercept incoming ballistic missiles outside the atmosphere (exo-atmospheric).
AFSPA – Armed Forces Special Powers Act
It is an act of the Parliament of India that grant special powers to the Indian Armed Forces the power to maintain public order in "disturbed areas".
Presently it is operational in entire States of Assam, Nagaland, Manipur (except Imphal Municipal area), and few areas of Arunachal Pradesh; and Jammu and Kashmir and Ladakh.
ALH – Advanced Light Helicopter
The program for an indigenous 5-ton multirole helicopter was initiated in May 1979 by the Indian Air Force and Indian Naval Air Arm. HAL were given a contract by the Indian government in 1984 to develop the helicopter.
HAL Rudra and HAL Dhruv are the ALH helicopters of India.
AR – Assam Rifles
Oldest paramilitary force of India.
It is under the control of the Indian Ministry of Home Affairs (MHA) and has been guarding the Indo–Myanmar barrier as per the government policy "one border one force".
There are currently 46 battalions of Assam Rifles with a sanctioned strength of 63,747 personnel.
ASAT – Anti-Satellite Weapon
These are space weapons designed to incapacitate or destroy satellites for strategic military purposes.
Only the United States, Russia, China, and India have demonstrated this capability successfully.
On 27 March 2019, India tested its ASAT missile (Mission Shakti) destroying a pre-determined target of a live satellite. The DRDO's ballistic missile defence interceptor was used on an Indian satellite for the test. Microsat-R is the suspected target of the Indian ASAT experiment.