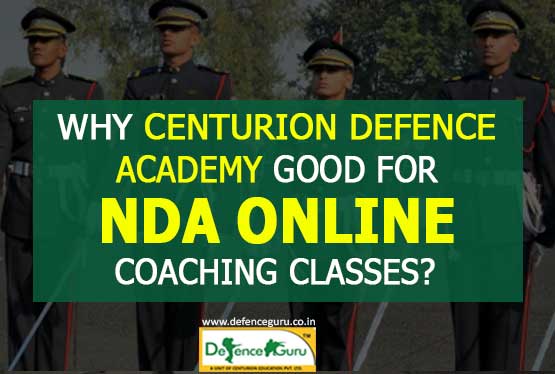 अगर करते है यकीन सिर्फ अपनी और अपने टीचर की मेहनत पर तो ढूंढे सेवा और जिमेदारी से भरिपूर्ण रास्ता , जहा ध्यान भटकाने और झूठे विश्वास नाकर जीता जाता है सिर्फ आपका विश्वास, शुरुवात से आखिर समय तक के लिए | लक्ष्य आपका और विश्वास Centurion Defense Academy का , offline learning में अवल स्थान पर बने रहने के साथ CDA अब Online learning के लिए 24/7 तैयार खड़ा है |
Most importantly for NDA 2020 you are only looking for the well equipped NDA Online Coaching to TARGET NDA (1) & NDA (2) 2020 Exam on 6th September.
On Time Live Classes Regularly
Recorded Live Classes Availability
Doubt Sessions for On/Off LIVE Classes
Study Plan Timetable– Date, Time, Lectures, Weekly Test
Downloading eNotes, ebooks, daily class PDFs
What your Desire for a Perfect Online NDA Coaching is CDA "TARGET". Amid COVID 19 drastic downfall on educational front, Centurion Defence Academy equips with the most relevant and reliable online learning source. अगर है 6th September NDA 2020 exam आपका TARGET तो समय को करे सही से इस्तेमाल, enrich your capabilities with higher and broader perspective of online preparation for NDA by India's leading learning brand in defence education on ONLINE LEARNING MODE.
Centurion NDA results highlights:
CDA results purely derived from the exam-oriented study under elite panel experts who offers strategic approach, short-trick approach, relevant approach and to-the-point approach. A well researched and developed study material triggers best CDA results under R&D team who work on Notes, study material, mock tests.
26 written exam selections by any private organisation in NDA - II- 2019
Among 26 selected written exam candidate 8 got recommended in SSB before Lockdown.
Highest selection rate claimed in NDA exam is a pride for Centurion Defence Academy and you can see all inspiring success story on CDA official you tube channel.
Suits your POCKET
Keep you PROTECTED
Make you UPDATED
24/7 AVAILABLE
100% SPEED GUARANTEED
Parents को दे सहारा और दिलाये विश्वास कैसे बिना किसी परेशानी के साथ हो सकती है NDA exam की पढाई FREE OF COST घर बैठे ही| India leading online portal providing successful web and mobile-based platform to candidates who appear for NDA exam in a well practiced manner. CDA Student App make you ready to crack your NDA exam in a much easy and affordable price in a most advanced and updated manner.
Saving your time, effort, money with the most relevant and reliable online source Centurion Defence Academy Student App. Instilled with the same level of difficulty &enables you to practice exactly same types of question to the actual NDA entrance exam CDA student app strengthen your preparation status.
CDA Mobile App features:-
Features

Description

Notification

Defense exam recent updates and messages will be timely updated

Daily Video Lectures

Not able to grasp the points at once then pause the video understand the point and continue to proceed further, as easy as you want it to be. Course wise select subjects to watch new, archive lectures

Live Stream Classes

Daily Live classes on new concepts with real time essence of live classes can be experienced digitally

Edutainment involved with FAQs, tips and tricks

Course wise select subject to watch live class

eDoc and eNotes

Video lectures PDF and important documents can be easily downloaded

Course wise select subjects to download PDF

Interactive

Enjoy interactive video sessions to meet all your needs and queries.

Assignments

Regular assignment upload and evaluate homework to encourage a healthy dose of fresh perspective can help you organize yourself. Complete the assignment on time and still do a good job

Tests

Choose test from the list to see which test is right for you under multiple test on each course with subject filter improve your score.

Active, Coming, Passed field provide hassle free participation of all tests.

Scores

Check all test scores and get a key evidence of your performance

Attendance

Digital Presence and activity scrutinized on today, previous week, next week regular updation on the app

Help Desk

Raise your queries and receive to the point and quick response

Feedback

Your opinion matters so do we look proficiently of students feedback

eBooks-

All subject eBooks formulated by R&D team of CDA NDA experts for reference are available

Quiz-Pad

Easy, moderate and gateway to defence level questions can be practiced through quiz
Unique Feature
Free Test Series- Exactly same levels of questions based sample papers are available for daily practice. Receive AIR to check where you stand in the upcoming NDA exam.
Get Demo Classes- Click here to know more about CDS online test series.
Links:
English: https://www.youtube.com/watch?v=_y0LycbGmJ0
History: https://www.youtube.com/watch?v=QEruhSQSrr8&t=115s
Physics: https://www.youtube.com/watch?v=oeJqJruFaqI
Maths: https://www.youtube.com/watch?v=XpkaQgZQFbc
Value added CDA app features
For defence entrance exam interview is most important with this app get prepared online with us for SSB Interview

English spoken
Free Test series
Free Books
Free Notes
Compared to other app why CDA is most preferred app. Know all about its USPs:-
Centurion Defence Coaching

Other Defence Coaching

Most preferred offline institute for defence entrance exam
Switching to online medium always been encouraging as everyone are aware about the CDA quality position it holds in NDA exam
Strictly deal with defence segment and provide quality rich content

The other online apps covers numerous competitive examination at one place thereby degenerate course quality

All subject eBooks formulated by R&D team of CDA NDA experts for reference are available
CDA R&D team provide you only exam oriented quality material with previous year question covered

Comparatively common books in market lack in quality oriented content production due to publication of other courses

Centurion Student App is to the point and offers realistic approach comparatively to common app that has extra features.
CDA app avoid confusion with easy-to-handle and to-the-point designed interference features

Other defense coaching fail to provide App facility to the point and often offers various competitive exams to common app that has extra features.

Gives 100% speed and prone to condition where speed of internet is a barrier. Do not requires much internet consumption and can access smoothly with slow internet speed.

One and the same kind of Mock Test Dashboard appears on PC, Laptop & Mobile.

Daily subject-wise lectures updates, defence expert lectures who are training with us for years as our team trainers
CDA provides professional result oriented expert training in NDA exam. Be aware from such classes that only satisfy you but not make you aware to handle defence exam

In market other hire any random trainers to whom you cannot analyse.
Free of Cost for those who are opting to attend in CDA offline coaching after lockdown. Amount you have paid on this app waiver when you join the offline classes in CDA campus. During campus admission-from total balance amount the fee incurred in app will be deducted and balance will be added to your final amount. So study at home during lockdown time at free of cost with CDA. If you are determinant to crack defence exam this app will be boom for your defence preparation.
CDA student app for NDA course will make you ready to crack your NDA exam in a much easy and affordable price. Specialized and uniquely designed by experts and R&D team of Centurion Defence Academy a unique, reliable and superior platform from other platforms. Gear up your NDA preparation with CDA mobile app.
Be an Efficient Learner! Save Time and Effort! Get Centurion Defence Academy Student App.
Visit www.centuriondefenceacademy.com Just Call or Whatsapp 9795977779 | 9795977776