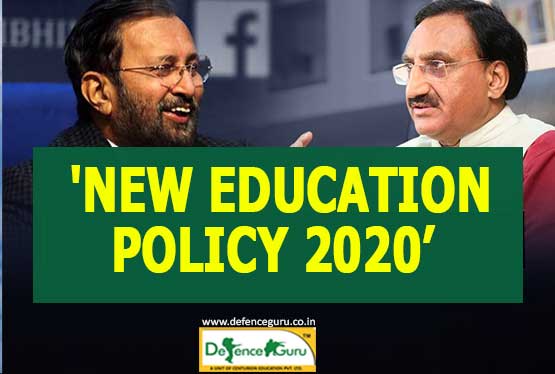 Major Changes in India's Education Policy- 'New Education Policy 2020'
The Central Government laid the new National Education Policy, 2020 on Wednesday 30 July in front of the Indians specifying all the pros of the new National Education Policy, 2020. Many major changes in education policy after 34 years done, the focus of the new education policy is to lower the higher burden of education on children.
"The burden of board examination will be reduced, now there will be only one regulator for higher education, earlier studies will not be useless if the study is missed, certificate on completion of one year and diploma certificate on two years of studies" are some of the key highlights of the new education policy. All new changes kept in the new education policy 2020 keeping in mind the future of children, the aim of the new education policy is to place teachers on the driver's seat of change in the current education scenario and to promote practical and skilled education in children's education.
The major change is the renaming of the Ministry of Human Resource Development (MHRD) to the Ministry of Education.
To enhance the learning and critical thinking expected in students, work will be done towards reducing the course content under the Education Policy 2020. Mandatory content will focus on: • Key concepts • Ideas • Applications • Problem-solving. It envisages achieving 100% admission rate from pre-primary to higher secondary by 2030 and 50% in higher education. There is a target to increase government spending on education from 4.43 per cent to six per cent of GDP.
Key attractions of the new education policy 2020:
10 + 2 formats finished in schools, now 5+3+3+4 format system will start
Foundation stage
First three years children will take pre-schooling education in Anganwadi
Then in next two years, children in class one and two will study in school.
A new syllabus will be prepared for these five years of education, focus will be largely on activity based teaching
It will cover children between the age of three to eight years
Preparatory Stage
In this phase, classes three to five will be studied.
During this time, children will be taught science, mathematics, arts etc. through experiments
Children from eight to 11 years of age will be covered in it.
Middle stage
It will have classes of classes 6-8 and will cover children between 11-14 years of age
Subject-based syllabus will be taught in these classes
Skill development courses will also start from class six
Secondary stage
Class nine to 12 will be studied in two phases in which intensive study of subjects will be done
There will also be freedom to choose subjects
Earlier arrangement
Previously government schools did not have pre-schooling there was a general education from class one to 10 and from class 11, subjects could be selected.
Employable (professional and skill) education system from sixth grade
From the sixth grade, the child will be given professional and skill education
Internship will also be conducted locally
Emphasis will be laid on vocational education and skill development The new education policy will not prepare the unemployed
In school, the child will be given the necessary professional education
10th and 12th board exams will be twice(semester)
To conduct semester examinations twice a year, dividing them into two parts objective and explanatory categories etc.
The main focus in the board examination will be on the knowledge test to eliminate the tendency of rote students
Education policy states that various boards will prepare practical model of board examinations in future, such as annual, semester and modular board examinations
Examination in class three, five and eighth also under the new policy
Performance assessment changes
There will be a change in the report card of children, they will be assessed at three levels
One student will do it himself, second classmate and third his teacher
National Assessment Center - A assay will be made which will test the learning ability of children from time to time
About 100 million children who have dropped out of education through 100% enrollment will be admitted again.
3-4 year degree in graduation, multiple entry and exit system
Higher Education Secretary Amit Khare said that the new policy has introduced multiple entry and exit (multi-level entry and exit) system
Certificate in Multiple Entry and Exit System after one year, diploma after two years and degree after 3-4 years
The 3-year degree is for students who do not have to take higher education and do not go into research
Students going into research will have to do 4 years degree, 4 years degree
According to the new education policy, if a student leaves engineering course within 2 years, then he will be awarded diploma
Five-year joint graduate-master's course will be introduced
The M. Phil will be scrapped and there will be an option to quit after one year in the post graduate course
The teachers will be upgraded through the National Mentoring Plan.
M. Phil discontinued in new policy
The course of M. Phil has been cancelled in the new education policy
After the implementation of the new education policy, now students will graduate, post graduation and then directly PhD
4 years graduation degree program then MA and then PhD directly without M. Phil
UGC, NCTE and AICTE will be finished, a regulatory body will be formed
UGC, AICTE, NCTE will be a regulator in higher education
The process of affiliation with universities will be completely abolished in 15 years by giving autonomy to colleges (graded autonomy).
Common exam offer to colleges
Under the new education policy, a common entrance exam will be offered for admission to higher educational institutions
It will not be mandatory for the institute, the National Examination Agency will conduct this examination.
Special syllabus will be prepared at pre-primary level in school
A special curriculum will be prepared for pre-primary education
Under this, children between the age of three to six years will come
Basic literacy and numerology will be ensured to students up to class three by 2025
Middle classes will be completely changed
The subjects will be studied between class six to eight
There will be a mechanism to control the fees of schools, colleges
Higher educational institutions will get approval on the basis of online self declaration
There are different rules for Central University, State University, Deemed University and Private University
All rules will be made equal in future
A mechanism for control of fees will also be prepared
Preparation of National Research Foundation
All types of scientific and social research will be controlled by creating National Research Foundation
Higher educational institutions will be converted into multi-disciplinary institutions
New education policy will include vocational education also
Vocational education like school education, higher education along with agricultural education, legal education, medical education and technical education will also be included
All subjects included in the new education policy
All subjects like arts, music, crafts, sports, yoga, community service will also be included in the course
These will not be called Assistant Courses
Emphasis on online education
New improvements have been emphasized on technology and online education, using various apps through computers, laptops and phones, etc. to make learning interesting
There will be a higher educational institution in or around every district by 2030. Emphasis has been laid on the use of technology in education
These include plans for online education to create content in regional languages, virtual labs, digital libraries, equipping schools, teachers and students with digit resources
Private friendly education software
Divyang friendly education software
National Education Technology Forum (NETF)
E-content in regional languages
Bal Bhavan setup for sports related activities
'Bal Bhavan' will be established in every district as a special boarding school to participate in arts, career and sports related activities.
Same rules for all universities to be followed
We have different rules for deemed universities, central universities and standalone institutions right now, the rule will be same for all under the new education policy
Students will be given the opportunity to choose Sanskrit as an option at all levels of school and higher education
This option will also be included in the tri-language formula, according to which no language will be imposed on any student
Other traditional languages ​​and literature of India will also be available as an option
Students will have to participate in an enjoyable project / activity on the languages ​​of India under 'Ek Bharat Shreshtha Bharat Initiative at any time during grades 6-8
Korean, Thai, French, German, Spanish, Portuguese, Russian languages ​​will be offered at secondary level
Scholarship portal expanded
National Scholarship Portal will be extended for SC, ST, OBC and SEDGS students
Under the new education policy 2020, about 2 crore children living away from school will be brought back into the mainstream
The development of the country depends on education policies, under the new education policy 2020 the auspicious arrival has come in India.