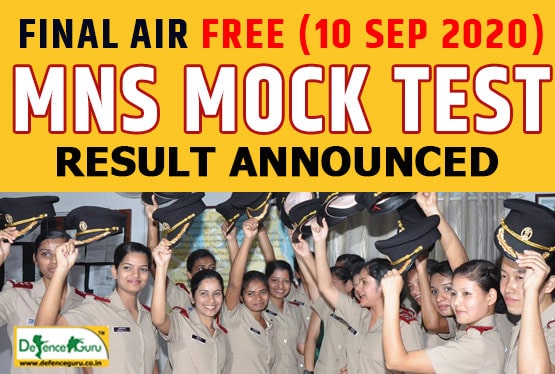 Final MNS Mock Test Result Announced
MNS 2020 exam preparation at Centurion Defence Academy attained huge support of MNS 2020 aspirants. The whole journey for 11 September 2020 MNS exam summed up on a large scale with series of Mock Test, Live Classes, Sample Papers, Study Materials and many more.

Centurion euipped with high quality online features came up with Free Mock Test for MNS 2020 aspirants just one day before the final MNS 2020 exam.

"Final AIR Free MNS Mock Test conducted on 10 Sep 2020 from 6:00 AM to 7: 00 PM."

Total of 908 students appeared for the test and the Final Free Mock Test Results are OUT. Students who appeared for Free MNS Mock Test can CHECK their Result below.
- Check MNS Mock Test Result Below
- Check MNS Mock Test Result at CDA Student App ' Scores' section.

Mock Test was planned according to the MNS 2020 exam pattern on 10 September. Free Mock test was benefited on Online medium where MNS aspirants could attempt the test free of cost. A confidence booster that energised the complete MNS 2020 exam preparation to many folds.