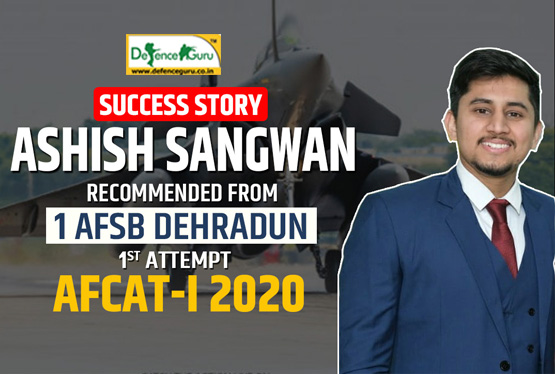 "I will never quit. I persevere and thrive on adversity. My Nation expects me to be physically and mentally stronger than my enemies. If knocked down, I will get back up, every time. I will draw on every remaining ounce of strength to protect my teammates and to accomplish our mission. I am never out of the fight."
Today when my hard work has paid off I can chill about it and feel proud.
Hello friends, I am Ashish Sangwan got recommended at 1 AFSB, Dehradun and cleared my CPSS on the 6th day. I gave more attention to the importance of systematic and balance approach, which help me in a better position to decide and act more holistically on what's important.
Reached AFSB centre on 1st October and got recommended at 1 AFSB Dehradun on 5th October, 2020. During COVID 19 tussle I stayed calm, focused and targeted on AFCAT-I-2020 AFSB only. The attitude opted for my aim worked into favor and today ready to join the Indian Air Force with biggest hit on Day 6 CPSS selection at 1 AFSB Dehradun.
153 Reported 53 Screened-In 3 Recommended at AFCAT AFSB 2020, the secret of change that I learned more during pandemic is to focus all my energy, not on fighting the old, but on building the new. Being a Delhi University graduate I tried to learn and taught to all the young boys and girls of my age that we are free to do anything at our young age but prime focus must be laid on the career. Despite our likes on materialistic thing we should lead optimistic and focused life to build our career in the desired and right direction. Here is the proof with this success in my first attempt at AFCAT AFSB 2020 and I am ready to become PILOT in INDIAN AIR FORCE.

Recommended at 1 AFSB, Dehradun, I am the third person to continue the legacy of family. The more and more I came closer to dream the clearer and bolder it became. The core mission of career is to join Indian Air Force after father who is a Rtd. NSG Commando and elder brother Pankaj Sangwan, who is in Indian Air Force.
The credit of my written exam success totally belongs to elder brother Pankaj Sangwan and Centurion Defence Academy youtube channel and online classes. Centurion online preparation motivated me to join Centurion Defenec Academy offline AFSB preparation. The aura and standards satisfied the expectation and for AFCAT AFSB 2020 success, I give my acknowledgement to Founder Director Shishir Dixit of Centurion Defence Academy and entire AFSB Panel.
During graduation at Delhi University I was involved into arts field where my love to participate in theatre shows, events, modeling greatly helped me for personality development confident & quick respondent to greater extent. The skills I learned supported throughout AFSB journey and my dream.
The mentorship of elder brother and Founder Director Shishir Dixit of Centurion Defence Academy supported me to focus on 5 days preparation along with CPSS written and gaming test preparation. The sincerity and perseverance perfectly reflected at the right place as after 5 days I got recommended at 1 AFSB, Dehradun and on 6th day cleared CPSS test and selected for FLYING BRANCH.
The whole journey of AFSB preparation from CDA under the experts of Psychology - Air Veteran Shishir Dixit, Interview Expert -Major Nasreen Fatima (Sq Ldr Rtd), GTO Expert - Col Pramod (Retd) and English Expert - Aditya Dubey has been memorable and valuable to me. On the CPSS test day I availed once in a life time golden opportunity and put all CPSS learning at its best. CPSS guidance under Founder Director Sir Shishir Dixit (Air Veteran| Air Defence Expert) helped him a lot in this success.
5 days SSB Experience
Day 1 Screening test:
Before arrival at the SSB center read the guidelines and arrive with all the required documents at the center. Due to COVID 19 restrictions appearing candidates are required to submit RT-PCR negative report at the SSB center. Due to COVID 19, face shield, sanitizer, indoor game are also mandatory.
Total 153 candidates reported on the first day and after basic documentation, we headed to OIR testing hall, we are briefed along with the answer sheets and OIR booklets. Solving OIR depends upon your mental sharpness and knowledge. If you have good knowledge and sharpness it just require to have a basic understanding and you will be able to make it. We get two booklets (one after one), each comprising 30-40 questions and the time given to solve was 17-30 minute for each.
After this we were taken to another hall for story writing i.e. PPDT. The picture was semi hazy and wrote a short, simple and relevant story here relevancy matters a lot. According to your perception you have write story and then you will be taken for narration where 3 officers are sitting in front of you
For narration the tips I would like to impart is always try to speak in a loud, clear voice and try to speak in English. After narration there will be group discussion, tips for group discussion is do not try to dominate and put your thoughts only and if you feel like that the story of the other person is good then you can add it in to your story also.
After the complete OIR and PPDT process is finished, the result was announced.
Total 53 candidates Screened-In
Day 2 Psychology test:
Day 2 Psychology tests were already well rehearsed and I was high on my confidence as I
had been under the supervision of the best Psychology expert of Centurion Defence Academy
Shishir Sir who guided me with major Psychology tips- how to answer, what to answer and most
importantly to stick near and clear with your answers.
TAT, WAT, SRT, SD all four psychology test are exactly same as discussed with Shishir Sir.
The 4 test were well executed and done exactly same as guided to me in advance for tests.
Day 3 GTO:
Along with the group members it started with GD. To be certain about GD round I initiated this GD and spoke logical points and stick to my answers in well versed form.
Next we had GPE leading to which we had PGT where our group performed exceptionally good because of the coordination and harmony among us. We completed all the obstacles and shouted the war cry "Vande Mataram" during entire snake race. Just after this we had IO, HGT, Lecturette, IL, Commancd task, FGT rounds.
Tips for GTO are maintain team spirit, show you leadership skills, do not give up easily.
Day 4 Interview:
Interview was scheduled on 4th day as instruction we got ready in formal, reached to room, and waited for my turn of interview. During interview, what you speak matters a lot because whole interview goes around it. The interview scheduled with Deputy President of the Board. Interview lasted for 1 hour where throughout the interview I remained calm, composed and answered every answer after thinking once.
Candidates generally get nervous for Interview day but my experience of Interview was best and I really enjoyed the whole interview session.
Day 5 Conference day:
On fifth day it was 05/10/2020 and I gor recommended at 1 AFSB, Dehradun.
Day 6 CPSS:
After 5 Days SSB comes on 6th day CPSS test- it is once in a life time opportunity. Conducted by the officers at Flying Branch if you have qualified it once then you don't have to appear for it again but if not qualified at once then you will not get second chance. On 6th day cleared CPSS test and selected for FLYING BRANCH.
For written (cognitive ability) test & gaming test they will brief you thoroughly about the instruments in aircraft and will tell you the processing of each part. You have to concentrate that what your assessor is telling you, the more you concentrate on their instructions the more confident and clearer you will become while you are answering the questions in written and gaming test. Focus on the instructions of assessors.
Got recommended at 1 AFSB, Dehradun and cleared my CPSS on the 6th day. The whole feeling immersed and I have no words to show my happiness to everyone. But the most I would like to do after my success is to motivate and share my experience and knowledge to all the aspiring candidates.
The whole CDA learning experience was a treat for any learner who wanted sure success under expert guidance and motivation from the living legends of the Indian Armed Forces, CDA is the best place for living and achieving your dream. Premier coaching known for its tremendous results and mentor guidance gave him the urge to conquer his passion. Making it a perfect victory Ashish achieved it for everyone close to him and for the nation. In his AFSB Interview Ashish concluded where he thanked God for the love of his parents, support of the Centurion Team and most importantly his elder brother support and guidance.