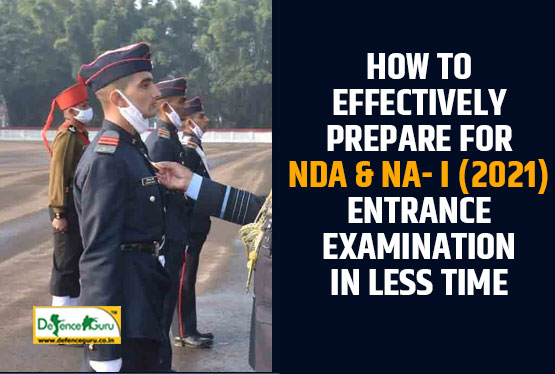 How to Effectively Prepare for NDA and NA 2021 Entrance Examination in Less Time
In order to prepare properly for the prestigious competitive entrance examination of National Defence Academy (NDA) and Naval Academy (NA) – I (2021) in the shortest possible time one must follow the below enlisted tips/valuable suggestions:
1. One must first accept the fact that without proper preparation the stated entrance exam is a hard nut to crack. Good preparation requires both smart and hard work. By smart work we mean that depending on the time available for preparation, one must diligently follow a time table to cover the entire syllabus thoroughly.
2. A candidate should be become familiar with the syllabus of the examination. Thereafter, an analysis of the syllabus should be carried out by the individual to identify the weak and strong areas. One can accomplish this task of self introspection by solving a previous year or relevant mock question paper. This task will also help a prospective candidate gauge the level of difficulty of questions asked, understand the exam pattern and assess one's current speed in solving the complete question paper.
3. One must set a timetable which ensures specific timeframes of preparing various topics of the entrance test thoroughly. Also, the timetable should ensure at least 10 hours of dedicated studies on a daily basis. It is advisable to start one's preparation with topics one is good at. Thereafter, a gradual transition should be made to topics one faces more difficulty with. This plan-individual specific strongest to weakest topics-keeps the candidate motivated throughout his preparation for the examination. If possible, one should set aside a space for his regular studies. This will provide an individual a feel for continuous study.
4. A candidate must arrange for good study material. Here, care should be taken to consult authentic reference sources. In pursuance of the same, one may consult NCERT texts; take assistance of good coaching institutions and other relevant aids. During the NDA and NA – I (2021) entrance exam preparation term, one must make short notes regularly. This activity will assist revision work. One should brush up his knowledge of English grammar and enhance his vocabulary-an essential part of the preparation. Endeavour to focus on the topics from which questions had been repeatedly framed by Union Public Service Commission (UPSC), the exam conducting body. In addition, one must attain required level of fluency in spoken English through regular practice, without fail. Next, in order to ascertain a strong hold on general awareness, one must read newspapers, appropriate magazines and available good books on general knowledge and current affairs. As per the recent trend, with regard to the section on mathematics, it is advisable to attain a strong grasp on Algebra. Nonetheless, one should solve at least 2 problems from each relevant branch of mathematics (assessed upon in the entrance examination). Then, one should write down all the formulae at one place for quick reference and revision. Of late, it has been observed that Physics has been awarded greater weight in the section on science.
5. One should try to solve as many mock tests as possible in order to evaluate their preparation for the NDA and NA – I (2021) entrance exam. Then, one must do regular revision of the content studied. This helps in the long term retention of the content. Next, during the course of preparation one should take good care of his health and personality grooming. In order to ensure the same, one must regularly exercise, meditate to relieve stress, take proper diet and sleep.