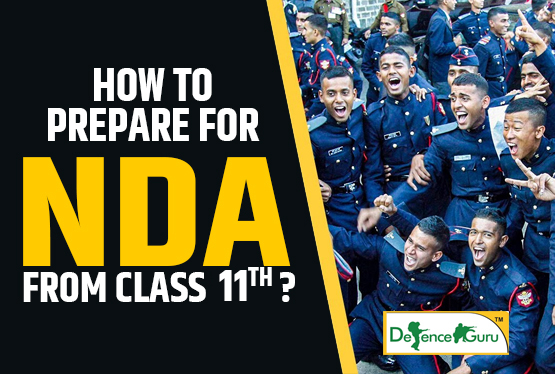 Most of the students have the passion and ambition to join the Indian Armed Forces. Choosing Indian Armed Forces as a career option requires a lot of preparation and hard work. Hence if your ambition is to join the Armed Forces then undoubtedly NDA is one of the best options available. The minimum qualification to apply for NDA is Class 12th so it is crucial to begin preparation for the same from Class 11th itself because doing so will only give you much of the required time to be prepped up beforehand giving you an edge of 1.5 years to prepare for the NDA examinations. To qualify the NDA one must qualify both the writtens as well as SSB Interview to get success. It is imperative thus to begin preparation from Class 11th standard for your NDA Exam.
NDA Exam Preparation Tactics
1.Knowing the written and Interview Procedure-
Knowing the examination pattern will give you an idea as to how the actual exam would be like. It is mandatory to go through the entire syllabus and start preparation for the exam accordingly. Along with the writtens a number of tests are also mandatory to clear the SSB Interview like PP&DT, Group discussion, Personal Interview, Situation Reaction Test, Word Association Test, Progressive Group Task, Physical Test, Conference, etc. Therefore a lot of things are at hand and a lethargic mindset has to be avoided without any waste of time and with a right course of action and clear approach only can make you think of entering the NDA.
Well, SSB is definitely a test of the personality, attitudes and psychology of an individual over the years thus it is a culmination of years of experience which results in the actions and behavior of the particular individual. It basically aims at tapping the subconscious responses in almost all the tasks thus it is mandatory to work, improvise and enhance the personality otherwise you will fail to demonstrate the Officer Like Qualities therefore monitoring your daily actions and routine and implementing the same in your daily life will increase your chances of being recommended for NDA SSB Interviews.
2. Being proactive and extrovert-
Well being an extrovert, participating in extra-curricular activities, competitions, debates, outdoor games, public speaking, etc. will definitely bring out your qualities and improve your communication skills and bring out the required leadership qualities in you. It will definitely change your perspective and enhance your thinkingbyresolving your stage fright, interaction with strangers, talking to the opposite sex, etc.
3. Application of your studies-
It is very important to know the general applicability of the subjects thatyou have studiedbecause mere cramming of all the questions and answers won't be solving your purpose as questions related to the particular stream that you belong will definitely be put across but their practical applicability in the form of theories and principles is must and it is expected from the candidate to be well versed with the same. It is not at all required that you must be a topper but you must be sorted with your basics as you have to answer before the interviewer at all costs and you cannot afford to show that you are unaware or don't have any knowledge of a particular topic.
4. Maintaining a good physique and being physically fit-
A good physique mirrors your personality and says much aboutyour personality and activeness. In SSB along with evaluating all the other factors you need to have a good physique as it speaks whether or not you are active or are a dull and lethargic person thus apart from giving you a presentable look, it will portray your agility and activeness you possess. Participating in sports or outdoor activities is always a plus point in SSB's because apart from physical fitness it nurtures the team spirit, discipline, coordination, interpersonal and communication skills and thus enhances the leadership qualities. Thus being physically fit is of prime importance.
5- Access to right mentorship and knowledge-
In today's world of competitiveness most of the aspirants lack the guidance of right mentorship and access to accurate knowledge based information about the preparation of SSB and often are confused and puzzled in making the right decision but it is very important to follow the right track otherwise you will fail to achieve a sure shot selection in the SSB.
Taking guidance from the above it is advised that the students who are preparing for their NDA from Class 11th need to follow a holistic and rigorous approach towards their NDA exam preparation so as to make themselves familiar with the pattern and structure of the exam and to be vigilant and active so as to maintain a strong and confident approach.