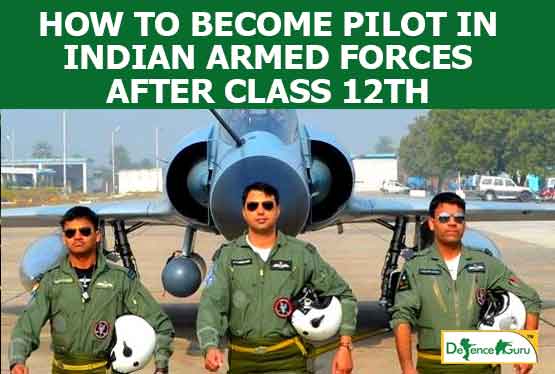 Joining the Indian Army as a pilot is a dream of much Indian youths. A career in the Indian Army, as a pilot, is quite a lucrative one. As today's youth is interested in challenging jobs. The pilot job is quite tempting and adventurous one. Here the Defence Guru show cases you the process of how to become a pilot in Indian Army after class 12th.
Military Pilots are considered as the backbone for the Indian Army. The pilots support the Armed Forces with their air skills to engage in air-to-air combat, identifying missions and transporting army essentials and personnel.
Procedure to Become Pilot
The procedure for becoming a pilot in the Indian Armed Forces AFTER CLASS 12TH is similar to that of being an officer in any of the services, except for some extra medical criteria and an additional CPSS. So the candidate has the opportunity to apply through written test, qualify for the written test, and get a call for SSB Interview.
After 12th through NDA exam, the candidate can qualify for the post of pilot. The UPSC conducts the NDA (National Defence Academy) exam, clearing which you undergo 3-year training at NDA, Khadakwasla, followed by flying training at Air Force Training Establishment
Written Exam
The process of the written exam starts when candidates successfully register for the exam. The written exam comprises two sections: Mathematics and General Ability Test. The test carries a total of 900 marks. Candidates who obtain the minimum qualifying marks in the written exam are called for SSB Interview.
Declaration of Result
NDA result is declared online. The result is made available in PDF format. For qualifying, the Candidates need to secure NDA cut off in written exam..
SSB Interview
After Qualifying the NDA Written Result, the SSB interview will be conducted for intelligence and personality test. The interview test conducted in two parts. On the first day, candidates have a report at selection centers and those students who qualify for the first stage will be called for the second stage exam. And those candidates who qualified for the second stage are required to stay for a total of 5 days at SSB place.
CPSS (Pilot test) Final step Selection
Those candidates whoget recommended in SSB Interview and those who had qualified for Flying Branch in written exam are required to give CPSS Test.
Details of CPSS
CPSS (Computerized Pilot Selection System Test) is Once In a lifetime test. It is Conducted by officers of flying branch.
There are two tests conducted under CPSS once a candidate is recommended.
- Cognitive Ability Test
- Psychomotor Test
1- Cognitive Ability Test
- 6 tests are there.
- Total Questions : 212 (MCQ Based)
- Total Time : 2 Hours 30 Minutes
S.NO.

TEST NAME

QUES

TIME

ABOUT

1

INSB 1

15

10 MINS

Recognising Scales and meters.

Magnetic Compass
Airspeed Indicator
Altimeter
Attitude Indicator
Vertical Speed Indicator
Turn Coordinator

2

INSB 2

60

20 MINS

Determining position of airplane from instruments.

3

SPATIAL ABILITY TEST

30

15 MINS

Perceiving 2D, 3D Figures in space.

4

SPATIAL VISUALISATION TEST

57

5 MINS

Perceiving position of object in space.

5

NUMERICAL REASONING TEST

20

20 MINS

Numerical Skills

6

REASONING TEST

30

15 MINS

Verbal and Non Verbal Reasoning
2- Psychomotor Test
- 10 tests are there.
- 4 Tests for Each Test are given(Best attempt is counted)
- Total Time : 1 Hours 30 Minutes
S.NO.

TEST NAME

TIME

1

SENSORY MOTOR TEST

1 HOURS 30 MINS

2

CONTROL VELOCITY TEST

3

DUAL TASK TEST

4

DOT ESTIMATION TEST

5

SPEED ANTICIPATION TEST

6

SIZE ANTICIPATION TEST

7

PURSUIT TRACKING TEST

8

MEMORY RECALLING TEST

9

COLOUR NAMING TEST

10

VIGILANCE TEST
Finally after qualifying the above, a candidate undergoes medical test followed by which the merit list is announced.This is thereby the full procedure of becoming Pilot after Class 12th in Indian Armed Armed Forces. For becoming a pilot after class 12th you can join Centurion Defence Academy in lucknow, Uttar Pradesh which is the first institute in state to have CPSS Guidance facility under ther headship of Founder Director-CEPL, Sir Shishir Dixit.
Hope this information will help you; stay tuned for more informative articles.