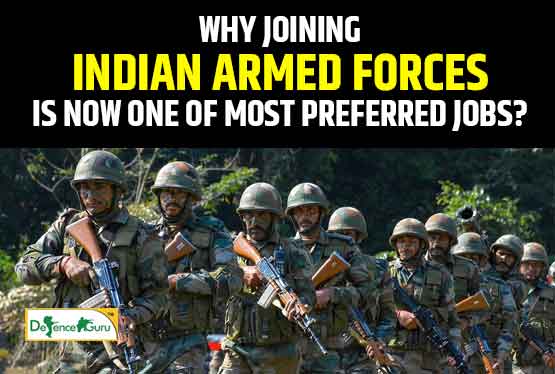 Why joining Indian Armed Forces is now one of most preferred jobs?
1. A career in defence forces promises one of the most prestigious and respected positions in the country. Youngsters who aspire to choose a career of excitement, adventure, and challenges can find no better place than defence to meet all their professional expectations.
2.The Indian Armed forces warrior are infused by a set of values that make them willingly face a plethora of challenges and difficulties and when the call may come to give the ultimate sacrifice in the service of the Nation.
3. Respectful life There is no doubt that the members of the Armed Forces are one of the most respected professionals in any society. They risk their lives and survive in harsh conditions so that normal civilians can live in peace and be proud of their country. The people understand their immense contribution and by their bravery and discipline. Professionals of the Armed Forces are respected for their selfless and courageous nature as well as for their discipline, technical and tactical skills.
4. One of the reasons what makes Indian Armed Force's job unparalleled to others is also the service ethos. The ethos of the Indian Armed forces is ingrained in all personnel with an unwavering will to succeed, accepting their grave responsibility and an unbridled ability to give their lives for others, confidence that in return the nation will look after them and their families. This includes:
i) Espirit-de-Corps
The spirit of comradeship and brotherhood of the brave, regardless of caste, creed or religion. The motto is, "One for all and all for one".
ii) Spirit of Selfless Sacrifice
The tradition is never to question, but to do or die for the three "Ns"; Naam, i.e. name-honour- of the unit/Army/Nation, 'Namak'(salt) i.e. loyalty to the Nation, and 'Nishan', i.e. the insignia or flag of his/her unit/regiment/Service/Nation which the soldiers hold afloat willingly.
iii) Valour
Fearlessness in combat and in the face of the enemy even when fighting against great odds or even when facing sure death.
iv) Non-discrimination
The Indian Armed Forces does not discriminate on account of caste, creed or religion. A soldier is a soldier first and anything else later. He/she prays under a common roof. It is this unique character, which makes him/her bind in a team despite such diversity.
iv) Fairness and Honesty
The spirit of honesty and fair play. He/she fights for a just cause that extends even to the enemy (prisoner or wounded).
v) Discipline and Integrity
Discipline and integrity impart the feeling of patriotism, honesty and courage under all circumstances, however strong be the provocation otherwise.
vi) Honour and Courage
He/she is the person on whose shoulders lies the honour and integrity of his/her nation. He/she knows that he/she is the last line of defence and cannot fail the Nation.
vii) Death to Dishonour
A close bond amongst soldiers forces them to choose death to dishonour. The concept of 'IZZAT' (HONOUR) in the clan / unit enables them to shun the fear of death to be called a coward in the peer group is worse than death.
viii) Forthrightness
A soldier has to be forthright, for on his/her words the men he/she leads are going to lay down their lives without questioning why.

These values stoke the attitude of Service before Self in every soldier.
The famous credo of Chetwode Hall. It is the spirit of this credo, imbibed in every officer that binds him with his men in an unshakeable bond of camaraderie.
" The safety, honour and welfare of your country comes first always and every time.
The honour, welfare and comfort of the men you command comes next.
Your own ease, comfort and safety comes last always and every time."
5. Learning new skills Aspirants join Defence forces to learn and imbibe highly sought-after skills. and activities. These includes leadership skills,l earning different games and sports and to upgrade and maintain physical fitness such as physical stamina and mental skills such as composer and courage. These are imparted through the various in-service training courses. These skills and various activities are very important for personnel as they make them positive in approach, mentally tough, confident and physically strong.
6. Travelling opportunity In Indian Armed Forces, the personnel are posted from one unit/ base to another after their tenure completion or based on service exigencies/requirements. This provides them with the opportunity to visit new places and interact with people as well as learn about new cultures. Some personnel do get the chance to travel internationally for service requirements.
7. Adventure The Indian Armed Forces provides a career of challenges and adventures. The Army, Navy and the Air Force offer adventurous career for aspirants. Fighting for our motherland and handling difficult situations provides a base for adventurous career. The personnel are trained to survive in harsh climatic conditions, difficult terrain and survive in unusual environment. It is one of the most adventurous career when compared.
8. Benefits and facilities for Defence personnel and entire family Intangible rewards being part of defence forces are priceless and military experience have profound impact one's entire life. Through military service, one learns self-discipline, camaraderie and demonstrate professionalism. Education/ Medical services/ Accommodation / Canteen facilities are provided for active duty personnel and their families. There are many facilities for the veterans/ ex- servicemen as well.
---------------------------------------------------------------------------------------------------------------------------------

By,
Maj Nasreen Fatima
(Sqn Ldr Retd.) Ex. NDA Instructor, IO
Academic Head CEPL