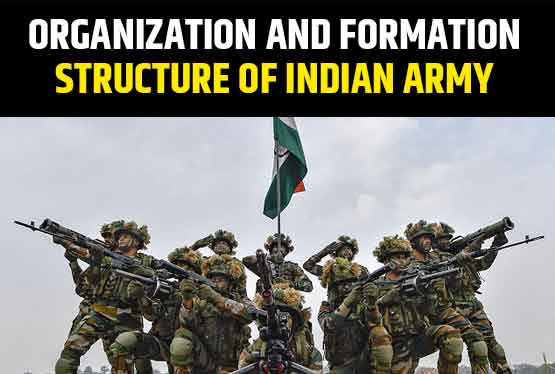 Hi Defence aspirants!
Preparing for the most prestigious job on the planet i.e. joining the Indian armed forces? If So, then You must be thoroughly aware about the organization structure of Indian armed forces. Good knowledge about the organization structure will enlighten you with a deep insight and learning about the functioning of Indian armed forces. Knowing the same is also very important from the view pint of your respective defence exams as well as SSB interview. In this article you shall be reading about the organization structure of Indian Army.
Let's have a look!
Indian Army is one of the largest army in the world. Its headquarter is located in the Indian capital New Delhi and it is under the overall command of the Chief of Army Staff (COAS). COAS is headed byThe Chief of Defence Staff of the Indian Armed Forces (CDS). CDS is the head of the military staff of the Indian Armed Forcesand the chief executive of the Department of Military Affairs. As the highest ranking officer of the Armed forces, the CDS is the commanding figure of the Joint Commanders and Staff Committee.The First CDS was appointed on 30 December 2019,and assumed office from 1 January 2020.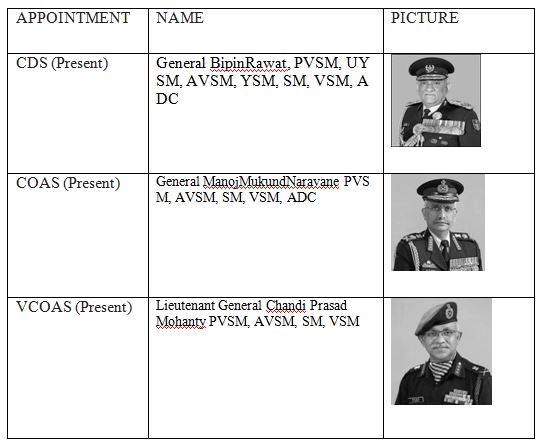 Let's have a look on the Formation and Structure of Indian Army This flow chart will help you in easy understanding of the same.

I'll now explain Each term in Detail.
1- Corps: Each Division is headed by General Officer Commanding (GOC)-In-C in the rank of Lieutenant General.
2- Division: Each Division is headed by General Officer Commanding (GOC) in the rank of Major General. It usually consists of 15,000 combat troops and 8,000 support elements.
3- Brigade: A Brigade generally consists of around 3,000 combat troops with supporting elements. An Infantry Brigade usually has 3 Infantry Battalions along with various Support Arms & Services. It is headed by a Brigadier.
4- Battalion: A Battalion is commanded by a Colonel and is the Infantry's main fighting unit. It consists of more than 900 combat personnel.
5- Rifle Company: Headed by the Major or Captain, a company comprises 120 soldiers.
6- Platoon: An intermediate between a company and section, a platoon is headed by a Captain or Lieutenant, or depending on the availability of commissioned officers, even a junior commissioned officer (Subedar). It has a total strength of about 32 troops.
7- Section: Smallest military outfit with a strength of 10 personnel. Commanded by a non-commissioned officer of the rank of Havildar or Sergeant.
Indian Army Commands
The army operates 7 operational commands. Each command is headed by General Officer Commanding-in-Chief with the rank of Lieutenant General. Each command is directly affiliated to the Army HQ in New Delhi. These commands are given below in their correct order of raising, location (city) and their commanders. There is also the Army Training Commanded abbreviated as ARTRAC. The staff in each Command HQ is headed by Chief of Staff (COS) who is also an officer of Lieutenant General Rank. Besides these, army officers may head tri-service commands such as the Strategic Forces Command, Integrated Defence Staff (IDS) and the Andaman and Nicobar Command.
Corps: A corps is an army field formation responsible for a zone within a command theatre. There are three types of corps in the Indian Army: Strike, Holding and Mixed. A command generally consists of two or more corps. A corps has Army divisions under its command. The Corps HQ is the highest field formation in the army
Central Command: headquartered at Lucknow, Uttar Pradesh

I Corps — Currently assigned to South Western Command
Command: headquartered at Kolkata, West Bengal

- 23rd Infantry Division headquartered at Ranchi
- III Corps, headquartered at Dimapur, Nagaland
- IV Corps, headquartered at Tezpur, Assam
- XXXIII Corps, headquartered at Siliguri, West Bengal

Command: headquartered at Udhampur, Jammu and Kashmir

- XIV Corps, headquartered at Leh, Jammu and Kashmir
- XV Corps, headquartered at Srinagar, Jammu and Kashmir
- XVI Corps, headquartered at Nagrota, Jammu and Kashmir

Command: headquartered at Pune, Maharashtra

- 41st Artillery Division, headquartered at Pune, Maharashtra
- XII Corps, headquartered at Jodhpur, Rajasthan
- XXI Corps, headquartered at Bhopal, Madhya Pradesh

Western Command: headquartered at Jaipur, Rajasthan

- 42nd Artillery Division headquartered at Jaipur
- I Corps, headquartered at Mathura, Uttar Pradesh
- X Corps, headquartered at Bhatinda, Punjab

Command: headquartered at Chandimandir

- 40th Artillery Division headquartered at Ambala
- II Corps, headquartered at Ambala, Haryana
- IX Corps, headquartered at Yol, Himachal Pradesh
- XI Corps, headquartered at Jalandhar, Punjab
Command: headquartered at Shimla, Himachal Pradesh
Hope now you are aware about the organization and formation structure of Indian Army!
All The Best !
Jai Hind!
By,
Gurkirat Kaur
Personality Development Coach, Defence Career Mentor,
Center Head-Centurion Defence Academy