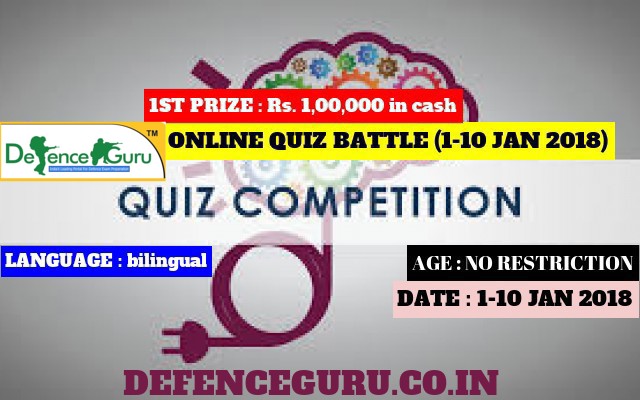 DEFENCE GURU. The Ministry of Defence in coordination with MyGov.in is organizing an online quiz competition on gallantry awards (Param Vir Chakra, Mahavir Chakra, Vir Chakra, Ashoka Chakra, Kirti Chakra and Shaurya Chakra). The quiz would be conducted online from January 1-10, 2018. Questions in the quiz will be primarily based on the information available in respect of the gallantry awards and awardees on online portal www.gallantryawards.gov.in  which was launched on the 15 August 2017. The quiz will be bilingual and questions would be in Hindi and English.
 
The quiz would be conducted under two categories - one below 18 years of age and another 18 years and above.
In each category, five prizes will be given - 1st, 2nd, 3rd and two consolation prizes. The first prize winner will be awarded Rs. 1,00,000 in cash. The second prize winner will be awarded Rs. 75,000 in cash. The third prize winner will be awarded Rs. 50,000. The two consolation prize winners will be awarded Rs. 15,000 each.
 
The winners of the quiz will be felicitated during the Republic Day Celebrations 2018. The winners will also be invited to witness the Republic Day Parade on Jnauary 26 and the Beating Retreat on January 28.
 
The Governmnet would arrange for  the stay and transportation of the winners from outside Delhi for five days [25 January (Arrival in Delhi) to 29 January (Departure from Delhi)].
 
The winners will be provided 3rd AC rail ticket (including Rajdhani/Shatabdi Express) for to and fro journey or reimbursed this amount. In case of winners in the category below 18 years, arrangements for hospitality of one guardian will also be made. Further, in case of female winners, arrangements for the hospitality of one companion will also be made.
JAI HIND. STAY TUNED FOR MORE UPDATE.
DEFENCEGURU.CO.IN