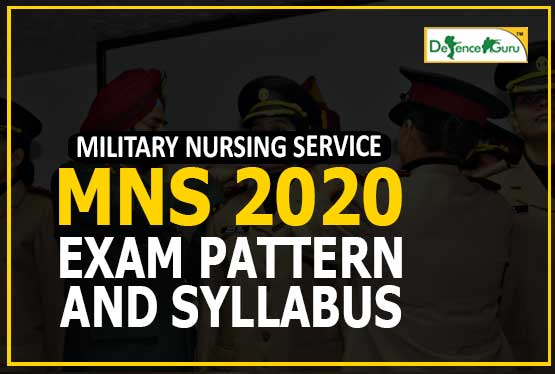 MNS 2021 EXAM SYLLABUS AND PATTERN
The Indian Military Nursing Service exam (MNS) is a gateway to work as a military nurse in Indian Army. Indian Army is a large component of Indian Armed Forces and to be employed here is a matter of pride. Hence thousands of aspirants take the MNS exam each year. Below are some important points to note regarding MNS exam 2020.
The MNS exam is conducted in exclusively for girls. It gives admission to the selected candidates in a 4 years nursing (B.Sc.) course at Colleges of Nursing of Armed Forces Medical Services as per the availability of seats. After completion of course and training the girls are eligible for Short Service Commission as well as Permanent commission granted by the President of India. The notification for MNS entrance exam is uploaded time to time and as per the recent update the 2020 MNS exam is scheduled in April 2020.
Hardly three months are left for the big day to approach and it's high time you should get serious about your preparation for MNS so let's take a deeper look at the syllabus and pattern of MNS 2020.
MNS 2021 EXAM PATTERN
MNS exam is a three stage process as it includes:
Written test
Interview
Medical examination
Written exam: As per new amendments from 2020 MNS written exam will be conducted in online mode instead of the earlier offline mode procedure. Thus it will be a computer based test (CBT) from now on.
The Directorate General of Medical Services will be the organizing body of MNS exam 2020.
The time duration of MNS exam will be 90 minutes.
Furthermore it will be an objective based exam with MCQs from the following subjects: biology, chemistry, physics, general English and general intelligence.
Number of questions will be 150.
Interview: Once the result of written exam is out the selected candidates will have to appear for a personal interview at the allotted centre. Questions in interview range from personal information such as name, family, place of residence etc. to educational qualification and military aptitude. You are often asked questions pertaining to this profession such as: why do you want to join MNS, in what way can you serve Indian Army, what is your long term goal in life, preparation strategy etc.
Medical examination: The finishing touch or I should say the last stage to get into MNS is a short medical examination which requires a minimum height of 152 cm with few exceptions, and X ray examination of chest and USG.
MNS 2021 EXAM SYLLABUS:
Before commencing with a good study plan you must know the syllabus of MNS 2020 written exam. Scroll down to get the complete curriculum:
General English
Synonyms/ Homonyms
Antonyms
Spot the error
Fill in the blanks
Spellings
Detecting Mis-spelt words
Idioms and phrases
One word substitutions
Shuffling of sentence parts
Shuffling of sentences in a passage.
Biology
Taxonomy
Cell and Molecular Biology
Reproduction
Genetics and evolution
Human health and diseases
Biochemistry
Plant physiology
Human physiology
Biotechnology and its applications
Biodiversity, ecology and environment.
Physics
Laws of Motion & Work, Energy and Power
Properties of Matter
Electrostatics
Current Electricity
Magnetic Effects of Electric Current
Electromagnetic Induction and Alternating Current
Optics
Dual Nature of Radiation and Atomic Physics
Nuclear Physics
Semiconductor Devices and their Applications.
Chemistry
Atomic Structure
Block Elements (s,p,d and f )
Coordination Chemistry and Solid State Chemistry
Thermodynamics, Chemical Equilibrium and Chemical Kinetics
Electrochemistry
Isomerism in Organic Compounds
Alcohols and Ethers
Carbonyl Compounds
Carboxylic Acids and their derivatives
Organic Nitrogen Compounds and Bio molecules.
General Intelligence
Analysis
Number Series
Observation
Judgment
Space Visualization
Decision Making
Problem Solving
Similarities and Differences
Figure Classification
Visual Memory
Relationship Concepts
Non-Verbal Series
Arithmetical Computation.
MNS is not such a hard rock that could not be broken. If you have a good study plan, if you put in hard work, and if you have an ambitious soul then MNS will eventually turn easy.
All the best dear girls!