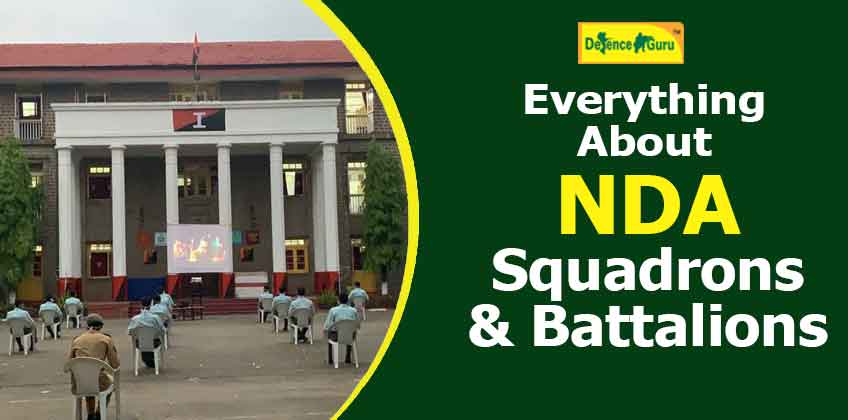 The National Defence Academy (NDA), the most acclaimed defence training academy of our nation, has the distinction of producing the bravest of the brave officers for the Indian Armed Forces. Since all three wings of the Indian Armed Forces receive candidates to the NDA for joint training, the cadets are given quarters that are grouped into squadrons and battalions. Let's examine everything you need to know about the National Defence Academy's squadrons and battalions.
The NDA is the first tri-service academy in the world and is situated in Khadakwasla, Pune, Maharashtra. The NDA cadets pursue a strong set of core values that drive them through their rigorous training routine.

In recognition of the sacrifices made by Indian soldiers in the Sudan theater during the East African campaign, the administrative headquarters of the NDA has been given the name Sudan Block.

The NDA provides first-rate facilities for the comprehensive training of cadets, including a wide range of amenities like large and well-maintained classrooms, gymnasiums, and several squash and tennis courts.
NDA Battalions and Squadrons in Alphabetical Order
The academy has a total of 18 squadrons divided into 5 battalions. Each squadron has been given an alphabetical name and can house between 100 and 120 cadets who are enrolled in both senior and junior courses. Each Squadron has a unique title, a specific image, a highly detailed background, and an emblem. After enrolling at the National Defence Academy, a cadet is assigned to one of the 18 Squadrons listed below.
Battalions with Alpha Order

Squadrons

No. 1 Battalion (ABCD)

Alpha Squadron

Bravo Squadron

Charlie Squadron

Delta Squadron

No. 2 Battalion (EFGH)

Echo Squadron

Foxtrot Squadron

Golf Squadron

Hunter Squadron

No. 3 Battalion (IJKL)

India Squadron

Juliet Squadron

Kilo Squadron

Lima Squadron

No. 4 Battalion (MNOP)

Mike Squadron

November Squadron

Oscar Squadron

Panther Squadron

No 5 Battalion (QR)

Quebec Squadron

Romeo Squadron
Among the above squadrons, the leading Squadron earns the renowned Inter Squadron Championship Trophy. The champion squadron has a proud legacy of being the occasional possessor of the Champion banner, which is displayed at parades and other athletic events.