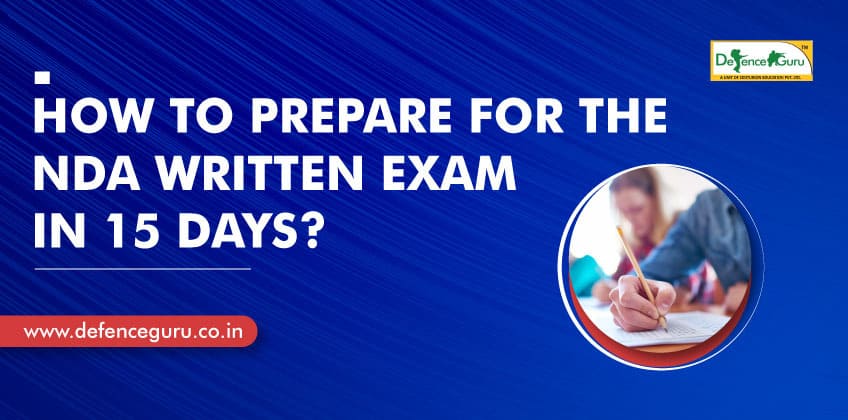 How to prepare for the NDA written exam in 15 days?
Last Minutes Preparation is a very vital part of NDA Exam Preparation. Any mismanagement or mistake in your last-minute preparation for NDA can cost you very dearly. To help NDA Aspirants in their last-minute preparation, we are providing a strategy for preparing for the NDA Exam in 15 days. We have provided a detailed plan of 15 days and have also provided topics you have to cover during these 15 days.
National Defence Academy and Naval Academy (NDA and NA) Exam is a national-level defence exam that is conducted to select candidates for the role of officers in the Army, Navy, and Airforce. NDA&NA Exam is conducted by Union Public Service Commission (UPSC) two times a year. NDA is considered to be one of the toughest exams in India because in this exam the success rate is below even 2-3%.
NDA Exam Selection Process involves two stages- 1. NDA Written Exam and 2. SSB Interview. In the NDA Written exam, two papers are conducted- 1. Mathematics Paper and 2. GAT (General Ability Test). In the Mathematics paper, Questions up to 12th standard are asked. GAT Paper is divided into two sections. In section-A, questions of English are asked and in section-B questions of science and general studies are asked.
Last 15-Day Schedule for passing NDA Exam
We have provided the last 15-day schedule for the NDA Exam. This schedule is divided into days and into three categories i.e. mathematics, general studies, and English.
Last 15-Day Schedule for passing the NDA Exam.

Days

Topics to be covered/Activities

Day 1-3

Maths- Differential Calculus and Algebra.

General Studies- Modern Indian History, Physical Geography, and Polity.

English- Vocabulary, Grammar Rule, and Previous Year Paper Practice.

Day 4-7

Maths- Analytical geometry of two and three dimensions, Trigonometry, Vector Algebra.

Day 7-10

General Studies- Physics, Biology, Chemistry, and Current Affairs.

Day- 10-13

English- Narration, Active Passive, Reordering, Cloze Test, Comprehension.

Day- 14-15

Maths- Revision of Formulas, Practice of Important Questions.

General Studies- Revision of Dates, Current Affairs, Articles, Locations, etc.

English- Revision of Vocabulary and Grammar Rules.

Relax, Revise, and Listen to Some Motivational Songs like 'Indian Army: A Life Less Ordinary'.
Tips for NDA Aspirants for last minute preparation
Candidates must ensure that they remain motivated and do not take too much pressure in these last 15 days. Candidates should take care of their health and get at least 8 hours of every day. To remain motivated, candidates can listen to songs like 'Indian Army: A Life Less Ordinary'. It is normal to get low marks in mock tests sometimes. You should not become demotivated after getting a low score. Instead, you should identify your mistakes and work on those mistakes.
Read More:
NDA GAT Previous Years Question with Answer Keys
NDA Maths Previous Years Question Paper with Answer Keys