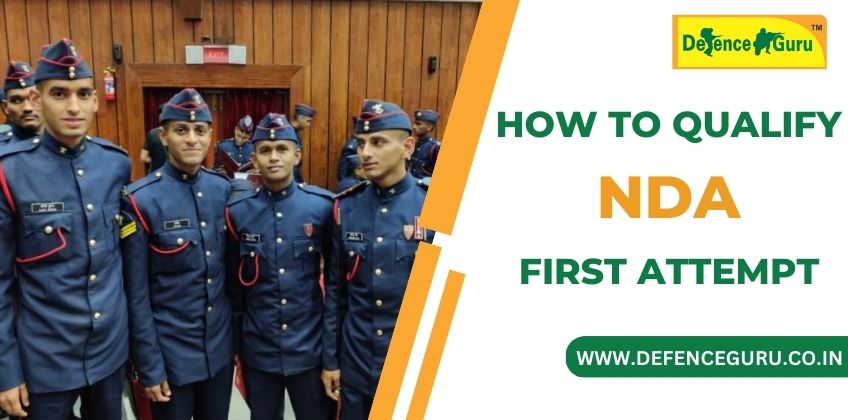 How to qualify for NDA in the First Attempt
NDA is the gateway to making a glorious career in the Indian Armed Forces. NDA Exam is conducted by UPSC to select Candidates for National Defence Academy at Khadakwasla in Pune. After the successful completion of the training in NDA, Candidates are sent to the Indian Military Academy for another training of 1.5 years.
NDA is the opportunity for 12th-passed or appearing students who want to make their adventurous career in the Armed Forces. Any student with age between 16.5 years to 19.5 years can apply for NDA Exam.
Exam Pattern of NDA Exam
Particulars

Details

Papers

Mathematics
GAT(General Aptitude Test)

Total Questions

Total Marks

Mathematics- 300
GAT- 600
Total- 900
How to pass NDA Exam on the First Attempt
NDA is one of the toughest exams in India and every year millions of students appear in this exam but only some lucky ones make it to the list of successful candidates. To pass NDA Exam in the first attempt requires a perfect strategy. This blog attempts to highlight the preparation strategy for passing the NDA exam in the first attempt.
● Read the Syllabus and take a printout of it- Reading the syllabus very carefully is very important for the NDA exam. Because after reading the syllabus only, you will know what topics to prepare and what topics to leave.
● Go through previous years' question papers- Previous years' papers give you a good understanding of the nature of the exam and the level of questions.
● Read NCERTs and other concise Books- NDA Exam follows the NCERT pattern so students should not ignore basic NCERT books and read other standard books like Indian Polity by Laxmikant and Modern History by Rajiv Ahir. You should refer study material of Centurion Defence Academy for NDA if you want to avoid these bulky books. Centurion Defence Academy's study material has been developed by R&D Team. This material follows the latest NDA pattern and is suitable for the vast syllabus NDA Exam.
● Solve Mocks- Solving mocks will improve your speed and accuracy in solving questions. Candidates must solve at least 8-10 mocks before going for the exam. Centurion Defence Academy conducts weekly tests for its students to fulfil this demand. Centurion Defence Academy's weekly tests develop a positive competitive spirit and make preparation effective.
● Prepare for SSB and Written Exam simultaneously- Candidates will not get much time after the declaration of written results that's why candidates should prepare for the written exam and SSB simultaneously. Candidates can prepare for OIR, PPDT, TAT, WAT, and SRT along with other subjects. Centurion Defence Academy's 21 Days SSB Course is dedicated to mentors candidates for 100% recommendation. Centurion Defence Academy has India's biggest GTO ground for its students.
Centurion Defence Academy has successfully given record selections in the NDA-149 course. Record 18 selections have been produced by Centurion Defence Academy out of which 11 are male candidates and 7 are female candidates. Centurion Defence Academy's NDA course is starting on 2nd January. Grab this golden opportunity and make a glorious career in the Armed Forces. For more information about our NDA course, you can call us at the number given on the website.
Read More:
Top 5 NDA Coaching in Dehradun