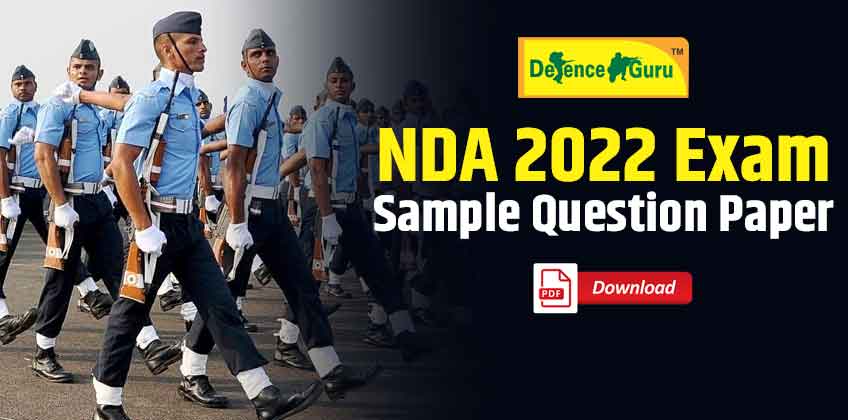 NDA 2022 Exam Sample Paper
According to the official notification released by the UPSC, the National Defence Academy - NDA 1 2022 Written Exam will be held on April 10th, 2022. To help NDA aspirants crack the NDA Written Exam with adequate marks, we have come up with NDA sample question paper for 2022 exam. This sample paper for the NDA 1 2022 written test will assist you in determining the exam's actual difficulty level as well as the topics included in each section. Download the NDA 2022 Exam Maths and GAT sample Question paper with answers and begin practicing right away to pass the NDA exam. This article will go over crucial elements about the NDA 1 2022 sample paper, such as the NDA Syllabus, Exam Pattern, and other pertinent information.
Important Features of NDA Sample Question Paper for 2022 Exam
Curated by competent faculty members after conducting extensive research on the latest exam trends.

Prepared following the most recent syllabus and exam pattern in order to assist you in your preparation.

Accessible in both English and Hindi languages so that you can answer the questions in the language you prefer.

Assist you in self-evaluating your level of preparation and making required modifications accordingly.

Assist you in familiarizing yourself with the difficulty level as well as the types of questions asked in the NDA written exam.
NDA 2022 Exam Syllabus
The NDA written examination consists of two sections, Mathematics and GAT (General Ability Test). The NDA written exam is conducted in an offline mode and consists of only objective-type questions with answers to be marked on an OMR sheet. The syllabus is presented in detail in the table below.
Read More - Top Five NDA Coaching in India
NDA 2022 Exam Mathematics Syllabus
The Mathematics section of the NDA written exam, which consists of 120 objective questions worth a total of 300 marks, is a substantial portion of the exam.

According to the most recent exam patterns, sample papers, and previous year's question papers, applicants must attempt a significant number of questions to obtain the sectional cut-off score.

The NDA 1 2022 sample paper will assist candidates in determining the level of difficulty of the questions as well as their level of preparation.
Read More - List of 5 Best NDA Coaching in Lucknow 2022
The important topics covered in the NDA 1 2022 Mathematics Syllabus are listed below.
Algebra

Matrices and Determinants

Trigonometry

Analytical Geometry of Two and Three Dimensions

Differential Calculus

Integral Calculus and Differential Equation

Vector Algebra

Statistics and Probability
NDA 2022 GAT Syllabus
The General Ability Test - GAT section of the NDA written examination is further divided into two parts, English and General Knowledge.

Out of 150 objective questions asked in the GAT section, 50 questions belong to English and the remaining 100 questions are asked from General Knowledge.

The General Knowledge part comprises questions from Physics, Chemistry, General Science, Social Studies, Geography, and the Current Events.
The important topics covered in the NDA 2022 GAT Syllabus are listed below.
English
Reading Comprehension

Grammar and Vocabulary

Synonyms and Antonym

Idioms and Phrases

One word substitutions

Para Jumbles

Spotting the Errors

Sentence Sequencing
Physics
Physical Properties and States of Matter

Principle of Archimedes

Mass, Weight, Volume

Density and Specific Gravity

Velocity and Acceleration

Newton's Laws of Motion

Stability and Equilibrium of Bodies

Sound waves and their Properties

Reflection and Refraction

Spherical Mirrors and Lenses

Natural and Artificial Magnets

Static and Current Electricity

Conductors and Non-conductors

Ohm's Law

Measurement of

Electrical Power

Primary and Secondary Cells

Use of X-Rays
Chemistry
Physical and Chemical Changes

Symbols, Formulae, and Simple Chemical Equations

Elements, Mixtures, and Compounds

Law of Chemical Combination

Preparation and Properties of Hydrogen, Oxygen, Nitrogen, and Carbon-dioxide

Properties of Air and Water

Oxidation and Reduction

Acids, Bases, and Salts

Fertilizers - Natural and Artificial

Elementary ideas about the Structure of Atom

Atomic Equivalent and Molecular Weights, Valency
General Science
Difference Between the Living and Non-living

Basis of Life—Cells, Protoplasm, and Tissues

Common Epidemics - Causes and Prevention

Growth and Reproduction in Plants and Animals

Elementary Knowledge of the Human Body and its Important Organs

Constituents of Food & Balanced Diet

The Solar System—Meteors and Comets, Eclipses
Social Studies
Indian History - Culture and Civilisation

Freedom Movement in India

Elementary Knowledge of Five Year Plans of India

Elementary Study of Indian Constitution and Administration

Panchayati Raj, Co-operatives and Community Development

Basic Teachings of Mahatma Gandhi

Bhoodan, Sarvodaya, National Integration and Welfare State

Renaissance, Exploration, and Discovery

War of American Independence

French Revolution

Industrial Revolution and Russian Revolution

Impact of Science and Technology on Society

United Nations Organization (UNO)

Concept of One World

Panchsheel, Democracy, Socialism, and Communism

Role of India in the Present World

Achievements of Eminent Scientists
Geography
The Earth - Shape, and Size

Latitudes and Longitudes

Concept of Time

International Date Line

Movements of Earth and their Effects

Origin of Earth

Rocks & Classifications - Weathering, Mechanical, and Chemical

Ocean Currents and Tides

Earthquakes and Volcanoes

The atmosphere and its Composition

Temperature and Atmospheric Pressure

Planetary Winds, Cyclones, and Anti-cyclones

Humidity, Condensation, and Precipitation

Types of Climate

Major Natural Regions of the World

Regional Geography of India—Climate & Natural Vegetation

Mineral and Power Resources

Location and Distribution of Agricultural and Industrial Activities

Important Sea Ports and Main Sea

Land and Air Routes of India

Main Items of Imports and Exports of India
Current Events
Important National Happenings and Events

Important International Happenings and Events

Current Important World Events

Prominent Personalities - Indian and International

Sports and Awards

Heritage and Culture
NDA 2022 Exam Pattern
NDA 2022 Mathematics Exam Pattern & Marking Scheme
| | |
| --- | --- |
| Particulars | Details |
| Number of Questions | 120 |
| Maximum Marks | 300 |
| Positive Marking | 2.5 marks for every correct option |
| Negative Marking | 0.83 marks for every incorrect option |
| Time Duration | 2 Hours 30 Minutes |
NDA 2022 GAT Exam Pattern & Marking Scheme
Particulars

Details

Parts

English and General Knowledge

Number of Questions

English - 50

General Knowledge - 100

Maximum Marks

English - 200

General Knowledge - 400

Positive Marking

04 marks for every correct option

Negative Marking

1.33 marks for every incorrect option

Time Duration

2 Hours 30 Minutes

We hope that the above article on the NDA Sample Question Paper for 2022 Exam will help you to understand the different aspects of the syllabus and exam pattern to score adequate marks in the NDA written exam. Download the sample paper and start practicing now! Click here to Register for NDA Courses at Centurion Defence Academy If you are preparing for NDA, MNS, Territorial Army, AFCAT, CDS, and SSB Interview, contact us on 9795977776 for the best preparation and proper career guidance.
Download PDF NDA Maths and GAT Sample Question Paper