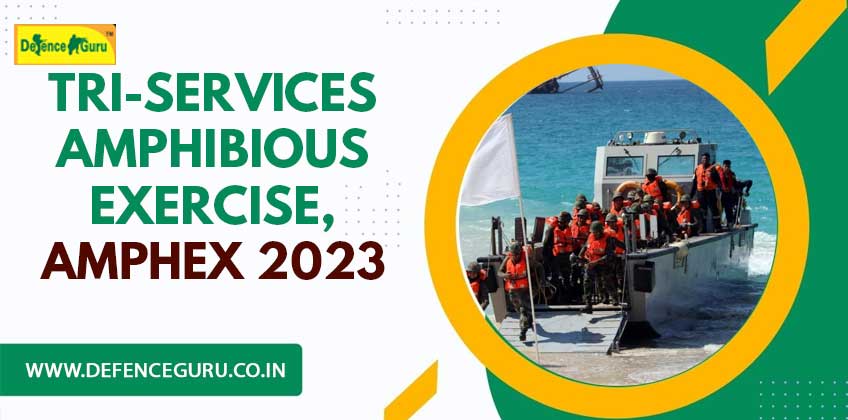 Tri-services Amphibious Exercise, AMPHEX 2023
The biennial Tri-Services Amphibious Exercise, AMPHEX 2023 was conducted at Kakinada, Andhra Pradesh from 17 to 22 January 23. AMPHEX was jointly conducted by Army, Navy, and Air Force. APHEX Exercise was conducted for joint training of elements of all three services in various facets of amphibious operations to enhance interoperability and synergy. AMPHEX is the largest joint exercise conducted by Army, Navy, and Airforce Jointly.
The exercise witnessed the participation of a number of amphibious ships consisting of Large Platform Dock (LPD), Landing Ships and Landing Crafts, Marine Commandos (MARCOS), helicopters, and aircraft from the Indian Navy. Indian Army participated in the exercise with over 900 troops which included Special Forces, Artillery, and Armoured vehicles. Jaguar fighters and C-130 aircraft from the IAF also participated in the exercise. AMPHEX 2023 successfully demonstrated the amphibious capabilities and validated the excellent coordination that exists between the three Services to undertake the full spectrum of amphibious operations.
Highlights of Tri-Services Exercise AMPEX 2023
AMPHEX 2023 Exercise was conducted at Kakinda Coast in Andhra Pradesh.
Soldiers and Officers from all the Armed Forces i.e. Army, Navy and Airforce.
Special Forces, Armoured Corps and Artillery represented Army in AMPHEX 2023.
Jaguar Fighter Jets and C-130 Transport Aircraft represented Air Force in AMPHEX 2023.
MARCOS, Landing Ships, and Landing Crafts represented Navy.
The Main Aim of AMPHEX 2023 was to increase synergy among Army, Navy, and Airforce.
Importance of Joint Military Exercises
Joint Military Exercises Names, Participants, Place and Editions are asked in Defence Exams like NDA, CDS, AFCAT, MNS and Agniveer. That's why Defence Aspirants should study joint military exercises before any defence exam. Joint Military Exercises are also crucial for your upcoming SSB also.
Defence Guru is a dedicated platform managed by defence experts and professionals. Defence Guru regularly updates you with defence news, notifications of defence exams, study material for NDA, CDS, AFCAT, and MNS. Defence Guru also provides very useful study material for SSB such as TAT, WAT, SRT and PPDT. You can also check out mock interviews of NDA Toppers.