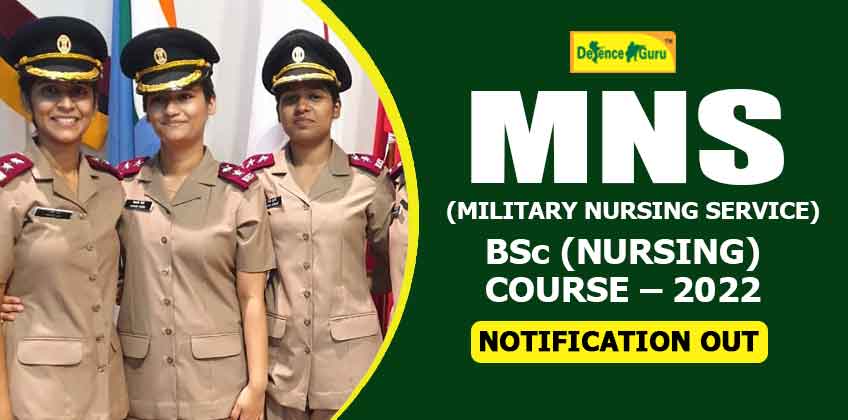 MNS 2022 Exam - Bsc. Nursing Course Notification Out
Indian Army has released an official notification inviting online applications from female candidates for the 4 years B Sc. (Nursing) course 2022. After completion of the course, candidates will be granted either a permanent or short service commission in the Indian Armed forces.
The interested candidates can fill out the online application for the Military Nursing Service from 11th May 2022 to 31st May 2022. The official website for filling the online applications is www.joinindianarmy.nic.in. Before filling out the online application forms the candidates will have to register themselves on the Indian Army's official website.
lt is mandatory for all candidates desirous of seeking admission for BSc Nursing course at AFMS institutions to :
(a) Register and apply at the website www.joinindianarmy.nic.in.
(b) Qualify NEET (UG) - 2022 condubted by National Testing Agency (NTA).
(c) Upload their NEET (UG) - 2022 score when asked to do so.
Eligibility Conditions :-
(a) Female candidates who are unmarried/ divorced/ legally separated/ wid ow yvithout encu mbrances. (b) Nationality - Citizen of India
(c) Date of Birth - Born between 01 Oct 1997 and 30 Sep 2005 (both days inclusive).
(d) Educational Qualification - Candidate must have passed in the FIRST ATTEMPT, Senior Secondary Examination (10+2) or equivalent (12 Years schooling) with Physics, Chemistry, Biology (Botany & Zoology) and English with not less than 50% aggregate marks as a regular student from a Statutory/ Recognized Board/ University/Examining Body. Candidates who will be appearing for final year of qualifying examination during the current academic session may also apply provisionally. The candidates finally selected for the course will have to submit proof of passing the qualifying examination with requisite subjects and marks before joining the course.
(e) Physical standards - Medical fitness of the candidate is decided as per the medical fitness standards and criteria prescribed for grant of Commission in the Armed Forces as amended from time to time. The minimum height required for entry into Armed Forces for female candidates is 152 cm. Candidates from Hill and Northeastern States will be accepted with a minimum height of 147 cm. -2- 4.
Selection Process:
(a) Short listins throuqh NEET (UGl score: The registration numbers (Reference No) of the candidates who are shortlisted for screening at designated venue based on NEET (UG) - 2022 merit will be displayed at the website vrnnnrv.joinindianarmy.nic.in. The shortlisted candidates will be called for To GlGE, PAT, Interview and Medical examination at a designated venue. The admit card for the same can be downloaded from www.ioinindianarmy.nic.in.
(b) Verification of Documents: All shortlisted candidates will be required to produce all original documents as listed in the admit card at the time of interview for verification. lt is the responsibility of the candidate to be in possession of all original documents at the time of Interview. The shortlisted candidates, if not in possession of documents as per eligibilfty criteria or at any stage of the selection process, if it is found that the information provided has been willfully concealed or misrepresented will lead to disqualification from the selection process / loss of candidaturer
(c) Test of General Intelliqence & General Enqlish (ToGlGE): Test of General Intelligence & General English (ToGlGE) will be in the form of Computer Based Test (CBT) consisting of 40 MCQs of two marks each for maximum marks of 80. There will be negative marks of 0.5 for every incorrect answer. These 40 questions will be required to be answered in 30 mins.
(d) Psvcholosical Assessment Test (PAT): The PAT is a qualifying examination and the score will not be considered for preparing final merit list.
(e) Interview: The candidates will be interviewed by a Board of Officers at a designated venue.
(f) Medical Examination: All shortlisted candidates will undergo Special Medical Board (SMB) at a designated venue. Candidates declared FIT/UNFIT in medical examination will be informed about their medical status, including the procedure of requesting for Appeal Medical Board by the President Special Medical Board.
Download MNS 2022 Exam (Bsc Nursing Course) Notificaton PDF