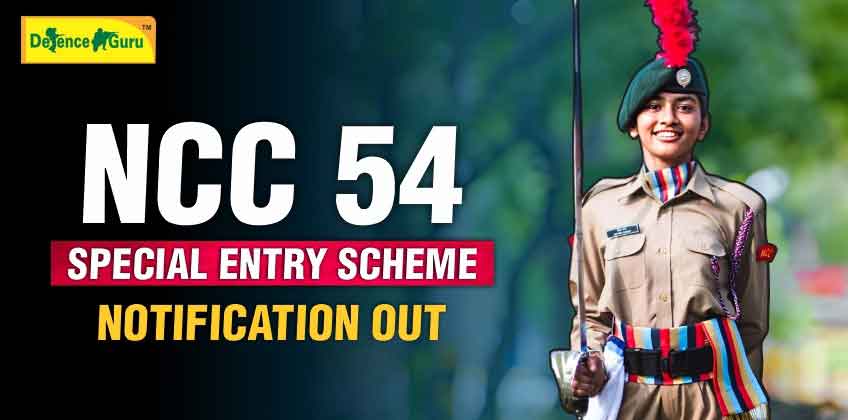 NCC SPECIAL ENTRY SCHEME 54 COURSE (OCT 2023): SHORT SERVICE COMMISSION (NT) FOR MEN & WOMEN (INCLUDING WARDS OF BATTLE CASUALTIES OF ARMY PERSONNEL)
NCC Special Entry Scheme 54 Course Notification Indian Army OTA Chennai (APPLY NOW)
Indian Army has published the official notification for NCC 54 Special Entry Scheme for the NCC C certificate holders both male and female candidates. One can join the Officers Training Academy Chennai through NCC 54 special entry. In this article, you can find more details related to the NCC 54 entry of the Indian Army.
Indian army has opened online registration for the NCC 54 (Special) Course from 17 January 2023 to 15 February 2023.

Candidates with an NCC C certificate can apply for the NCC 54 course which is going to commence at OTA Chennai in October 2023.
NCC Special Entry Scheme 54 Course 2023 Eligibility
(a) Nationality. A candidate must either be: (i) A citizen of India, or (ii) A subject of Nepal, or (iii) A person of Indian origin who has migrated from Pakistan, Myanmar, Sri Lanka and East African countries of Kenya, Uganda, the United Republic of Tanzania, Zambia, Malawi, Zaire and Ethiopia and Vietnam with the intention of permanently settling in India provided that a candidate belonging to categories (ii) and (iii) above shall be a person in whose favour a certificate of eligibility has been issued by the Government of India. Certificate of eligibility will, however, not be necessary in the case of candidates who are Gorkha subjects of Nepal.
(b) Age Limit. For National Cadet Corps (NCC) candidates (including wards of Battle Casualties) 19 to 25 years as on 01 Jul 2023 (born not earlier than 02 Jul 1998 and not later than 01 Jul 2004; both dates inclusive).
NCC 54 Special Entry Scheme Important Dates
| | |
| --- | --- |
| NCC 54 Special Entry Scheme | Dates |
| NCC 54 Special Entry Scheme Application Start Date | 17 January 2023 |
| NCC 54 Special Entry Scheme Application Last Date | 15 February 2023 |
| NCC 54 Special Entry Scheme SSB Date | June-July 2023 |
| NCC 54 Special Entry Scheme Merit List | August-September 2023 |
| NCC 54 Special Entry Scheme Joining Date | October 2023 |
| NCC 54 Special Entry Scheme SSB Coaching | Join SSB Coaching |
| | |
| NCC 54 Special Entry Scheme Job Post | Army Officer |
| NCC 54 Special Entry Scheme Vacancies | 50+ Vacancies |
| NCC 54 Special Entry Scheme Salary/ Pay Scale | Rs. 56100/- to 177500/- (Level-10) |
| NCC 54 Special Entry Scheme Mode of Apply | Online |
| NCC 54 Special Entry Scheme Official Website | joinindianarmy.nic.in |
Download NCC Special Entry Scheme 54 Course 2023 Notification PDF