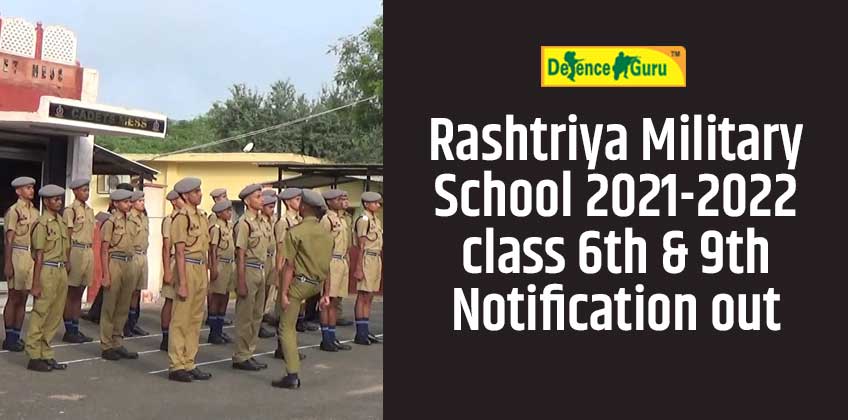 RASHTRIYA MILITARY SCHOOLS
Common Prospectus for Admission to Rashtriya Military Schools at Chail, Ajmer, Belgaum, Bengaluru & Dholpur For Class-VI & IX for Academic Session 2021-2022. APPLICABLE FOR CANDIDATES SEEKING ADMISSION IN CLASS-VI & IX.
Rashtriya Military Schools are English medium residential Public Schools run by the Ministry of Defence to impart qualitye ducation to the wards of defence personnel and civilians from Classes VI to XII. These Schools are the founding members of the Indian Public Schools' Conference(IPSC). Established in the year 1925,these Schools are among the oldest Public Schools in India. There are five Rashtriya Military Schools (RMS) located at Chail in the Shimla Hills of Himachal Pradesh, Ajmer and Dholpur in Rajasthan, Belgaum and Bengaluru in Karnataka. Cadets are admitted in to Class VI & IX through a Common Entrance Test(CET) conducted under the aeg is of the Integrated Headquarters, Ministry of Defence(Army).
AIM
The aim of Rashtriya Military Schools is "to impart quality education and prepare the cadets to join the Defence Services".
ACADEMICS
Rashtriya Military Schools are affiliated to the Central Board of Secondary Education (CBSE). The medium of instruction in the Schools is English. The academic year is from April to Mar chand is divided into two terms. All Schools offer Science stream. Rashtriya Military Schools prepare Cadets for the following examinations:-
(a) Central Board of Secondary Education
(i) All India Secondary School Examination (ClassX).
(ii) All India Senior School Certificate Examination (ClassXII)
(b) Union Public Service Commission Examination for admission to National Defence Academy.
ADMISSIONS
Common Entrance Test for admission to Class VI and IX is held in December and is automated OMR based in subjects mentioned under the head "ADMISSION TEST". For admission to Class VI a candidate should not be less than 10 years and more than 12 years of age as on 31 March of the year of admission. For admission to Class IX a candidate should no beless than 13 years and more than 15 years of age as on 31 March of the year of admission. Admission into Classes VI and IX is on the basis of available vacancies. Parents/students should also note that all admissions are in the category of Boarders only. No day scholars are allowed. Admissions are exclusively for boys. Important dates for admission in Rashtriya Military Schools are as under:-
(a)

Last date of submission of Application Forms for Class VI & IX will be as per the Notification being published

(b)

Date of Written Examination for Class VI & Class IX to be intimated to all successfully registered candidates

Through registered Email IDs /Mobile No.
RESERVATION
The schools have reservations of seats in the categories mentioned below:-
(a) 70% of seats are reserved for the wards of serving and retired JCOs/OR those in the army, Navy and Air Force.
(b) 30% of seats are reserved for the wards of Officers & Civilians.
(c) 27%,15%and7.5% of the seats in each category(excluding Officer Category) are reserved for OBC Non-creamy layer, SCandST
candidates respectively.
(d) A total of 50 seats (Not more than 15ineitherofthe school) are earmarked forwards of personal killed in action.
CONDITIONS OF ELIGIBILITY
Education Qualification: For admission to Class VI, no previous education qualification is mandatory. For admission in Class IX, the candidate should have passed Class VIII from a government/recognized school be fore the date of admission to a Rashtriya Military School. However,students studying in Class V and Class VIII are eligible to appear in the respective EntranceTest. They should also preferably know sufficient English which is the medium of instruction in Rashtriya Military Schools.
Age: Only boys aged between 10-12 years as of 31 March 2021 (born between 01 April 2009 to 31 March 2011, both days inclusive) for admission in Class VI and boys aged between 13-15 years as of 31 March 2021 (born between 1 April 2006 to 31 March 2008, both days inclusive) for admission in Class IX. Six months relaxation in the upper age limit is permissible forwards of personnel Killed in Action. The Authority for Date of Birth will be School Leaving Certificate obtained from the previous school of the candidate and countersigned by the District Education Officer. Certificates issued by Gram Panchayat or any other local body are not acceptable. Any variation in the Date of Birth or any other particulars in the sheet role and the School Leaving Certificate will render the candidature of the child null and void.
Admission Test: The CET written exam in action for Class VI & Class IX will be fully Automated through Optical Mark Reader(OMR) based examination and scheme of marking for these papers will be as given on the below:-
CLASSVI

Subject

Maximum

Minimum%

Marks

toqualify

(a)English

(Candidateisrequiredtoqualifyinthis

test.EnglishMarksare notcountedtowardsMerit)

50

35%

(b)IntelligenceTest

50

40%

(c)Mathematics

50

40%

(d)GeneralKnowledge&CurrentAffairs

50

40%

(e)Interview

20
CLASSIX

Subject

Maximum

Minimum%

Marks

toqualify

(a)Paper-1

100

50%

English

=50marks

Hindi

=20marks

Social Science

=30marks

(b)Paper-2

100

50%

Maths

=50marks

Science

=50marks

(c)Interview

50
Syllabus : Written-test will generally be of Class V standard for Class VI admission and Class VIII standard for Class IX admission.MediumofQuestionPaperinEntranceexamisEnglishorHindiforClassVIandonlyEnglishforClassIX.
Interview: Those candidates who qualify in the written test and short-listed, will be called for the interview at one of the Rashtriya Military Schools. Marks of the interview will be added to the score of the written test before deciding the final merit. No traveling orotherallowanceisadmissibleinconnectionwiththejourneysundertakenfortheCommonEntranceTestortheinterview.
Result : Merit list of successful candidates and the school allotment will be declared by IHQ of MoD (Army), DGMT/MT-15. No separate intimation will be sent to the unsuccessful candidates. However, the final result will be available on www.rashtriyamilitaryschools.edu.in and on army Intranet.
Final Selection: Candidates selected in order of merit on the basis of total marks secured by the min the admission test and the interview will be admitted to different Rashtriya Military Schools based on availability of vacancies, medical fitness and as per the reservations norms laid down for various categories. Qualified candidates will be allotted school purely on the basis of Meritand vacancy available in school.
Medical Fitness: All the candidates will be required to undergo medical fitness examination before admission to the RashtriyaMilitary Schools as per norms/criteria as specified in AFMSF-2 and only in the hospital he has mentioned in the Application Form. The medical examination will be carried out only one of the listed hospitals mentioned under the head "LIST OF HOSPITALS FOR CONDUCT OF MEDICAL TEST". Candidates found medically unfit by the board of officers at listed hospitals will not be admitted. The candidate will also be required to remain medically fit during the course of his stay at Rashtriya Military School. The admission of the candidate will be provisional till Fitness certificates are received from the Hospital. NO CHANGE IN MEDICAL EXAM CENTRE WILL BE ALLOWED.
SCHOOL FEES AND CAUTION MONEY
Tuition fees and caution money with respect to different categories given below. SC and ST candidates are required to pay one-fourth of the amount mentioned below :-
SNo

Category

TuitionFees

CautionMoney

(per year)

(Onetime)

(a)

OR&theirequivalentsintheNavyandIAF(includingEx-Servicemen)

Rs.12000/-

Rs. 1200/-

(b)

JCO&theirequivalentsintheNavyandIAF(includingEx-Servicemen)

Rs.18000/-

Rs. 1800/-

(c)

Service Offrs all three Forces (includingEx-Servicemen)

Rs.25000/-

Rs. 3800/-

(e)

Civilians

Rs.51000/-

Rs. 6000/-

(f)

ForSC/ST

(25% of Fee paidbytherespective

Category)
Note: Caution money will be deposited at the time of admission and refunded without interest to the cadet on discharge from the school. The School fees are payable for a year and will be paid directly to the school at the time of admission. No fees will be charged from sons of officers and JCOs/OR and their equivalentranksin theNavy andAir Force who have been killed in action.
Download PDF Now