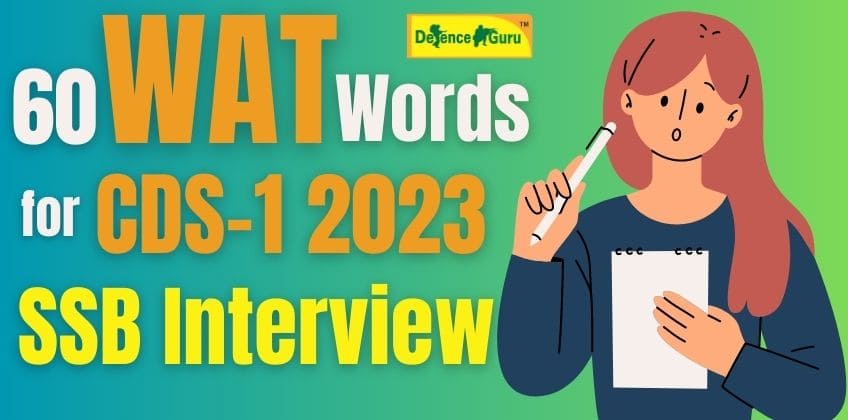 CDS-1 2023 SSB Interview Dates are soon going to be announced and it is the best time to start practicing for SSB Interview Tests. Unlike the other academic interviews, SSB Interview is very complex in nature that's why thorough practice is required for the SSB Interview. There is often a lack of good study material for the preparation of the SSB Interview. But to prepare for such a complex selection process, you need to have proper study material. That's why we are going to provide practice sets as well as solved WAT Words Sets. Candidates can learn about WAT from the solved practice set given in the article and practice for WAT from the 60 WAT Words Practice Set for CDS- 1 2023 SSB Interview given in the attachment.
WAT or word association test is one of the four psychology tests which are conducted on the second day of the SSB Interview (on the first in the case of AFSB). In this test, 60 WAT words are shown one by one and candidates are given 15 seconds to write a meaningful sentence for each word. These WAT words are shown on a big screen and candidates have to write their sentences on the sheet provided to them. This test is aimed at evaluating the thought process, imagination, ability to take decisions, and emotions of the SSB candidates. These qualities of candidates are evaluated based on the sentences written by him/her. That is why sentences should be meaningful, not absurd in nature.
WAT Words for CDS-1 2023 SSB Interview

Sr. No.

WAT Word

WAT Sentence

1.

Educate

Girls should be educated to make our country developed.

2.

Soul

Bullets are like the soul of guns.

3.

Business

Innovation in business makes it successful.

4.

Medicine

Regular exercise can save you from taking medicines.

5.

Exercise

Stretching exercise keeps us flexible and fit.

6.

Poetry

Poetry as a hobby improves our creativity.

7.

Intelligence

Playing chess can improve your intelligence level.

8.

Old

The young generation should learn from the wisdom of old people.

9.

Patriotism

Patriotism unites all countrymen.

10.

Criticism

Criticism helps in removing our weaknesses and improving ourselves.

11.

Fear

Fear can be removed by facing it.

12.

Past

Past is like a lesson that guides at each step.

13.

Tear

Tears of happiness give us the greatest joy.

14.

Friendship

Frequent interactions keep friendships strong.

15.

World

Reduction in greenhouse gases can save our world from global warming.

16.

Chance

Success comes with hard work, not by chance.

17.

Honour

Brave people are honored everywhere for their bravery.

18.

Women

Women's participation in the workforce can be increased with more education.

19.

Law

Laws help in keeping our country united.

20.

Persuade

Children should be persuaded not punished for minor mistakes.
Read More:
PP&DT Images for CDS-1 2023 SSB Interview
60 WAT Words Practice Set for NDA-1 2023 SSB Interview
SRT Questions for upcoming NDA-1 2023 SSB Interview
Download 60 WAT Words Practice Set PDF for CDS-1 2023 SSB Interview