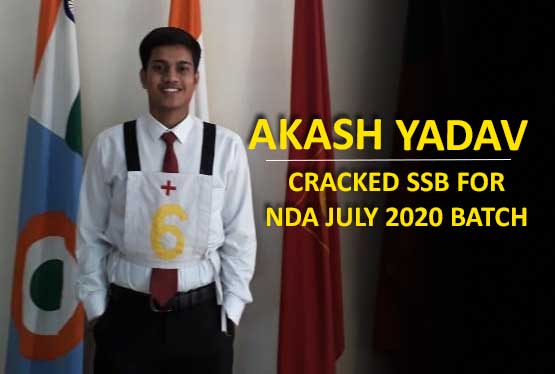 Once Napoleon Bonaparte quoted in his speech "Victory Belongs to the most Persevering" was not new to many who heard it earlier but for me it was a fresh thought which landed me to think about my priorities in life. Introducing myself to all the NDA aspirants, achievers and to all friends- Hi, I am Akash Kumar Yadav feeling very excited to share my NDA SSB 2020 success story from preparation to recommendation.
On 4th February at 2 pm with 47 fellow cadets I was called to SSB Allahabad centre for reporting and straight on 4th day of SSB i.e. on 7th February I got recommended from 19 SSB Board, Allahabad. Never give up spirit can be expressed very well in these lines 'You are responsible for your own good. Once you run away from your responsibilities you will not acquire what you desired for' these lines brought me more nearer to my dream i.e. to be an Indian Army officer. The announcement of my name & chest no. at Conference hall reminded me my entire NDA journey from day 1 to the day of recommendation - how I started off this journey, family support & efforts, written examination & SSB Interview preparation and joining Tejas Batch of Centurion Defence Academy.
Proud to be a son of an ex- Indian Army man I lived in an Army cantt lifestyle. What you feed in yourself that grows and my growth in Army cantt and schooling in APS are what I am fed upon since childhood. Many inspections of officers and army personal motivated me, the drills and life style of army and the stories of valour and courage of many officers especially Captain Vikram Batra have always inspired me. The best thing about my growth is that living in an army background never stopped me to indulge in my hobbies like I love to sing, playing guitar and football as well.
Regardless of 3 attempts failure in former defence exams I always tried to look like a winner who with a sustained look of control and confidence can give a mental edge that results in victory. The major and foremost successful attempt in NDA 2020 was truly my expansive mental and physical strength. In The Centurion defence academy I was admitted for my NDA Written and SSB preparation for proper monitoring of a my performance throughout preparation. I attended the classes regularly and did previous year question to get an over view of the exam. At each level SSB Interview sessions i.e. Screening, GDO, Psychology, Interview, Conference and all related test that come under these major tests are constructed accordingly by the team for lucrative SSB result.
Before sharing my SSB experience I would say that SSB Interview holds a massive risk but if you are well prepared and practiced under a proper supervision then nobody can stop your recommendation. Be grounded and clear with your answers in all tests whether it is OIR, PPDT, TAT, WAT, SRT, SD, and GTO only your certainty can help you clearing all tests.
Day 1st- The reporting day was on 4th February at 2 pm in Allahabad centre one day prior to screening test where I reported with 47 candidates. On screening day we were given an OIR test series comprising of 50 questions where in each questions I was able to score good. After OIR test we were shown the picture for PPDT test i.e. a clear picture was shown to write our responses and on its completion we were send out for group division in discussion where I made a story on organizing a party. In the discussion I spoke 3 to 4 times and narrated confidently my story and I was screened in when the result came.
Day 2nd- This day our Psychology tests were scheduled one after another TAT, WAT, SRT & SD respectively. In the test I did all the 12 TAT, 56 WAT, 52 SRT and was able to write my SD. As I was exactly instructed by my Psychology guru Shishir Sir who is a Founder Director of Centurion Defence Academy as well that keep all your responses natural and TAT stories related to yourself. His guidance worked exactly same to his words and I was ready with my SD well with this tip. On the same day my interview was scheduled and it went on for 30 to 35 minutes with all questions from PIQ and General Awareness question on current issues. The whole day ended on a good note as I was impressed with my performance.
Day3rd+Day4th- These days were of GTO tasking. In GTO tasking from GD I participated to give 6 to 7 good points in discussions while I patiently listened to others point as well in GD. In each PGT, HGT, FGT I gave ideas while in snake race I cooperated with our team members and successfully won the race. I spoke on mobile phones topic in lecturrete and for GPE I was nominated to give the group solution. In individual obstacles I was able to cross 9 obstacles and then on allotted time I was able to do the command task. The GTO days were full of thrill and excitement gave me few good friends.
Day5th- In my conference I was asked very relatable questions like:
- To which places I went in Allahabad?
- Rate your performance in SSB out of 10 in all the 3 tests?
- Asked me any suggestions I would like tell them
After answering these questions my conference was over and when the results came I got recommended and my chest no. was called on 5th time. Stood up with numb eyes and thanked everyone around there as this was moment of my life for which I tried very hard.
I left no stone unturned for this recommendation and currently I am waiting for my merit list to start my Army training. The happy & proud faces of my mom-dad can't be expressed in words, they thanked Shishir Sir and the entire Centurion faculty for helping me. Whole day many people came to meet my parents and asked how did I got recommended and they proudly in my success journey mention the role of Centurion Defence Academy as this success can never be accomplished without them. The treasure of knowledge, experiences, learning I gathered in SSB journey will surely help me in my future.