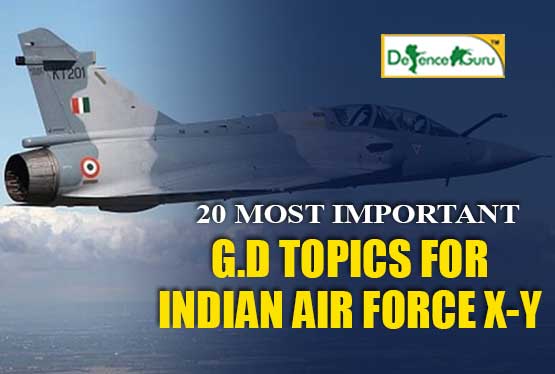 Important GD Topics For Indian Air Force X-Y
Indian Air Force invites applicants for various posts, belonging to different education credentials. It is hence the high dream of Indian youth these days.
X and Y group are one of the basic divisions of Indian Air Force seen in the backdrop of its entrance exam. While X group stands for technical, Y group is for non- technical position. Both of them follow an entrance wherein the students have to appear for written exam+ AT1+ AT2+ PFT.
One of the crucial rounds here is Group Discussion. Its aim is to judge the communication skills of the candidate; the knowledge he possess about current affairs and his personality.
To give you a hint of how it looks like here is a collection of 20 topics for I.A.F (X and Y group) group discussion round:
1. What is the cause of unemployment in India:
2. What is the prime advantage of internet?
It reduces time and energy
It connects the world
3. What is the reason behind deterioration of health in India?
Reduce pollution
Work upon malnutrition
4.What measures should be taken for girl empowerment?
Increase education of girls
Increase employment of girls
5.How to increase number of Defence Officers in India
Motivate the youth through social media
Make the selection process easy
6.Should we have co- education system?
7.What is the central cause of economic dropdown in India
8.What causes more success in life
9.How to improve employment situation in India
Increase the count of start- ups
Open up more government jobs
10.What is the common aim of today's youth?
Earn more money
Get a successful career
11.What is the scope of smart cities in India?
Makes India modernized
Bring in foreign investment
12.How is freelancing helping the youth
Gives them a part time employment
Increase their knowledge and experience
13.Which is better:
Government job
Corporate job
14.What causes most pollution
Increased use of automobiles
Global warming
15. What is the advantage of Uniform Civil Code?
It will unite people
It will strengthen the judiciary
16.How to increase girl safety in India
Train the girls for self protection
Introduce strict laws in judiciary
17.What are the perks of introducing yoga in school
It will inculcate healthy habits in students from young age
Connect the students to Indian culture
18.Comment on use of fire crackers in Diwali
Fire crackers must be banned completely
Fire crackers must be used in limited amount
19.Today's youth is most addicted to:
20.what is the outcome of Swach Bharat Abhiyan
it has reduced pollution immensely
it still needs a lot of time to bring improvement
Quite easy, isn't it? Well yeah, the G.D round, seen especially from the perspective of topics is simple. All you need is grooming your knowledge+ communication. Oh and don't forget to add the finishing touch by an ample amount of confidence and a smile!
Read More: Air force Exam Preparation Tips How to Join Indian Air Force Three Important Entries In Indian Air Force Question Pattern Of Indian Air Force Examination