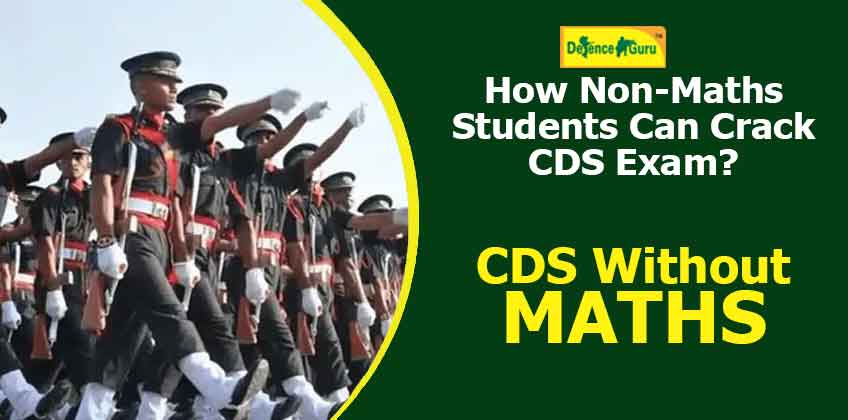 How Non-Maths Students Can Crack CDS Exam?
Since mathematics is an important subject to clear any competitive examination, many candidates preparing for the CDS exam find it challenging to qualify without maths. In this article, we will discuss the key tips on how non-maths students can crack the CDS exam. Candidates must note that maths is not at all compulsory for the CDS exam rather it depends on the choice they make while filling out the application form. Let us see how defence aspirants can crack the CDS exam without maths.
Before discussing the strategy for non-maths students, let us first look at the base of the Combined Defence Services (CDS) exam. The CDS exam is conducted by the UPSC to induct eligible candidates for admission to the Indian Military Academy (IMA), Indian Naval Academy (INA), Air Force Academy (AFA) and the Officers Training Academy (OTA).

If candidates don't wish to appear for the maths paper, they should fill out OTA as their first preference while applying for the CDS exam. Thus, if you opt for the OTA as your first preference, only your English and General Ability papers will be counted to determine your eligibility for the SSB Interview.

This is because the CDS Exam Pattern for the Indian Military Academy, Indian Naval Academy, and Air Force Academy is divided into three papers (English, General Knowledge, and Elementary Mathematics), but the Officers' Training Academy has only two papers (English, and General Knowledge).
The Officers Training Academy (OTA) is a training establishment of the Indian Army that prepares officers for the Short Service Commission (SSC). Now, it's clear that candidates without maths can only opt for the Officers Training Academy (OTA) Chennai. Consequently, to crack the CDS OTA exam without maths, candidates need to understand the complete syllabus and exam pattern of English and General Knowledge. The following sections provide the complete details regarding the CDS OTA syllabus and exam pattern for non-maths candidates.
CDS OTA Exam Pattern and Marking Scheme
Specifications

Details

Papers

Paper I - English Paper

Paper II - General Knowledge Paper

Number of Questions

240 Questions (120 in each paper)

Maximum Marks

200 Marks (100 in each paper)

Nature of Questions

Multiple-Choice Questions

Mode of Exam

Offline (OMR-Based)

Positive Marking

0.833 for every correct answer

Negative Marking

0.277 for every wrong answer

Time Duration

4 Hours (2 Hours for each paper)

Exam Shift

First Shift - English Paper

Second Shift - General Knowledge Paper
CDS OTA English Syllabus:
Reading Comprehension

Fill in the Blanks

Sentence Rearrangement

Grammar and Vocabulary

Synonyms and Antonym

Idioms and Phrases

Spotting the Errors

Sentence Sequencing

One-word substitutions

Para Jumbles
CDS OTA General Knowledge Syllabus:
Important National & International Happenings

Personalities in News

General Science

Economics

History of India

Games and Sports

Awards and Honors

Geography

Political Science

Indian Constitution

Everyday Observation

Scientific Discoveries

Current Affairs

Heritage and Culture

UN & International Organizations
Preparation Tips for Students to Crack CDS Without Maths
Focus on General Knowledge
General Knowledge opens up several avenues for CDS aspirants, as it is required for both the written test and the SSB interview.
Newspaper Reading for GK and Vocabulary
It allows candidates to improve their analytical and intellectual skills, which aids in the development of general awareness and vocabulary.
Key Topics in General Knowledge Paper
The General Knowledge paper includes objective questions mainly from Indian Polity, Constitution, History, Geography, General Science and Current Affairs.
Current Affairs are of utmost significance from the examination perspective for both General Knowledge and English papers as well as for the SSB Interview, thus, candidates should pay attention to reading newspapers, making important notes, and revising them properly.
Key Topics in English Paper
To prepare for the English paper, candidates should focus on topics like vocabulary, reading comprehension, spotting errors, para jumbles, idiom and phrases, parts of speech and cloze test.
Read More About - Top Five CDS Coaching in India