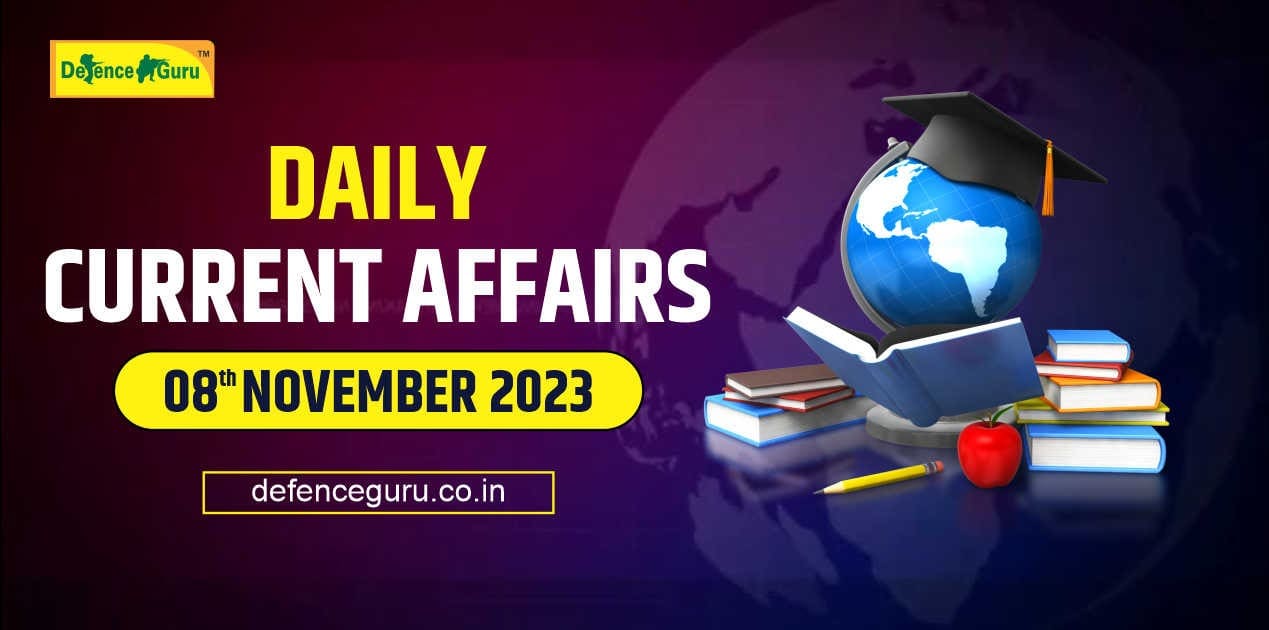 Defence Guru is a dedicated platform to provide Daily Current Affairs Updates to Defence Aspirants. Our Daily Current Affairs Update covers National Affairs, International Affairs, Economy, Sports, Awards and Honours, Books, Appointments, etc. You can follow us for regular current affairs updates. Current Affairs cover almost 15-20% of NDA, CDS, AFCAT, and MNS Exam syllabus. That's why It becomes very important for Defence Aspirants to cover Daily Current Affairs Updates. Our Current Affairs Update is accurate, reliable, and useful for every defence exams and other exams in India.
IREDA Launches CSR Portal for Enhanced Transparency in Social Initiatives
The Indian Renewable Energy Development Agency (IREDA), operating under the Ministry of New and Renewable Energy, has unveiled a Corporate Social Responsibility (CSR) portal aimed at bolstering transparency in its CSR initiatives.
During "Vigilance Awareness Week 2023," IREDA organized various competitions, and prizes were distributed to the winners during the valedictory function. This event underscores IREDA's holistic approach to corporate responsibility and ethical governance.
India Successfully Tests Pralay Tactical Ballistic Missile

On November 7, India conducted a successful test of the Pralay tactical ballistic missile off the coast of Odisha.
The test marked a significant milestone as the missile covered its entire range of approximately 500 kilometers, demonstrating its operational capabilities effectively.
Defense officials have reported that the test was highly successful and met all predetermined parameters.
Ministry of Tourism Showcases 'Incredible India' at WTM London 2023
The Ministry of Tourism, India, along with various stakeholders, is actively participating in the World Travel Market (WTM) London from November 6 to November 8, 2023.
The Ministry has set up an impressive 650-square-meter space for the 'Incredible India Pavilion' at WTM 2023, London.
The pavilion serves as a platform to showcase a diverse array of tourism products and transformative experiences for travelers under the theme 'Incredible India! Visit India Year 2023.'
CREST UNVEILING CEREMONY OF INDIAN NAVY'S PROJECT 15B WARSHIP "SURAT"
The Crest of Indian Navy's latest, indigenous under-construction, guided missile destroyer, 'Surat', is scheduled to be unveiled by Shri Bhupendra Patel, the Chief Minister of Gujarat in presence of Adm R Hari Kumar, the Chief of the Naval Staff, at a ceremony to be held in the city of Surat.
Raksha Mantri, Shri Rajnath Singh had earlier launched this warship on 17 March 2022 at Mumbai.
Chile becomes 95th member of International Solar Alliance ISA
Chile has recently become the 95th member of the International Solar Alliance (ISA), a significant development in the global effort to promote solar energy.
Chile has recently become the 95th member of the International Solar Alliance (ISA), a significant development in the global effort to promote solar energy.
National Coal Index Increases by 3.83 points in September
India's National Coal Index (NCI) rose by 3.83 points to 143.91 in September, marking the first increase since April 2023. The surge was driven by global coal price fluctuations.
India's National Coal Index (NCI) witnessed a significant increase, rising 3.83 points to 143.91 in September.
This boost was the first since April 2023 and was driven by a temporary spike in global coal prices, according to the Union Coal Ministry.
Oldest Black Hole Discovered Dating Back To 470 Million Years After The Big Bang
In a groundbreaking discovery, researchers have identified the most ancient black hole ever, which came into existence a mere 470 million years after the birth of the universe during the Big Bang.
Archer Deepika Kumari Secured Two Gold Medals And One Silver At The National Games
Former world No. 1 archer Deepika Kumari claimed two gold medals and a silver at the National Games, teaming up with Mrinal Chauhan to secure the top spot in the mixed team archery event.
Deepika Kumari, the former world No. 1 archer, demonstrated her exceptional talent and determination at the National Games by clinching two gold medals and one silver.
The Asian Championships gold medal-winning shooter, Aishwary Pratap Singh Tomar, also secured the top spot in the 50m rifle 3-positions event.

Read Also

03rd November 2023 Current Affairs